Industry
Building and construction
Integrations
Aspect4 ERP, Sitecore, NOBB
We evaluated many PIM solutions and selected Bluestone PIM based on its easy user interface, advanced data modeling, and modern application programming interface. Saas delivery made the choice even easier. We have integrated Bluestone PIM with our content management system Sitecore, and it all works very smoothly. Bluestone has proven to be a solid partner and enabled us to increase our digital business volume dramatically.

Joakim Solem, eCommerce Manager
Business challenges

Neumann extracts rich product information, including images, datasheets, and documentation, from an industry database. The data is provided by manufacturers, and at times it is not optimized for customer experience.
The sheer volumn of the product portfolio calls for advanced technical solutions to ensure high performance of the eCommerce website.
Category managers are responsible for overseeing entire product categories. Their work involves much more than updating product content, so automating routine tasks is both necessary and crucial.

Solution

Bluestone PIM became the master copy for all product information, making it possible to enrich or override industry database content as needed.
The platform enabled processing product content on the fly, e.g. smart-cropping images and caching them for fast delivery.
To make category maintenance easier, a directory structure is automatically built for product entries sourced from an external database. These entries are also pre-filled with basic category-level attributes (e.g. color and size).

Outcomes

Product information is rich and consistent and meets the company's standards for customer experience.
Any changes in product information sync seamlessly with the eCommerce platform.
Category managers are well-supported in overseeing their categories and can focus more of their efforts on growing the product portfolio.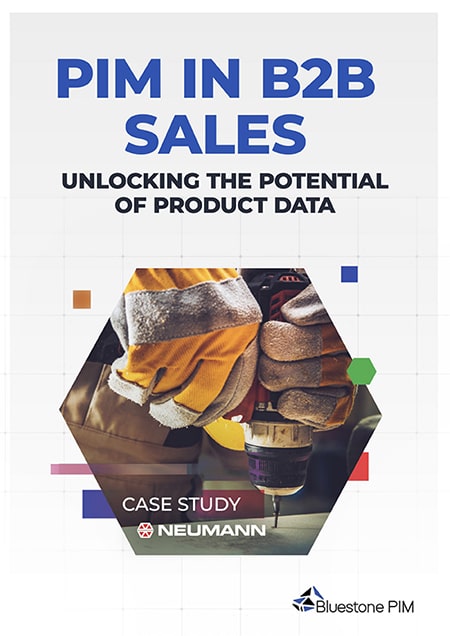 Free case study
PIM in B2B Sales
Unlocking the potential of product data