Customers Flooding to Bluestone PIM
At a time when digitalization and e-commerce are constantly increasing, Bluestone PIM ensures that both Norwegian and international companies can be winners in their market.
Coronavirus put wind in the sails of the software company Bluestone. Originating from the company WebOn, which was one of the e-commerce pioneers in Norway, in 2015 Bluestone started building a completely new solution and a new brand. The result was Bluestone PIM.
Today, Bluestone has 100 employees in 4 countries and provides a Product Information Management (PIM) platform, which is software that helps to organize and analyze product catalogs for digital publishing. This is relevant for companies that sell a wide range of products or focus on digital sales channels. The solution is available to companies all over the world and has already been used in Europe, Asia, and the USA.
"When Bluestone was established, the goal was to meet the technological and market trends we thought would dominate in 2025, and so far we have been right on track", says general manager of Bluestone PIM, Einar Augedal.

Bluestone PIM is a cloud-native solution that acts as a digital information center for product information, or, if you may, the heart of all digital product publishing. This encompasses more than just e-commerce — in fact, all sales channels that use digital product information.

"It is extremely important for our customers to be able to follow a landscape that is changing rapidly, and a common feature is that they all need to further digitize their business model", says Augedal.

Sport 1, Isola, Glava, and Brightstar are among the many customers who currently use the solution. The latter - a Fortune 500 company - has also become an important sales partner for Bluestone, with several sales cases in Australia, the USA, and the UK.


"The collaboration with Bluestone has really been fruitful for us. Not only have we established solutions for the entire Nordic region, but they help us to be integrated directly into our customers' business model, most recently for the UK's third-largest mobile company Three UK", says Anders Fornebo, IT Director, Brightstar Nordic.


"The difficult situation the world has been in over the last year accelerated digitalization, and we are now proving that you can deliver Enterprise SaaS from Norway to California, and not just the other way around. It seems that we have found a digital chip that is missing in many companies that are trying to adapt to face a pandemic-changed world", says VP of Sales and Marketing, Borgar Hestad.

The company has invested nearly 100 million NOK in the software and has already been recognized by the research firm Gartner.


Bluestone PIM has signed with a number of new Nordic and international customers in recent months and expects strong growth in the years to come.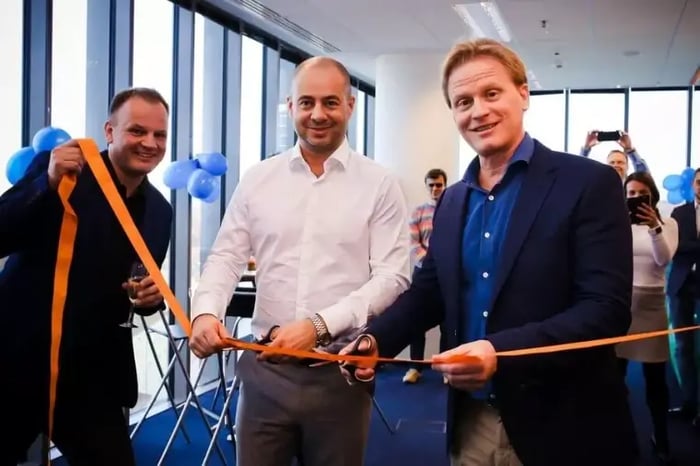 OPENING NEW MARKETS: CEO Einar Augedal and VP of Sales and Marketing Borgar Hestad open new markets.
Reprinted from Kapital issue 4, 25 February 2021