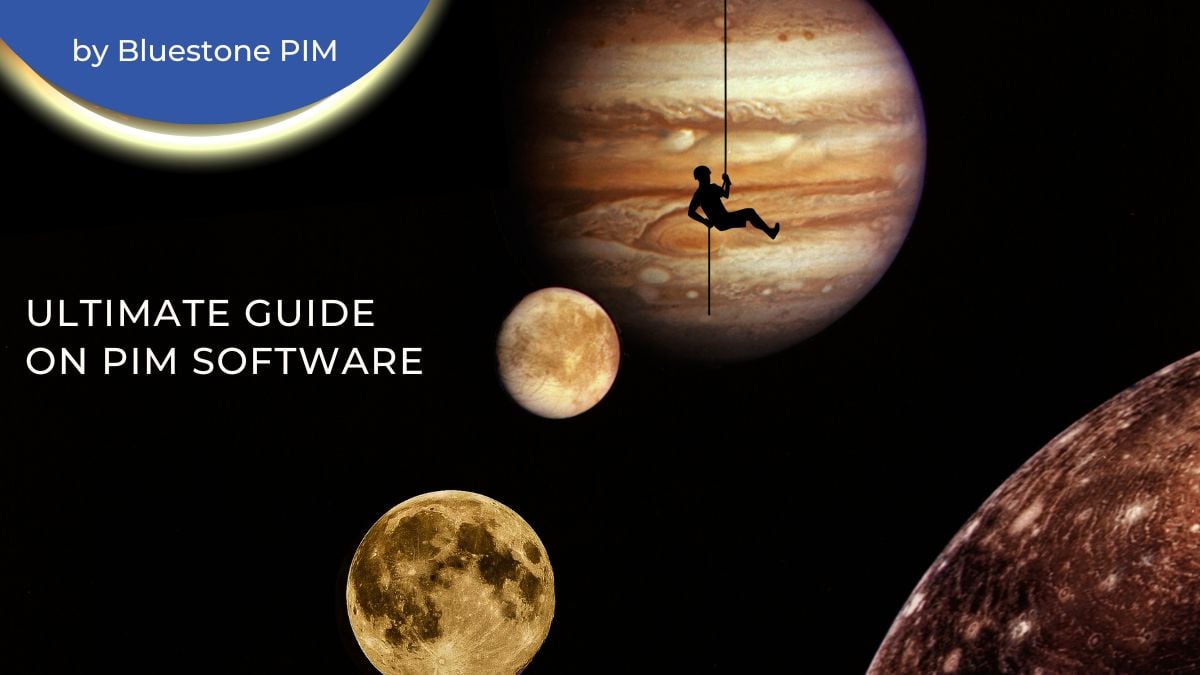 If you are a business with a huge product catalog of more than a million SKUs, digital assets, or complex product data, you might have heard of how a Product Information Management (PIM) solution can cut down the time and effort needed to manage them.
Then you might have wondered, "just what is Product Information Management?"
In this article, we will lay out the basics and definition of PIM, its benefits to retailers, the reasons why it is a crucial platform-as-a-service, and how a good PIM solution can deliver a positive impact on your sales and profits.
What is PIM?
PIM stands for Product Information Management, the procedure of handling product information to efficiently market and sell those products across all sales and marketing channels.
Practice shows that when businesses sell their products online, they often end up having a vast amount of product information across multiple channels.
Without control over product data and a consistent omnichannel strategy, one product can often be displayed to customers with disparate descriptions, technical specifications, and marketing messages.
To makes things even more complicated, product information is often scattered throughout different teams and stored by many employees in many different internal systems or files only accessible by them, instead of being available centrally.
ERP systems and Excel spreadsheets cannot exchange information on their own, data may be saved in various formats, or only be available in hard copy form. This quickly leads to data silos and a challenge in which managing information of a constantly growing number of products easily turns into a spreadsheets crisis which in turn has a negative impact on product data quality.
This is exactly where PIM comes in to help marketers and eCommerce managers work smarter.
A Product Information Management system provides a centralized location for businesses to store, manage, and enrich their complex product content and digital assets before distributing them to all sales and marketing channels.
There are various types of PIM software available on the market, depending on the technologies and business models they are based on. While some companies still deploy one as onsite software, there are also cloud-native options that are better suited to modern needs and fit commerce stacks.
Cloud-native solutions offer virtually unlimited interoperability, superior performance, and broad connectivity. These applications are also available through managed SaaS subscriptions, which are low-maintenance and allow organizations to pay only for what they use in a monthly subscription.


Differences between PIM and MDM
High-quality, core information essential to all business processes and used by different applications across the entire company is often called master data. To manage master data, companies need to create a smart framework of technologies and processes with a central repository.
This framework is better known as Master Data Management (MDM).
MDM goes far beyond the realms of IT, Sales, or Marketing departments. It's a cross-organizational effort to gather, manage, and distribute data in the most efficient way possible.
From this perspective, it's fair to say that PIM is a subset of MDM.
MDM focuses on getting all the information not just related to products, but also to customers, suppliers, partners, employees, locations, etc. into one repository in order to achieve operational excellence. It is crucial for every department in a given company as master data is used on a daily basis by different applications across the entire business.

PIM focuses on delivering a set of features to centralize product-related data from various sources and then easily manage, enrich, and syndicate this product content towards multiple sales and marketing channels. It is especially important for Sales and Marketing teams.
Differences between PIM and PCM
PIM is sometimes confused with PCM. To make things even worse, there are many definitions that position PCM similarly to PIM, adding to the confusion. Despite common misconceptions, there are vast differences between the two.
PCM is a standard feature in most enterprise eCommerce solutions and primarily offers data enrichment. In this case, enrichment equals the ability to efficiently add or edit product descriptions, attributes, images, and data taxonomies. Such features are fantastic for managing a single source of truth of product information.

PIM usually goes much further than just data enrichment. It provides extra components like data quality, data completeness, aggregation, and syndication. These features allow eCommerce businesses not only to centralize product information but also to easily syndicate consistent and accurate information to various sales channels.
How does a PIM work?

PIM system core capabilities can include workflow, business process, hierarchy management, loading, syncing, modeling, and cleansing data, information stewardship, distribution, and Digital Asset Management (DAM). It contains features that support marketing, eCommerce, and data admin teams in performing these actions.
Taking it a step further, it also enables direct data manipulation directly from other applications via APIs (Application Programming Interfaces).
With the help of the PIM tool, businesses can maintain omnichannel consistency with accurate product data in distribution channels and create a seamless product experience.
Follow the main actions in which the Product Information Management system can support your teams: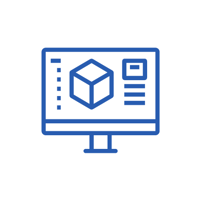 Centralize product data in one platform
PIM reduces the number of manual tasks. No more spreadsheets battles in searching for the missing information.
Gather Data
Bring product data together to establish a single source of truth for the entire organization.
Import Data
Transfer product data from various file formats and custom templates.
Standardize Data
Customize the product editor and build a structure that fits your product categories and subcategories.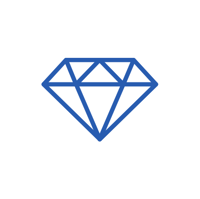 Enrich product content
Create a great product message and deliver a consistent product experience in multiple channels. You can do this by enriching product descriptions with relevant attributes, media, relations, and translated content.


Insert Rich Media
Keep track of documents, images, videos, warranty cards, product sheets, and other media. Connect them to products, bundles, or even entire categories.
Link Media to Products
Enrich product information by creating, editing, or grouping product attributes.
Set Language and Localisation
Set up multiple versions of product data to suit different contexts and scenarios, such as country-specific or translated content.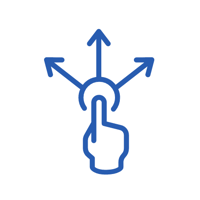 Syndicate to external channels
Display accurate and up-to-date content everywhere you want. Make your product information accessible for any digital sales channel. Prevent errors before adding, removing, or modifying anything.
Create Custom Feeds
You can set your own rules and custom templates.
Export Product Feeds
Share product data with your coworkers or partner. Thanks to product history you can track who enriches the product content.
Track Product Performance
Make sure which products are ready to go live and which require more work.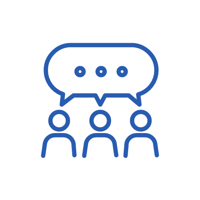 Collaborate with everyone
Harness your colleague's expertise, knowledge, and collective effort in one place. Avoid duplicate effort, and keep track of work progress.
Delegate Tasks
Invite colleagues, partners, and suppliers to collaborate on product information. With defined roles and permissions, you retain complete control over your products at any stage.
Streamline Workflow
PIM solutions such as Bluestone PIM enable communication directly through the platform messenger, without a need to exchange e-mails.
Share Data with Suppliers
PIM can also help to control supplier-provided documentation Invite suppliers to collaborate on products and ensure that they provide you with the right data in the right format.


What are the benefits of PIM?
The benefits of product information management include complete control over the quality of your product data, elimination of data errors and mistakes, consistency across all sales channels, and happier customers.
A report by Ventana Research details the attitude of businesses towards building electronic commerce on the foundation of a PIM.
Only 1% of survey respondents believed that the integration of eCommerce and PIM is not important. A great majority felt that integrating PIM is very important to meet the goals of an eCommerce business.
According to a group of vetted respondents in executive and management roles across industries and organizations, having one single PIM system is the best solution for the effective management of product-related content.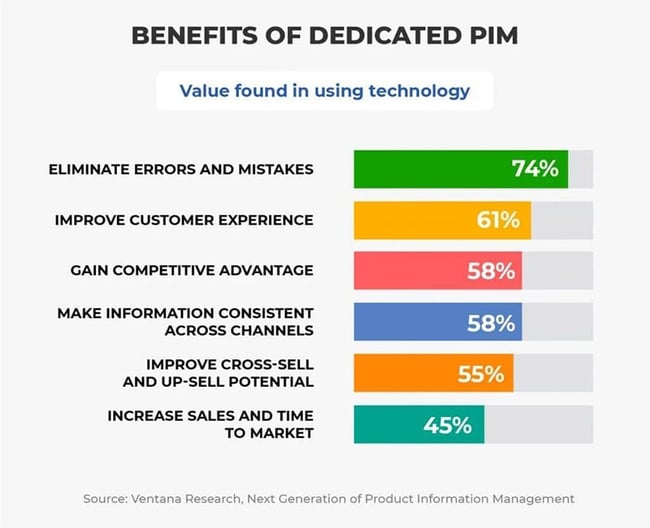 But that is not all it can do! Let's break down the key benefits:


Create a memorable product experience
Customers purchase not only a product or service itself but the whole experience that is built upon product content.
With the support of PIM, marketers and eCommerce managers can create unique, personalized, context-aware, and well-targeted content. That provides customers with the right information throughout their entire shopping journey.


Eliminate product data errors
Scattering product information across channels and different files leads to errors and a massive amount of manual work.
Product information management software can be a central repository for all product data. Thanks to data centralization and the establishment of "one source of truth", teams can find all information about a specific product in one place and can forget about spreadsheet nightmares or data discrepancies.


Automate manual work
Time is money. It would be better to spend it on important projects than manually modeling and collecting product data.
A PIM solution allows teams to use their time more efficiently with the help of automated processes and eliminates the need for multiple Excel sheets and mundane data entry work.


Ensure content quality
High-quality product information helps companies drive sales, prompting potential customers to make purchasing decisions.
PIM software enables eCommerce businesses to enrich product data by contextualizing and adding various media formats via Digital Asset Management and effortlessly maintaining high-quality product data.


Faster time-to-market
The highly competitive and rapidly changing eCommerce industry pushes businesses to shorten their product life cycles to be ahead of competitors.
It's easier to prepare for a product launch by having everything about the product in the right format and in one place. PIM makes all operations related to managing product data much faster.


Improve cross-team collaboration
With PIM, it's easy to invite your workmates, create or delegate tasks, and keep track of work progress. You can also control the external access and invite your partners to collaborate on the products to ensure they will provide you with the right content at the right time.


Increase sales revenue
By gaining speed in smartly managing product information, you can increase your capacity in time-to-market and tap into new unexploded sales channels.


Why do you need PIM?
It's hard to ignore the massive growth that the eCommerce industry as a whole is experiencing a year by year.
For example, a pre-COVID-19 study shows that global retail eCommerce sales will reach 7.4 trillion dollars by 2025. Clearly, the future of sales is online, which makes PIM solution a relevant and necessary platform to use.
Depending on how much time you are willing to spend on managing product information, you may not need PIM if your portfolio has just a few hundred SKUs and you have no immediate plans to grow. Anything more than that, and managing your content is going to become a struggle.
It will be time-consuming, if not impossible.
Without a PIM, you will need to dedicate much more working hours to editing, reviewing, and cleaning up errors in product data manually to prevent them from impacting your customer experience.


How do you know if you need PIM?
Knowing when you should implement a PIM solution for your business is not easy, and when the signs do appear, you might already be feeling the impact on your sales figures.
So what are the signs that tell you that you need PIM?
First off, ask yourself these questions:
Are you struggling to update your product data across multiple sales channels?

Are you frustrated by how long it takes to ready your products for sale online?

Are you receiving complaints about your products not matching your description?

Do you have 1,000 to 2,000,000 SKUs or media files?

Do you want to deliver a consistent and effective product experience?

Do you want to create an engaging and delightful customer experience?

Do you want to expand your business into new markets?
If you answered YES to most of these questions, you need PIM.
If you plan to benefit from using multiple sales channels or an omnichannel sales strategy, then PIM is going to be the most efficient way to create and store all the different versions of content required by your partners.


How can PIM help your teams?
PIM isn't just a system that helps your bottom line. It is designed to eliminate data silos, promote cross-functional collaboration, and align your teams together when it comes to enriching product information at various stages.
Here's how your teams can benefit from using a PIM:


Ecommerce teams
Your eCommerce teams can provide customers with a better product experience, strengthen the brand's position and earn consumer trust.
Using various features of a PIM such as the Product Completeness and Supplier Portal, eCommerce managers can monitor and optimize product information quality, import and export product data feed to multiple marketplaces at once, and collaborate efficiently within the team and with suppliers, or agencies.


Sales and marketing teams
With the Product Data Syndication and Multilingual feature, your sales and marketing teams can create consistent and complete product stories for the international market and synchronize all of your product content across all digital channels.
The in-built Digital Asset Management features will assist in the optimization and management of your digital assets such as images, videos, and downloadable content.


Product and category managers
Product teams understand the close relationship between rich, complete product content and better sales performance.
With a PIM, they can maintain accurate and up-to-date product content by updating them within the system and publishing them to all channels from one place, and also set up product relations to encourage cross-selling or upselling as well as speed up time-to-market for new products.


IT solution architecture
The SaaS model brings new possibilities for eCommerce businesses that are not available with legacy IT.
Simplify the everyday work of your tech team without the need to invest in new server hardware or network equipment.
Cloud security is also a top priority for us, which is why Bluestone PIM is built and housed on Amazon Web Services to protect and secure your sensitive data.
Online shopping is growing extremely fast worldwide and the digital representation of each product, also known as the digital twin, is the critical asset of every multi-channel retailer. Just look at it this way - long before your customers buy your products, they already interact with them — or in fact they interact with their digital twins. They look for photos, read descriptions, watch videos, compare prices, and study reviews on comparison websites. PIM is the best guarantee of taking control over the digital twin and thus, a solid foundation for eCommerce growth.

Einar Augedal, CEO at Bluestone PIM
What data can you manage with PIM?
PIM systems are designed to store relevant product data that your marketing and sales team needs to promote and sell your products. Here are a few examples:
Product identifiers (product name, brand name, SKU, GTIN, etc.)

Technical specifications (dimension, weight, key features, safety standards, etc.)

Digital media assets (photos, videos, 3D/360° product images, PDF documents, etc.)

Marketing data (testimonials, reviews, brochures, product guides, etc.)

Taxonomy data (product relations, product categories, product groups, etc.)

Localized data (translated text, region-specific product data, etc.)
By storing all of the product data in a single repository, you can easily coordinate the process of sending the right information to different sales and marketing channels, such as :
Online marketplaces

Printed catalogs

eCommerce platforms

Websites

Apps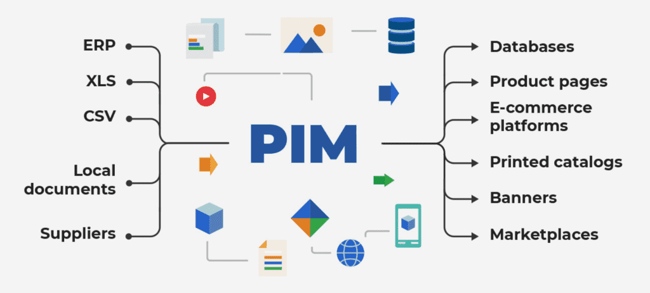 There are automated workflows to create print and digital collateral to be used in campaigns. In fact, there are no limits to how PIM data can be used – you can feed it to any platform or software that connects via APIs or enables import.
There is space for innovation and exploring the still new fields of social commerce, chat commerce, and AR, based on product data managed in a PIM.
A quality PIM solution helps multichannel retailers to create an excellent shopping experience for their customers. With the use of the Product Data Syndication feature, retailers can easily distribute product data to all marketplaces, maintain an accurate product listing at all times, and eliminate the chances of disappointing shoppers with incomplete or outdated content.
This approach results in omnichannel consistency, an engaging product story that delights customers, increased traffic to your online and offline store, and higher online sales figures.


Important PIM features to look out for
Choosing a PIM solution is a long-term investment. To make an informed buying decision, it is advisable to review the selected options from an angle of technical capabilities and implementation plans.
There are some features a PIM should have in order to grow your business and effectively support working with product data, such as:
Multi-tenant SaaS that grows in line with your needs

Easy integration with external systems and sales channels

Intuitive, user-friendly interface

Powerful Digital Assets Management (DAM)

Control over the roles, permissions, and tasks

Marketplace with apps to enrich your PIM experience

Multi-language support

Online training and instant support are at your disposal

Flexible pricing model adapted to your needs

No hidden costs
Bluestone PIM has all of these important features to organize your product data, coordinate workflows, and make multichannel selling a breeze!


Power your retail and eCommerce sales with Bluestone PIM
Here are 4 reasons why Bluestone PIM is the best product information management software for eCommerce, retail, or any other type of business that needs help managing its product content.


Built on MACH architecture
Bluestone PIM is the first MACH-based PIM certified by MACH Alliance, an organization that promotes the best enterprise technology ecosystem and educates businesses around the world about MACH and its benefits.
The MACH architecture is a powerful combination of four technologies: Microservices-based, API-first, Cloud-native Saas, and Headless.


Future-proof technology
MACH gives businesses the opportunity to future-proof their business against tech inefficiencies or the need to re-platform, while also offering them the freedom to compose their digital commerce stack and easily connect our platform to their legacy IT components.
Thanks to MACH technology, we also offer unlimited scalability, speed, and connectivity to get to market faster and expand market reach by creating engaging omnichannel product experiences.


Dedicated project manager and project engineer
Our project engineers will oversee the PIM implementation process, and also ensure that you and your team receive the right technical training to use Bluestone PIM to the fullest potential.
We also dedicate project managers to your business so that all issues can be tackled in a timely manner. With a tech support team on stand-by 24/7, you can rest assured that you will get the help you need and that your business will not be impacted by any downtime.


Software updates every 6 weeks
Bluestone PIM is updated every six weeks according to the roadmap. What's more, you can influence our roadmap!
We are always listening to the needs of our clients and taking note of what we can do to make their job easier. If there is any feature you need, let us know and we can customize our software to suit your needs.


Summary
PIM stands for "Product Information Management" and it enables businesses with a massive amount of complex product information and digital assets to centralize, manage, enrich and distribute their product data in the most efficient and simplified way possible.


Regardless of whether you're a B2B or B2C company, PIM can support the daily activities of your sales and marketing experts, eCommerce managers, and IT teams.


Key benefits include the automation of manual tasks, eliminating product data errors, improving cross-team collaboration, creating a seamless product experience, accelerating time-to-market, and building brand consistency.


PIM solutions empower brands and retailers to create an engaging customer experience at all touchpoints and improve sales in the long run.


Having a quality PIM is a major step toward creating omnichannel consistency.


PIM is a part of Master Data Management, sometimes called "MDM for business purposes".


If you have a large number of SKUs (from 1,000 to 2,000,000) and you're selling products in multiple channels, that is a sure sign that you need a PIM system.


When searching for a PIM solution, look for key features, such as a user-friendly interface, simple integration with external systems, multi-language support, and flexible pricing plans.


Bluestone PIM is the first MACH-based PIM built as microservices-based, API-first, cloud-native Saas, and headless. This technology ensures unlimited scalability, high connectivity, and freedom in creating a digital commerce stack.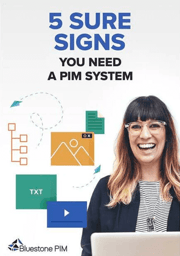 DOWNLOAD FREE E-BOOK
The no. 1 feature that drives purchases is product content
Check if you need a PIM system to manage your product content effectively.

Bluestone PIM is designed to help you manage 2+ million SKUs and digital assets, connect your product content to multiple sales and marketing channels from one source, and reach your customers at all touchpoints.
Get in touch with our advisors if you'd like to learn more about Product Information Management and how you can get started with a personalized plan for your product content needs. Or schedule a demo meeting to see our platform in action!