BLUESTONE PIM FEATURES OVERVIEW
Powerful & flexible


PIM features to sell more, better, and faster
With Bluestone PIM, you can get your products to market and in front of customers faster, regardless of channels, regions, or languages.
Schedule a 30 minutes meeting with a PIM specialist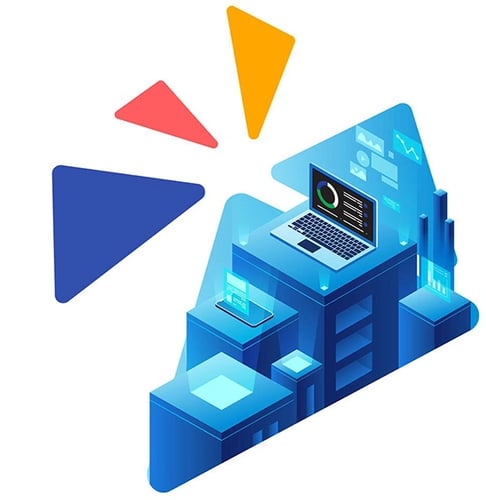 TRUSTED BY LEADING COMPANIES

First:

ORGANIZE
Bring home product data from different sources and keep them accurate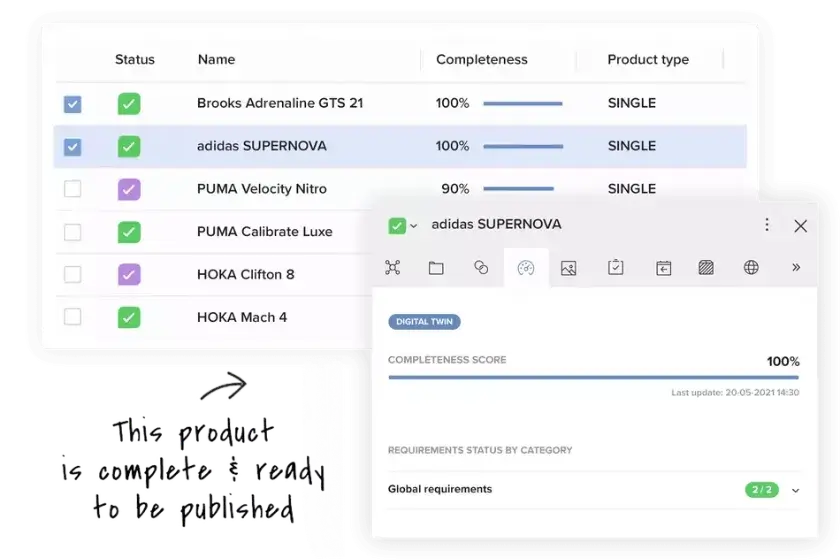 Second:

TEAM UP
Work together to establish one source of truth for all product information
Invite colleagues, partners and suppliers to collaborate on product information that is relevant to each of them. With defined roles and permissions, you have complete control over your products at any stage.
Work smarter by breaking product enrichment into manageable tasks. Set them as private or public and select deadline and assignees. Tag products related to tasks individually or in bulk.
No need for so many emails. Start a conversation and reply to tasks within Bluestone PIM. Go back to the conversation whenever you want.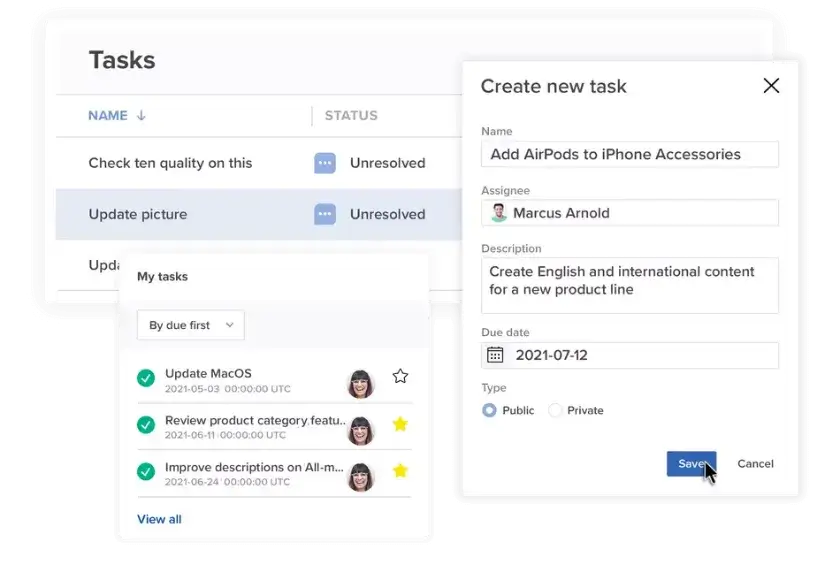 Wilhelmsen Ships Service implemented Bluestone PIM due to its scalability, connectivity features, and tools for effective collaboration.

Li Minting
Product Data Manager at Wilhelmsen Ships Service
Third:

ENRICH
Go beyond titles and descriptions to tell a great product story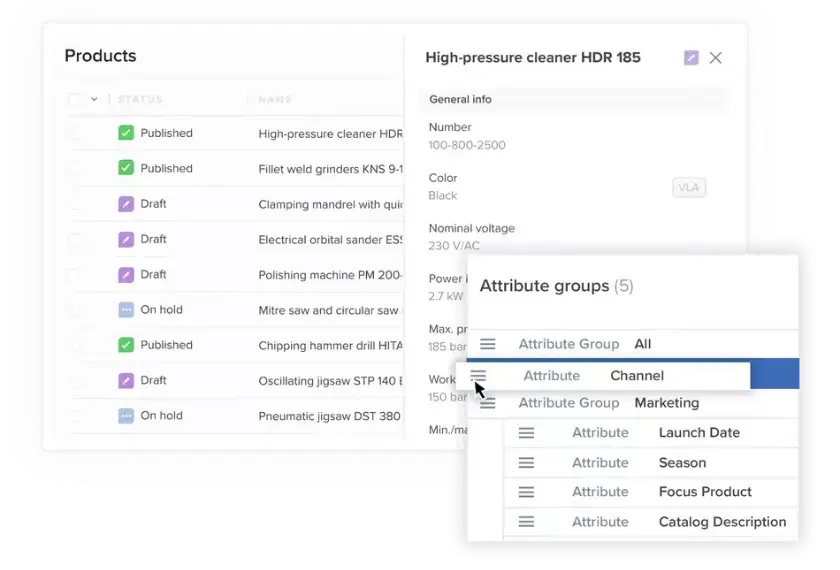 Fourth:

SELL MORE
Package and promote products in multiple ways to maximize your profits
Implement product-to-product relations, such as upsell, is accessory of, or cross-sell, to boost your e-commerce revenue.
Gather different variants of the same product and group them together. Set up variant-level attributes that will be inherited by all the products in each group. At any moment, you can add existing products to the variant group or create a variant from scratch.
Combine as many different products as you want in a bundle. Add relevant attributes and change their quantities. Need new bundles? You don't have to create them all over again. Just duplicate existing ones and modify.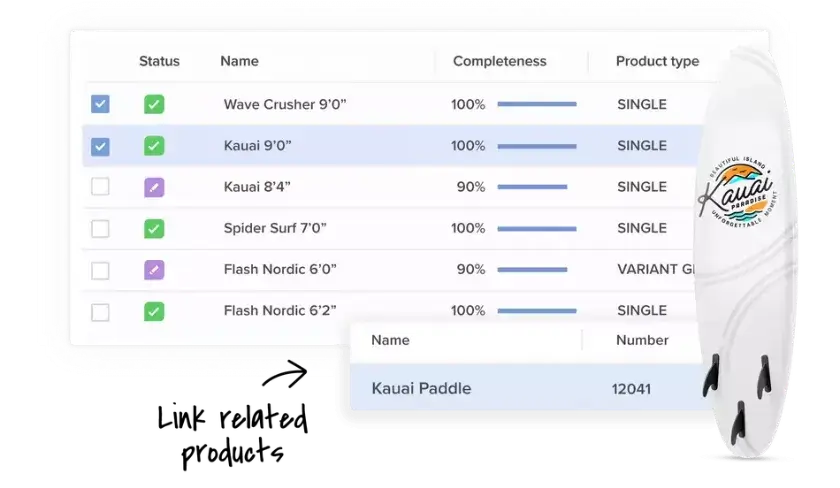 Bluestone PIM is a powerful toolbox for managing product information. Our service develops continuously, and the benefits of an IT architecture based on multi-tenant SaaS, API first, and micro services are becoming apparent for the industry. Our primary focus is to create business value for our clients and help them to improve quality, sales at less risk related to their product offerings.

Borgar Hestad
EVP Sales and Marketing at Bluestone PIM
Bluestone PIM Features
Discover powerful PIM features that fit your needs
DATA PROCESSING
Managing master data
Data quality control
Flexible data modelling
Data visualization
PRODUCTIVITY
Intelligent data import & mapping
Bulk-editing of filtered products
Customizable dashboard
Custom templates & libraries
INTEROPERABILITY
Supplier portal
Content store
Tailored channels support
Supply chain integrations
SUPPORT
Onboarding
Live support
Product updates resources
Dedicated success manager
PRODUCT ATTRIBUTES
Simple & compound attributes
Variant-level attributes
Category-level attributes
CATALOG MANAGEMENT
Product relations & variants
Advanced filters
Saved views
MEDIA MANAGEMENT
Digital asset management
Media asset information
Media labels
INFORMATION QUALITY
Product completeness score
Product statuses & history
Data quality & version control
SALES & PROMOTION
Campaign & voucher management
Bundling, cross-selling & upselling
SEO management
MARKETING COLLATERAL
InDesign integration
PDF generator
Product catalogs
SALES CHANNELS & INTEGRATIONS
Marketplace integrations
Language versions
Marketing & e-commerce apps
COLLABORATION
Access control
Roles & permissions
Tasks & notifications
TECHNOLOGY
Multi-tenant SaaS
Microservices architecture
API-first
Cloud-native and AWS-verified
WEB APIS
Management API
Public API
Commerce API
Channel API
DATA SECURITY
ISO 27001 certified
SOC1/SOC2 compliant
API keys to OAuth
OpenID Connect tokens
SUPPORT
Onboarding
Live support
Product updates resources
Dedicated success manager
Build up your stack with apps
Explore new marketing opportunites with Bluestone PIM Marketplace of Apps. Connect to world-class marketplaces, industry databases and integrate with e-commerce solutions.