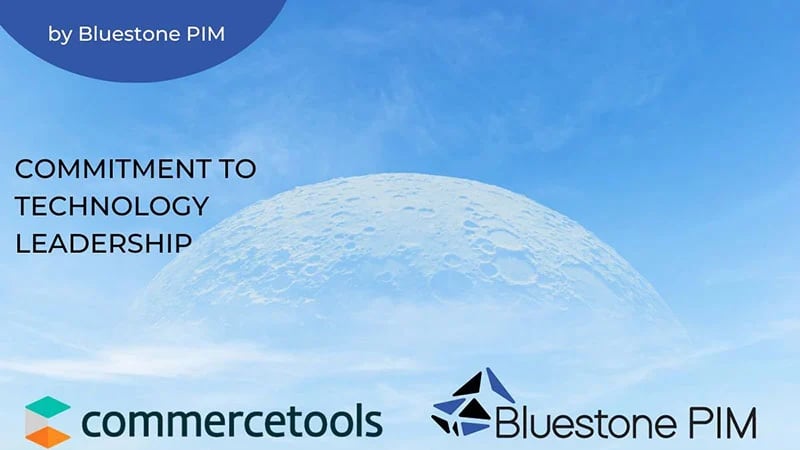 Tonsberg (Norway), September 9, 2022 - Bluestone PIM partners with commercetools, a provider of a multi-tenant, cloud-native digital commerce platform. The integration between Bluestone PIM and commercetools allows users to decide which product catalogs, variants, categories, SKUs and attributes should be synced towards commercetools.
The integration is available within the Bluestone PIM multi-tenant platform and is tested and verified as part of the Bluestone PIM service. Customers do not have to worry about regular updates. Any change in commercetools import APIs will automatically update the integration.
The integration between commercetools and the first MACH-certified PIM is available to Bluestone PIM customers on a subscription model basis.
Bluestone PIM and commercetools are members of the MACH Alliance, which promotes an open tech ecosystem based on MACH architecture.
Modern, composable commerce relies on quality data. A PIM system delivers the essential 'golden record' for a consistent customer experience across all delivery points. commercetools is proud to have Bluestone PIM as a 'best of breed' option for MACH-based ecommerce. Our customers will benefit mutually from this commitment to technology leadership!
Christopher Holley, Global Director at commercetools
Customers are looking for best-of-breed solutions to refine their business processes beyond what they can achieve within their existing system landscape and services. As the first MACH-based PIM, we come across our customers' needs offering syncs with the world's leading e-commerce software providers like commercetools. We believe in the power of MACH technology and are delighted to join forces with commercetools to provide solutions helping companies boost their digital commerce stacks.
Einar Augedal, CEO at Bluestone PIM
About Bluestone PIM
Bluestone PIM is a SaaS product information management solution based on MACH principles (Microservices-based, API-first, Cloud-native, Headless). In 2021, Bluestone PIM was recognized as the first MACH-based PIM company by the MACH Alliance.
Key features of Bluestone PIM include data quality control, intelligent data import and mapping, and management of a large number of SKUs (millions of products).
With Bluestone PIM, retailers can coordinate the process of updating information such as media files, product attributes, technical product cards and product descriptions across multiple sales channels (apps, printed catalogs, online marketplaces, websites, etc.). This allows teams to eliminate errors, optimize costs, and scale with demand.
Bluestone PIM is a suitable solution for larger retailers who want to work in a global market, integrating multiple languages and sales channels. The service integrates well with other applications based on a well-documented API library.