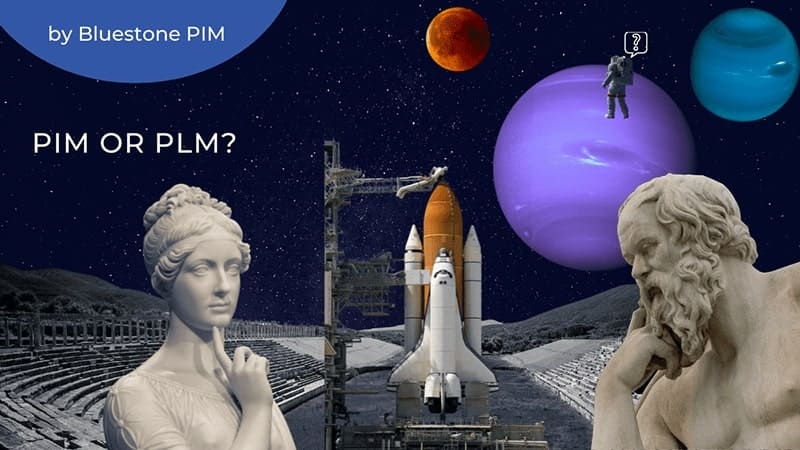 Selling candy to a bunch of kids should be a no-brainer, but not in times of data. Now you need to know where children hang out after school, what games they play, and who their idols are.
Colorful packaging is no longer enough to sell a product. You need to show your candy from different angles, describe the ingredients, and tell kids how other little customers have enjoyed eating it.
To make this one sale, you need to collect and organize the available data.
There are many solutions designed to solve the challenge of data management and storage.
If you are lost in all the acronyms like PIM, DAM, and PLM, you have come to the right place.
Whether you are a marketer or work in the IT department, after reading this article you will understand the difference between all these terms and determine which system you need at this point of your journey.


What is PIM?
Product information management (PIM) is software that enables the process of collecting, enriching, and managing product data on multiple sales channels.
Product data management helps deliver a compelling product experience to drive online sales, and with the use of APIs (Application Programming Interfaces), it enables data manipulation from other apps.
In simple terms: to sell the same pair of shoes in a few online stores, you need to add images and videos to each platform, and specify which colors and materials are available. But what if you have 5.000 different pairs of shoes, and you also want to start selling purses and hats?
That's where the PIM solution comes in handy. Instead of hiring more staff and updating product descriptions manually, you can create a single source of truth inside the PIM of your choice, which means controlling your product data using just one software.
PIM systems enable sending of the right digital assets and product specifications to the right channels including printed catalogs, online marketplaces, e-commerce platforms, websites, and applications.
If you are not sure whether you need to invest in PIM software, check our free E-book: 5 Sure Signs You Need a PIM System.
According to experts at Bluestone PIM, first-time buyers typically have a hard time distinguishing between PIM and PLM systems. Let's learn more about PLM software and how it can help improve the process.


What is PLM?
Product lifecycle management (PLM) is software that handles all data and processes at every stage of a product's or service's lifecycle across worldwide supply chains.
Items, parts, goods, papers, specifications, engineering change orders, and quality workflows -- all contribute to this.
PLM's fundamental goal is to make it easier to monitor and track changes in a product from its inception to its placement on the market.
In simple terms: Let's get into the shoes of car manufacturers. Before they make an ad of their car driving fast at sunset, they need to decide who works on which part and then manage multiple databases with information on the battery, radiator, engines, and other car parts.
To enable many different teams to work on the design process, and organize the entire lifecycle in the best way possible, you'd need to find PLM software.
With product lifecycle management software, businesses can handle project complexity, shorten a product's lifecycle, strengthen collaboration between teams, and create a single frame of reference.


How to Choose Between PIM and PLM?
PIM VS PLM is an open question for many companies.
Whether you want to keep your product data up to date across different sales channels or store reams of technical details of the development process, one of the systems will be necessary.
For maximum efficiency, large companies use both PLM and PIM systems.
If you have complex design and manufacturing processes - this could be the case for companies operating in the robotics, automotive, and aerospace industries - you should definitely look for PLM systems.
However, there are also some product lifecycle management challenges that PIM solutions can help with.
How can PIM help with basic PLM?
Some advanced PIM software tools can support product lifecycle management.
Here is how Bluestone PIM solution, for instance, can prepare the products for sale based on relevant data:
Provide open information: sharing between employees, suppliers, partners, and customers.

Create a customer and product connection - with contexts and specific attributes.

Update pricing, product attributes, and sales information during product launches.

Improve product viability with accurate product information gathered by sales and marketing.

Help create different roles for operations, marketing and sales teams.
Product development data can be stored in the PIM software. For example, early in the product development process, you may need to work on high-quality product descriptions to get a new product to market faster.
With PIM's advanced systems, you can store product descriptions in a single place and then distribute them through all kinds of channels, such as wholesalers' websites, print catalogs, web applications, online stores, and portals.
Another advantage of managing the product lifecycle inside of PIM software is that product information can be synchronized and updated faster and more efficiently across all channels.
In addition, PIM can work with enterprise resource planning (ERP) by making product data more attractive to customers.


What is the difference between PIM and DAM?
Yes, one more acronym. Hopefully, we haven't lost you yet!
If you choose PIM to support your product lifecycle management, you should also check if PIM allows Digital Asset Management (DAM) in its system.
DAM can manage your digital assets such as images, documents, and meta descriptions.
Key benefits of DAM include easy access to all digital assets, brand consistency, and protection. DAM also helps marketing teams be more creative by allowing integration with tools such as Adobe InDesign.
Unless a company is in an industry with a complex product lifecycle, it makes more sense to look for a PIM that supports both digital asset management and product lifecycle management.
The Bottom Line
Both product lifecycle management (PLM) and product information management (PIM) serve the same goal - getting products to market faster.
While PLM is the right tool to manage the early stages of product development, PIM would be ideal to organize the process in the commercialization phase (production, marketing, distribution, sales, and customer support).
If you are looking for a PIM system that supports both DAM and basic PLM, reach out to our advisors at Bluestone PIM for a free consultation to find the right software for your team.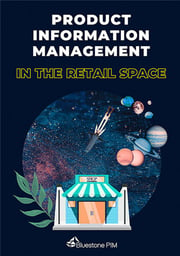 DOWNLOAD FREE E-BOOK
Product Information Management in the Retail Space
Learn how retail companies are creating engaging customer experiences by improving their product data.