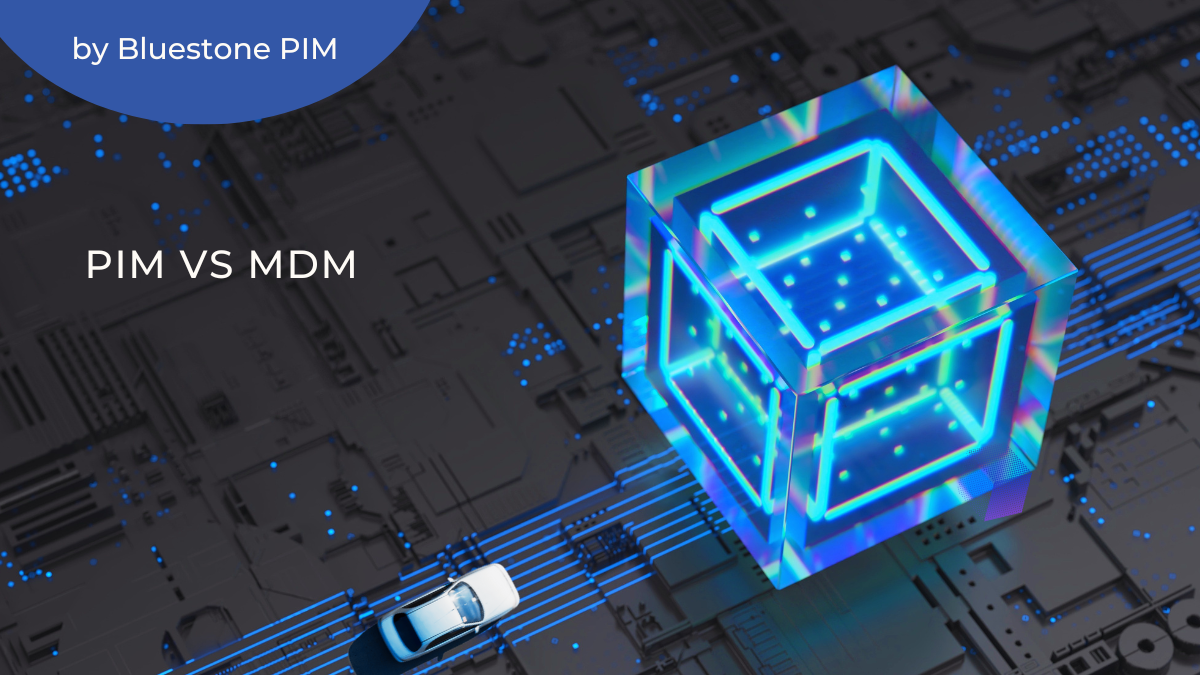 What are the differences between PIM and MDM, and in what cases should you choose one over the other?
For the most part, both systems have the same goal: to create a centralized data source that can support business activities. However, there are important differences between the two that can have a significant impact on sales and marketing efforts. So how can you decide which system you need?
Below, we explain what PIM and MDM are, their differences and strengths, and how you can choose the most fitting system that meets your business's needs.
To get a quick summary of this guide, check out the key takeaways section at the end, or watch the video below.


What is Product Information Management (PIM)?
Product Information Management (PIM) is a software solution that helps businesses centralize, manage, and distribute product information such as descriptions, specifications, and digital assets across multiple sales and marketing channels.
By providing a single source of truth for product information, PIM systems can streamline workflows, reduce data errors, and ensure a consistent brand experience for customers across all channels.

Related reading material: What is PIM: A Definitive Guide
Key functions of PIM
When it comes to the management of product information, there isn't a solution better suited for that task than PIM.
With the ability to centralize, standardize, enrich, and distribute product data, it is a powerful tool for businesses looking to leverage product content and maximize customer engagement and online sales.
The following is a detailed explanation of PIM's functions:
Consolidate all product information in one place: No more data silos or the need to work with multiple Excel spreadsheets. With a single source of truth for all product data, managing, adding, or updating data has become a simple task—just do it once and it will be synced across all systems, ready to be used by everyone in your team. Even data from external data sources (like an ERP, CRM, and suppliers' databases) can be easily pulled with the use of an API.

Standardize product information: Different systems tend to present data in their own format that is different from others. This inconsistency causes data quality issues that can derail your sales and marketing efforts. PIM solves this problem by making all data conform to a set of predefined rules and validations, resulting in a uniform format. By establishing standardization rules for different data types, such as units of measurement, dates, and categories, you will get a clear and comprehensive catalog of your product data that is ready for use.

Enrich product data and enhance data quality: Product data can be enriched by adding more information and digital assets to the product, such as descriptions, images, videos, product relations, variants, and even translations. Most PIM software has a "data completeness score," which is a data validation tool with a metric that shows whether a product contains all the required information or can be enhanced further, thus avoiding the publication of incomplete or incorrect information.

Automate distribution to all channels: Typically, the preparation and distribution of the product information to their designated channels is done manually, which is a tedious and time-consuming process that is prone to human errors. But with the Product Data Syndication feature present in a PIM, this process can now be automated with a minimal need for human intervention.
Early PIM systems were designed to simply collect and store a variety of product information and digital assets from other data sources. In this day and age, however, PIM solutions can do so much more than just be a data repository; they can drive online sales.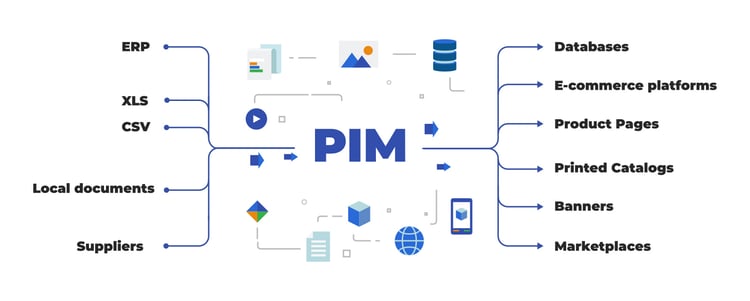 PIM stores data pulled from several other sources in a single system, which allows for an easy management and enrichment process, before distributing them to other channels.


Not only can it store information such as a product's name, description, category, and other attributes, but it is also equipped with market and language support, as well as digital asset management capabilities to store images, videos, and PDFs.
In the near future, such systems will also offer machine learning capabilities to optimize the presentation of product information across different channels to achieve the best results.
Benefits of PIM
A well-implemented PIM system can do more than just help with the management of product information and digital asset. It can help to achieve the following:
Better organization of product data:

A centralized platform to store and manage your product data means it can be easily accessed, updated, and enriched in one place, then made ready for distribution to all sales channels.
Ease of collaboration:

Share data across departments, external partners, and suppliers, or invite them to work together on content creation or publishing workflows. With customizable user roles and permissions, you can ensure that users can only access authorized data
Save time with automation:

There is no need to manually fill in the data fields of each product or SKU into the PIM; it can automatically map and validate the imported data. Simply import the data file into the PIM and let it do the rest.
Eliminate data inconsistencies:

Data discrepancies commonly occur when data is stored in multiple spreadsheets or systems or is even worked on by different teams. With PIM, this will no longer be an issue as all individuals will work on the same data in real-time on one platform. Customers will then be presented with accurate and up-to-date product information.

Fewer Product Returns and Poor Reviews: A common complaint by customers is that the product information they saw online does not match the product they received. That is because they were presented with inaccurate or out-dated information on a channel the business had accidentally overlooked. PIM ensures your customers are served product information on all channels that is consistent, accurate, and up-to-date.
Consistent branding and messaging: Ensure that all product information and digital assets adhere to a consistent format and style guide. This consistency can help reinforce brand identity and messaging across all channels, including eCommerce sites, social media, and print materials.
Simplified international expansion: By facilitating the localization and translation of product information together with the option to filter product offerings to specific regions, businesses can easily expand into new markets, reach new customers, and provide them with relevant product content that speaks to their needs and preferences.
Drive online sales: Leveraging the features of PIM will help businesses enhance their online presence and create a consistent, engaging omnichannel experience for their customers. Happier customers mean more customers, which translates to a higher conversion rate!
5 signs you need a PIM solution
1. You manage a large number of SKUs and struggle to keep track of them
If you run a small retail business with fewer than 100 SKUs, manually managing their product information and catalog may take some time, but otherwise it would not prove to be a huge challenge.
But what happens if you have over 1000 SKUs, like Walmart, with over 400 million SKUs?
It's not uncommon for businesses with a large catalog to lose track of some products or struggle to keep them accurate and up-to-date across all channels. Data disorder occurs and product content quality suffers, resulting in negative customer experiences, product returns, and poor reviews.
With a PIM, businesses can easily manage their entire product catalog, including description, attributes, and pricing, and automatically sync them across all digital channels in real-time.


2. You are encountering data quality issues
Are you trying to eliminate error-prone habits in your organization, such as relying on spreadsheets to store your product information?
It is possible to manage several hundred items with a single spreadsheet. However, even with a relatively small number of products to sell, different teams working on the same data can unknowingly create data quality issues such as inconsistent product information, conflicting pricing, and outdated product descriptions.
Manually updating product attributes or image metadata is a detailed task. To maintain product data quality and integrity, it is necessary to implement a PIM solution that can automate this process and save you hours or even days of work.


2. You want to pursue new sales channels, but you do not have enough manpower to do so
Pursuing new sales channels often means you will need more people on the team or dedicate more time to managing them.
Needless to say, this does not lead to the desired business growth as it increases expenses and potentially leads to a chaotic organization within the company (it is quite possible when product data is distributed across spreadsheets and handled by multiple employees).
Transitioning specifically to PIM not only automates the data entry work, but also streamlines product content management and distribution across all sales channels, allowing businesses to expand and reach more customers without adding to their overhead costs.


3. You have difficulties starting or maintaining an omnichannel strategy
Are you experiencing high bounce rates in the early stages of your sales funnel? If so, this may be because shoppers are put off by the inconsistent information about products in your omnichannel and are bouncing.
Given that customers want a personalized, seamless shopping experience, this does not come as a surprise.
Omnichannel is all about improving the shopping experience and putting your customers at the heart of your marketing strategy. Whether customers want to buy products in a brick-and-mortar store, via desktop or mobile devices, all processes should be fairly simple for them.
Even world-famous brands like Starbucks offers the option to order online and pickup at a physical store, a feature that quickly rose in popularity among its customers over the years.
While MDM or enterprise resource planning (ERP) systems can help you solve internal operational challenges, the PIM solution is the right tool for an omnichannel strategy as it can leverage your product information to maximize the awareness of your products on the online space and help customers explore product options while using different sales channels.
Today's buyers should be constantly reminded of the product on different platforms and be able to buy on the platform of their choice and use the most convenient payment method.


5. You want to expand into international markets, but lack the tools that can support you
There are many attractive markets in the Asia-Pacific region (think China, which accounts for about 50% of global eCommerce sales).
To gain a foothold in international markets, you need to offer multiple currency payments and language translations, and also explore local marketplaces.
These all can be done with a flexible PIM solution that comes with features and third-party integrations to enhance your sales and marketing activities, such as:
Automatic translation of product information

into multiple languages to engage customers in their local language.

Channel-specific filtering

to tailor product content to the specific requirements of each sales channel or region.

Easy integration

with online marketplaces and eCommerce platforms
To learn more about the business value of PIM software, get our free eBook 5 Sure Signs You Need a PIM System.
What is Master Data Management (MDM)?
Master data management (MDM) is a software solution that manages an company's critical data domains (such as information related to customers, finances, suppliers, employees etc.) that are essential to business operations in a single system. These critical data domains are also referred to as master data.
Like PIM, MDM enables companies to create a single, reliable view of their data, which can be used across different departments, systems, and channels.

Key functions of MDM
Master data (also known as the "golden record") is the foundation of any successful enterprise. It provides a single, accurate, and comprehensive view of critical business information, allowing companies to make informed decisions and achieve operational excellence.
As enterprises grow and scale, the amount of data they collect and handle increases exponentially. Additionally, the data is needed by different teams and individuals throughout the company who rely on it for their day-to-day operations and make data-driven decisions, and for that, it is important that they have quick access to them.
To achieve that, executives needed a suitable environment where everything there was to know about a product or another aspect of the business was available in the form of a reliable, authoritative reference point.
This is where master data management systems came into play.
MDM is specifically designed to meet the analytical and operational needs of enterprises, and can accomplish the following:
Create an authoritative data source: By unifying, cleaning, and standardizing master data pulled from other systems and channels, MDM can ensure that the data is accurate, consistent, and reliable. With everything in one location, data can be quickly enriched, updated, or disseminated to other systems.

Secure critical data in a single system: Store and manage all business sensitive data in a centralized system, where data governance policies can be established to control data access and usage, ensuring that only authorized personnel can access and modify the data.

Enforce data quality procedures: Implement standardization rules and naming conventions to ensure consistency and facilitate data integration and analysis. Ensuring that the data adheres to defined quality standards means your team can trust the data and use it to make critical business decisions with full confidence in its accuracy.

Benefits of MDM
Master Data Management offers businesses a centralized and reliable source of critical business information, avoiding inconsistencies and redundancies from using multiple sources of data that can jeopardize your sales and marketing efforts.
Some of the benefits of implementing MDM include:
Improve data quality: The data profiling, data cleansing, and data standardization tools in MDM help to eliminate redundancies, inconsistencies, and errors, ensuring that the data is accurate, complete, and up-to-date.
Quick and easy access to clean data:

data can be organized and made easily accessible to authorized users, reducing the time and effort required to search for and access information.

Time savings through automation: MDM can automate many data management tasks that would otherwise require significant manual effort. This can free up time for employees to focus on other important tasks.
Achieve regulatory compliance: With the ability to set and enforce data quality standards to comply with regulations such as the General Data Protection Regulation (GDPR), companies can ensure data accuracy and completeness and track data lineage for auditing purposes.
Enhance collaboration between cross-functional teams: Facilitate better collaboration among different teams and departments by providing a unified view of data, enabling faster decision-making, and reducing the time and effort required to reconcile conflicting information from multiple sources.
5 signs you need an MDM solution
1. Master data is stored in an inconsistent format
The master data management (MDM) system allows you to create a "golden record" of your locations, customers, employees, suppliers, and business operations.
Typically, in the absence of an MDM, different teams in an organization may record data in different ways, making it difficult to find specific records in the database.
One team records customer names using the format "last name, first name," while another team records them in the opposite order: "first name, last name." This inconsistency can lead to confusion and errors when searching for customer records or trying to merge duplicate records.
This problem can be solved with master data management software that keeps all data consistent across multiple platforms within an organization, saving time for employees who would otherwise have to manually reconcile the discrepancies.


2. New integrations are being implemented
Implementing integrations with other companies is time-consuming and technically challenging.
To avoid delays in data integration, the company should take advantage of an MDM system that enables the integration and analysis of data from multiple companies.
When using MDM, data integration does not require increasing the headcount, as a data management platform can help automate processes and meet operational and analytical needs.


3. Data governance initiative fails
Data governance protects data while making it more accessible to the right teams. Failure to do so can result in heavy fines. For example, the GDPR (General Data Protection Regulation) can impose a fine of up to 2% of the company's global revenue.
Companies can benefit from using master data management software that dovetails with enterprise master data governance systems and programs. With an MDM solution, teams get the right framework for protecting data and its accuracy.


4. No overview of the supply chain
Supply chain management also requires the right software.
MDM can be used to sort and validate data and to create a complete overview of all suppliers. Transparency and consistency of supply chain data across an organization can help provide useful insights needed to improve business models.
In addition, using an MDM solution to collect supplier data is a safe option, as it enables the creation of backup copies of the data as well as the recovery of lost data.


5. Customer data is scattered across multiple systems
There is a vast amount of customer data to collect, manage, and analyze.
Without a centralized system to manage them, organizations often struggle to keep track of their customers' information, such as contact details, purchase history, and preferences. This can lead to customer frustration and missed opportunities for upselling or cross-selling.
For instance, a customer may have updated their contact information or product interests, but because their data is stored in separate systems that are not integrated, the marketing manager may not have access to the correct data, which can result in marketing messages that are irrelevant or inappropriate for the customer.
With an MDM, the company can consolidate all information from various systems, create a single source of truth for customer data, and help their teams provide a personalized and seamless experience for their customers.

How to choose between PIM and MDM?
PIM and MDM share the common goal of creating a unified and trustworthy data source. Both systems consolidate, manage, and enrich data within the system, maintain data accuracy, consistency, and completeness, and prepare data for distribution across various channels and systems.
However, their specific focus differs.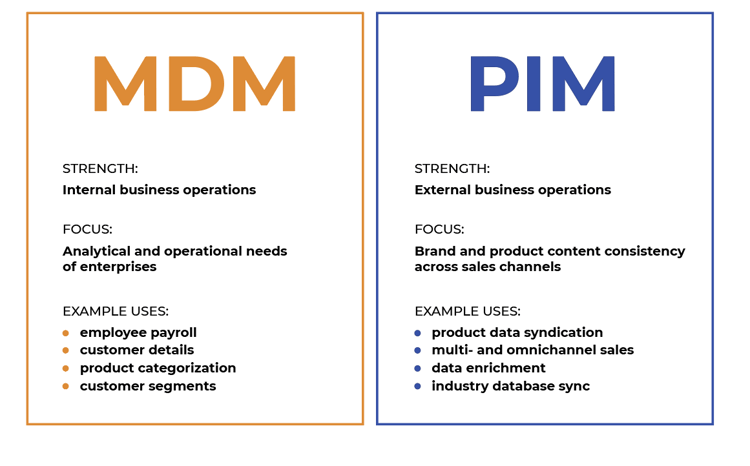 PIM focuses entirely on product information and its effective management. It is an ideal solution for businesses that have a massive number of SKUs, need to adapt their product information to new sales channels or markets, or want to create a seamless omnichannel experience for their customers. Compared to MDM, PIM is a cost-effective solution and provides more specialized tools and features to manage and optimize product data for marketing and sales purposes.
MDM, on the other hand, is suited for businesses that need to manage multiple data domains, such as customers, finances, products, or employees, and want to create an accurate, trustable view of all data that can be used throughout the company for business decisions. Its focus is on internal business operations, improving and managing data integrity, and facilitating collaboration between cross-functional departments. While MDM can also handle product data, it does not offer the same level of detailed product information management and enrichment as PIM.
Ultimately, the choice between PIM and MDM depends on a company's specific needs, priorities, and budget.

Conclusion
While PIM and MDM share the common goal of creating a centralized and trustworthy data source, the main difference between them is that MDM primarily supports internal business processes and facilitates collaboration between cross-functional departments, while the PIM system supports external business processes and establishes omnichannel consistency.
In this respect, MDM and PIM complement rather than undermine or exclude each other.
For some large enterprises, having both PIM and MDM solutions can be useful because they are not mutually exclusive, only complementary. The PIM system can help organize enterprise-wide data, prevent data inconsistencies, and, most importantly, build an effective omnichannel strategy for marketing purposes.
By using both systems, businesses can create a comprehensive data management strategy that covers all aspects of their operations, from the organization of enterprise-wide data to the support of an omnichannel customer strategy.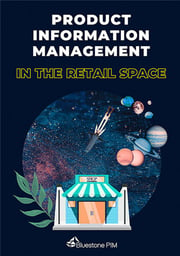 DOWNLOAD FREE E-BOOK
Product Information Management in the Retail Space
Learn how retail companies are creating engaging customer experiences by improving their product data.
Effective product information management is the linchpin of any retail or eCommerce business. Clean, accurate, and enriched product content is what keeps customers engaged and delivers a seamless and personalized shopping experience.
Bluestone PIM provides a comprehensive solution for managing and enriching vast amounts of product information, facilitating seamless omnichannel experiences, and adapting to new sales channels and markets. Get in touch with our PIM advisors today to learn more or book a demo to see Bluestone PIM in action.
Key Takeaways
PIM and MDM are two types of data management systems that share the common goal of creating a unified and trustworthy data source for businesses, maintaining data integrity, and

preparing data for distribution across various channels and systems.
PIM is a specialized solution focused entirely on product information, while MDM manages multiple data domains such as customers, finances, and employees.
Unlike MDM, PIM does not manage data unrelated to product information, s

uch as customer data or financial information. On the other hand, MDM lacks the product information management and enrichment tools that PIM has to ensure a consistent and accurate representation across all channels.
PIM is ideal for businesses with a massive number of SKUs that need to adapt their product information to new sales channels or markets or want to create a seamless omnichannel experience for their customers.
MDM is best suited for businesses that need to manage multiple data types and want to create an accurate, trustworthy view of all data that can be used throughout the company for business decisions.
PIM and MDM are complementary solutions that can work together to provide a holistic view of a company's data.
Investing in a robust PIM or MDM solution can provide significant benefits to businesses, such as improved data quality, better decision-making, increased efficiency, and cost savings.


Editor's note: This post was originally published in June 2022 and has been updated with the latest information.