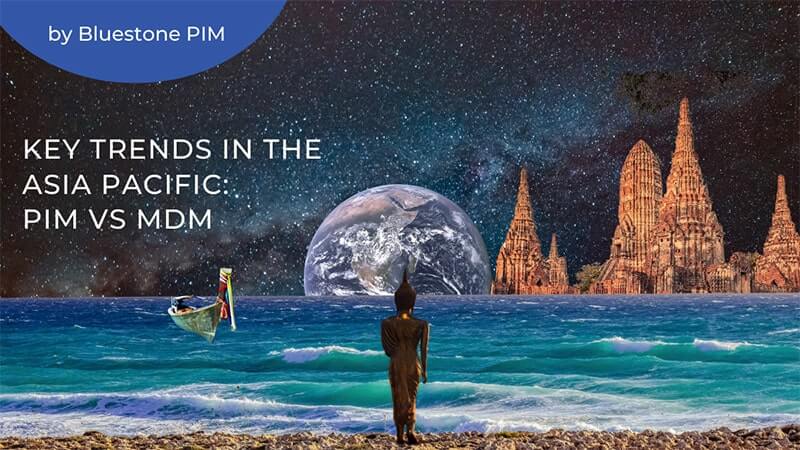 The Asia-Pacific e-commerce market has not only survived but has grown stronger following the global COVID -19 pandemic lockdowns. Experts forecast that the e-commerce industry in the APAC region will grow at least 8.2% by the end of 2025, which is 3% higher than the U.S. and Europe.
The raw data makes it clear - it is the right time to take advantage of the e-commerce revolution in the Asia-Pacific region and focus all efforts on developing new sales channels. A smooth transition from running one online store to selling products through multiple channels is only possible with automation.
Juggling the latest e-commerce technology solutions or mastering remarketing tools are just some of the elements involved in everyday e-commerce operations. In an effort to gain the upper hand in the market, a good understanding of e-commerce software has become a standard, not a luxury.

To achieve multiple business objectives and successfully implement an omnichannel strategy, e-commerce companies should consider adding either product information management (PIM) or master data management (MDM) to their tech stack. Both systems enable automation and scaling with demand, saving time, and resources that can be used for actual sales.
Below, we explain the differences between PIM and MDM and provide some tips for selecting the right system specifically for the Asia-Pacific region:
---
What is master data management (MDM)?
Data management in an e-commerce company requires the integration of technologies to improve process efficiency, reduce production costs, and streamline supply chain operations.

Before the job title of e-commerce manager even existed, executives needed a suitable environment where everything there was to know about a product or another aspect of the business was available in the form of a reliable reference point. This is where master data management (MDM) systems came into play. Over time, the software that filled this niche has evolved into a range of SaaS products.

Master data management software is a system for managing all data related to SKUs, suppliers, vendors, customers, costs, locations, etc. MDM allows access to product data from any device to make data-driven changes that impact sales and marketing performance, and improve customer relationship management.

The MDM solution is specifically designed to meet the analytical and operational needs of enterprises. The software can help with the following business operations: employee payroll, customer details, product categorization, customer segments, to name a few.
What is product information management (PIM)?
A product information management system is used to centralize and simplify the management of product data and the digitization of digital assets. It is used to standardize e-commerce product information management and distribute reliable, enriched product information to customer touchpoints, marketing and sales channels. PIM improves cross-functional collaboration and streamlines key workflows.
Product data management provides technology solutions to resolve product data errors. As a result, companies can shorten time-to-market and engage a greater number of customers with products. Some small e-commerce businesses rely solely on spreadsheets to work with product data. However, manual updates can take a lot of time, require more staff on the team, and lead to human errors more known as product data accuracy issues.
Early PIM systems were designed to collect a variety of information about products. Today, however, PIM solutions can do so much more.
Not only can it store information such as a product's name, description, category and other attributes, but it is also equipped with market and language support, as well as digital asset management capabilities to store images, videos and PDFs.
In the near future, such systems will also offer machine learning capabilities to optimize the presentation of product information across different channels to achieve the best results.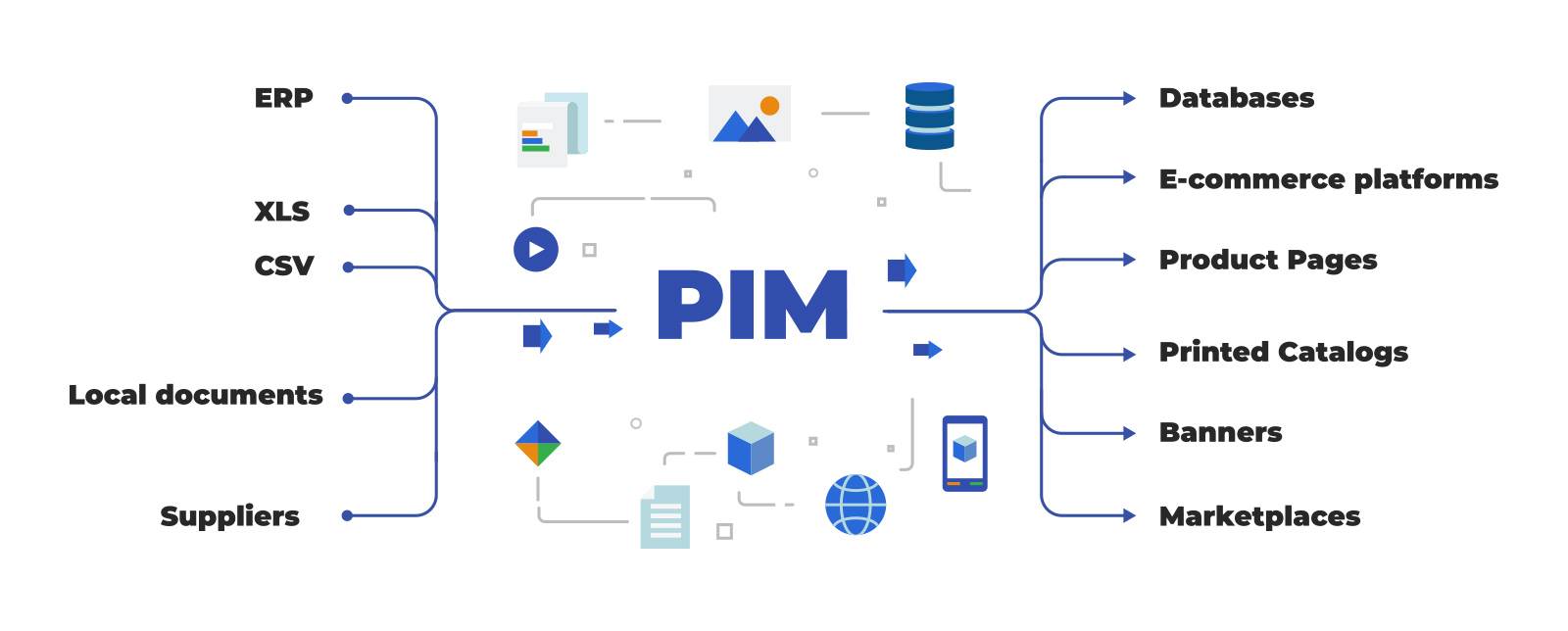 How to choose between PIM and MDM?
Master data management systems are designed to provide complete, seamless, and operational control over an organization's data, ideally including all areas such as suppliers, finance, customers, and locations. In practice, MDM software has become a collection of silos that promise the holy grail of 360-degree insight into the state of an enterprise.
The prevailing efforts of an MDM system have focused on a company's internal business operations, essentially facilitating collaboration between departments.
At this point, implementing a modern product information management system (PIM) becomes relevant and urgent, with its external focus on improving and managing product data quality for marketing and sales channels.
The primary driver and scope of a PIM system are to establish and execute consistency across the omnichannel, which primarily benefits a company's product information that can be published on product pages, in catalogs, at points of sale, and so on.
In this respect, MDM and PIM complement rather than undermine or exclude each other. Nonetheless, PIM has emerged as a central element of the IT e-commerce architecture in the Asia-Pacific, a hub that gathers valuable product data and presents it accurately to the world. This is significant once a company reaches 500+ SKUs (Stock Keeping Units). Many PIM systems already have built-in MDM to ensure there is one source of master data.
At this stage, using spreadsheets to manage product information is no longer sufficient. The capacity of a spreadsheet is quickly exhausted with such a large amount of product data. Naturally, the more SKUs a company offers, the more relevant, applicable, and profitable it is to use a PIM.
Top 5 signs you need a PIM solution
1. There are a lot of errors in product data
Are you trying to eliminate error-prone habits in your organization, such as using spreadsheets?
It is possible to manage several hundred items with a single spreadsheet. However, even with a relatively small number of products to sell, the e-commerce team can make unwanted errors in product data. Updating images and product attributes is a detailed task. To maintain accurate product data, it is necessary to automate the process by implementing a PIM solution.
2. Moving into new sales channels requires more staff on the team
Manual updates simply require more people on the team. Needless to say, this does not lead to the desired business growth as it increases expenses and potentially leads to a chaotic organization within the company (it is quite possible when 50 employees s distribute product data across spreadsheets). Transition specifically to PIM can help eliminate redundant, irrelevant or erroneous product information.
3. Creating the omnichannel strategy is a challenge
Are you experiencing high bounce rates in the early stages of your sales funnel? If so, this may be because shoppers are put off by the inconsistent information about products in your omnichannel and are bouncing.
Omnichannel is all about improving the shopping experience. Whether customers want to buy products in a brick-and-mortar store, via desktop or mobile devices, all processes should be fairly simple for them. Even a world-famous brands like Starbucks offers online ordering.

While MDM or enterprise resource planning (ERP) systems can help you solve the internal operational challenges, the PIM solution is necessary to implement the omnichannel strategy. The main reason for this is that Excel files and ERP systems cannot distribute data to different sales channels.
According to the GlobalData report, China and South Korea have already matured the omnichannel approach, while the majority of e-commerce companies in Indonesia, the Philippines, and Vietnam are only in the early stages of transitioning to new systems that match the new habits of shoppers. This means that retailers and manufacturers have untapped markets with great potential (the Philippines alone are currently home to nearly 113 million people).
4. Losing customers due to a poor experience
Product data management software can support the customer journey by increasing awareness of your products ( PIM improves SEO efforts). It also helps customers explore product options while using multiple sales channels. Today's buyer should be constantly reminded of the product on different platforms and be able to buy on the platform of their choice and use the most convenient payment method.
5. Expanding into international markets seems impossible
There are many attractive markets in the Asia-Pacific region (think China, which accounts for about 40% of global e-commerce sales). To gain a foothold in international markets, you need to offer multiple currency payments, language translations, and explore local marketplaces. This is also possible with the flexible PIM solution.
To learn more about the business value of a PIM software, get our free E-book: 5 Sure Signs You Need a PIM System or schedule a call with me.
Top 5 signs you need an MDM solution
1. Company data is not consistent
The master data management (MDM) system allows you to create a "golden record" of your locations, customers, employees, suppliers, and business operations. Different teams in an organization may record data in different ways, making it difficult to find specific records in the database. For example, Team A records deliveries using abbreviations, while Team B uses full names. Both Teams need to hold multiple meetings to work on consistent business processes that meet their analytical and operational requirements. This problem can be solved with master data management software that keeps all data consistent across multiple platforms within an organisation.
2. New integrations are being implemented
Implementing integrations with other companies is time-consuming and technically challenging. To avoid delays in data integration, the company should take advantage of an MDM system that enables integration and analysis of data from multiple companies. When using MDM, data integration does not require increasing the headcount as a data management platform can help automate processes and meet operational and analytical needs.
3. Data governance initiative fails
Data governance protects data while making it more accessible to the right teams. Failure to do so can result in heavy fines. For example, the GDPR (General Data Protection Regulation) can impose a fine of up to 2% of the company's global revenue.

Companies can benefit from using master data management software that dovetails with enterprise master data governance systems and programs. With an MDM solution, teams get the right framework for protecting data and its accuracy.
4. No overview of supply chain
Supply chain management also requires the right software. MDM can be used to sort and validate data and to create a complete overview of all suppliers. Transparency and consistency of supply chain data across an organization can help provide useful insights needed to improve business models. In addition, using an MDM solution to collect supplier data is a safe option, as it enables the creation of backup copies of the data as well as the recovery of lost data.
5. No overview of customers
There is a lot of customer data to collect and analyse. For example, the location of customers, their age, their gender, their occupation; how they found your products, their purchase decision hierarchy, and their buying behaviour, to name a few. There is never enough data as these insights influence marketing plans and business models. It's not enough to have all this data in a folder, software is needed to store, sort and analyse data quality.
A quick summary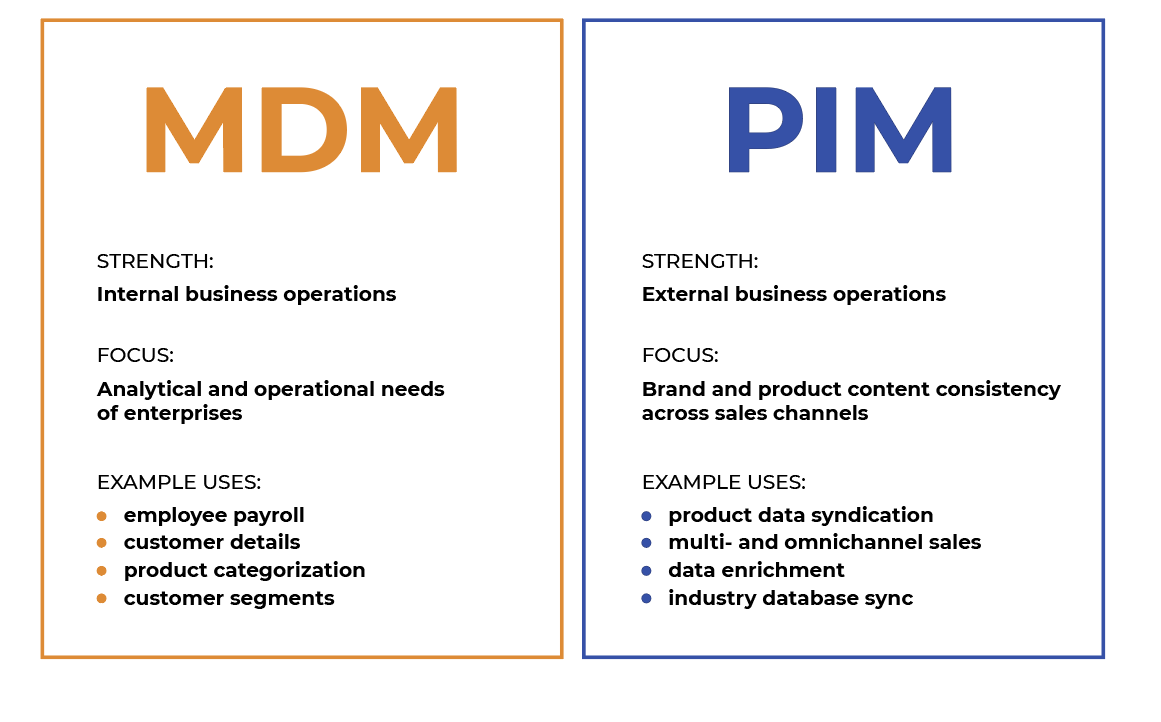 Both PIM and MDM can help organizations create a golden record of master data. The main difference between MDM and PIM is that MDM primarily supports internal business processes (collecting data on customers, employees, suppliers, etc.), while the PIM system enables improved up-selling, cross-selling, and customer experience thanks to consistent product data. The API-first PIM software enables connection to any system and distribution of product data to multiple platforms.

Not only can PIM be used to manage product data including digital assets, but with the help of data modeling, users can also add some MDM capabilities.

For some large enterprises, having both PIM and MDM solutions can be useful because they are not mutually exclusive, only complementary. The PIM system can help organize enterprise-wide data, prevent data inconsistencies and, most importantly, build an effective omnichannel strategy for marketing purposes. Not every PIM software is capable of meeting your organization's needs.
Contact us to learn how Bluestone PIM's solution can support your e-commerce strategy.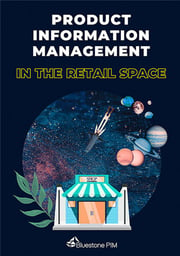 DOWNLOAD FREE E-BOOK
Product Information Management in the Retail Space
Learn how retail companies are creating engaging customer experiences by improving their product data.