Product information management (PIM) solutions are critical to e-commerce success.
PIM enables brands to create unified, consistent, and channel-specific product experiences and drive online sales with quality product information.
It also saves your team from hours of duplicate product information updates.
In our PIM conversations, our clients share with us the challenges they have with their product information that kept coming back like an unwanted boomerang.
Here are the questions frequently asked by our clients and the answers by our team.
How can PIM help us with the customer journey and customer experience?
Answered by Borgar Hestad, EVP of Sales and Marketing at Bluestone PIM
Every step of any customer journey has two things in common – the customer and your content – promotional messages, specs, FAQ pages, images, videos, ads, etc.
If you realize this, you can clearly see why the often-overlooked product information management is a major factor in driving sales and creating an effective customer journey.
What is more, for your product and marketing team the task is more challenging than ever before.
Today's customers interact with content and look for products in an ever-increasing number of channels, devices, and contexts.
They want to have all the information they want at their fingertips and if they don't get it, they leave.
According to LivePerson, a lack of information about the product, service, or delivery drives 56% of people away.
There are many companies missing sales growth opportunities because they got stuck in legacy systems and IT solutions that are getting rapidly outdated.
We've created Bluestone PIM to enable companies to manage their product information in a way that meets the challenges of digital commerce these days.
How can PIM impact our search engine optimization?
Answered by Claudia Martins, International Sales at Bluestone PIM
Better product information in the right place can improve SEO. It means your products are more easily discoverable by potential clients.
Everybody knows that content is king, and PIM makes it easy to create original content.
Also, PIM eliminates the need to copy dry product descriptions from manufacturers by storing all product content in one place, and you can then create your own version of product content that suits your marketing and sales.
You can even have different product descriptions for your e-commerce store, marketplaces, or whichever sales channel you sell on.
In this way, your sales channels don't compete for search engine rank, they complement each other.
Put product content at the center of your business, and search engines will reward you with more traffic. #pim #productinformation
Click To Tweet
How does PIM affect product experience?
Answered by Stian Sandal, Sales Manager at Bluestone PIM
Many businesses have gone through some form of digital transformation, and experts say we are now in the post-digital era.
Now, it's all about a unified experience that spans across channels.
It's about creating an emotional connection between customers and products, and PIM is the central hub that connects everything. It is the foundation of product experience in the post-digital age.
Even the best product in the world will not sell itself, especially today, in a rapidly changing world of e-commerce where customers are pickier than ever before.
Your products, no matter how special they are to you, are competing all the time with similar ones available from other brands.
On the other hand, product content, such as descriptions, attributes, or media files is still the number one feature that customers look for on a website.
So, in order to create winning shopping experiences, you need to provide your customers with valuable, rich, exhaustive, and accurately tailored content.
How can PIM make our business more agile?
Answered by Borgar Hestad, EVP of Sales and Marketing at Bluestone PIM
The traditional way of dealing with new market requirements — something we like to call 'legacy systems spaghetti' — is random and messy, and not efficient.
PIM makes you faster and more agile because it puts things in the right order, brings structure to your product data, and puts product information at the center.
That way, whenever there is a new challenge or an opportunity, for example, a new type of product content, a new sales channel, or different contractor requirements, you are quick to adapt.
Why? Because your data is well structured.
When others spend time cleaning up their messes, you're already selling.
The PIM investment will make you more agile in your sales and marketing activities and benefit your existing business, so there is every reason to do this now.
With #PIM you become a #data-driven business, and this gives you a head start against your competition.
Click To Tweet
What are the top challenges you see companies have with product information?
Answered by Stian Sandal, Sales Manager at Bluestone PIM
The top of my list would be outdated legacy systems or "high-maintenance" open-source solutions.
Many companies fall for the open-source software hook, line, and sinker without realizing that in the end, the bill for implementing and adjusting such solutions can be quite substantial.
Secondly, it is repetitive, inefficient work on product enrichment, which leads to lower productivity.
Thirdly, this would be information confusion as a result of disorganized data flow and inconsistent data structure.
Lastly, it is a cookie-cutter approach to creating product information instead of customizing and targeting the right information.
What are the risks of outdated e-commerce solutions?
Answered by Claudia Martins, International Sales at Bluestone PIM
Businesses have been struggling with digitalization for many years.
They have been building systems upon systems to cope with market demands. But it's not possible to continue like this, and legacy systems have to go.
At some point, you have to do it the proper way: put product information at the center and create good digital representations of your products that help you sell well, no matter the channel, context, or setting.
The good news is, you can do this without disrupting your existing business!
You can build great product content that makes up your products' digital twins, and prepare for the future in parallel with what you have today.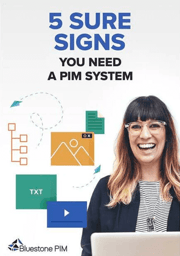 DOWNLOAD FREE E-BOOK
The no. 1 feature that drives purchases is product content
Check if you need a PIM system to manage your product content effectively.
Summary
PIM is a key element of your digital strategy. If your brand experiences similar product information challenges and you would like to receive more extensive advice to overcome such obstacles, get in touch with us!

If you would like to see how a MACH-based PIM platform can solve complex product data challenges, why not schedule a free PIM demo with our experts?