For many years now, businesses have struggled with digitalization, trying to react to market demands with little planning or strategy.
But it is possible to do digital transformation the proper way, and you can prepare for the future of sales without disrupting your business.
The answer comes with digital twins.
In a nutshell, digital twins are virtual representations of physical objects used to simulate their behavior in a digital environment. They have applications in several domains, including manufacturing, construction, and scientific research.
In this article, we will explore the concept of digital twins, its benefits, and how eCommerce businesses can use it to accelerate their sales and growth.


How digital twins help you sell your products
A growing number of transactions occur without the desire or need for human interaction.
This is a challenge because products don't sell themselves. But with good digital twins — it's as close as it gets.
You can create powerful digital twins of your products that will be able to answer any question like informed salespeople, keep track of user reviews, and persuade even the toughest of customers.
Well-implemented digital twins become tireless selling machines that work for you when you sleep.
Think of it as having an army of robots that will help you drive your online sales by giving you fast access to new opportunities (like new sales channels). It's an exciting perspective, but let's step back a bit and see what digital twins are actually made up of.
What are digital twins made up of?
Digital twins are the entire product content, including photos, descriptions, and specs, but also, so much more.
They are the best possible representations of your products, designed to play to the strengths of your business and further develop your competitive advantage.
There is no perfect digital twin, and what works is different for every company. For some businesses, a twin that only knows its name and price is enough. For others, it is necessary to create a full-blown digital twin—a complete picture of specifications, third-party logistics, product experience, VR objects, and so on.
Have a look at the table below for an example of what product information can compose a digital twin.
Information Types
Information Sources



Producer




Distributor




Customers




Partners




Internal Service




External service

Specifications
Height, size, width, color, material etc.

Media
Pictures, videos, 3D objects, VR objects

Instructional
How to videos, user documentation etc.

Logistics
Product number, unit, price, storage location, stock numbers, third-party logistics data

Structure
Bundling, groups, categories, catalogs, campaigns

Product experience
Storytelling, language, market competence

Health and safety
Security and handling documentation

Internal references
Replacement product, cross-sale product, upsale product, related product, similar products etc.

External references
Reviews, ratings, FAQs etc.

Internal triggers
Sales trends, stock levels, expiry dates etc.

External triggers
Weather, market trends, events etc.
Why gather all this product information?
The prospect of working with so much information can be daunting. Why bother creating and gathering all this content? If you do it right, product content can serve you many purposes.
The main one is providing answers (1) to product questions. Customers are more likely to convert to a product page that answers the right questions. Answering questions has even more benefits: if you consistently produce quality answers, there's a good chance they'll land in Google's answer box. This will make visitors more likely to see your product page in the first place. No 'black hat' SEO tricks are needed — you can dominate search just by writing quality answers in plain language.
Product information also serves an advisory (2) function. Customers don't always know exactly what they want. When you help them make the right choice, it's a win-win. Relevant advice and recommendations are the very cornerstones of great customer experience. That's why no product page is complete without them.
Easy-to-find instructions (3) improve customer experience and help convince your customers that there's adequate support around your product. People like buying from a competent seller who took the time to gather useful instructions in one place.
Don't be limited to manufacturer's manuals. Look to customer reviews to see what issues people are struggling with, and consider putting together an unofficial guide.

Interesting read: Inside the world of Instruction Manuals by BBC Future
It also pays to keep track of changes in your product information for historical (4) purposes. Once you've carried out a campaign, you know what worked and what didn't, and you can use this knowledge to prepare better for the future. Historical versions of product content, including descriptions and media, allow you to save time next time round. So, experiment, check results, rinse and repeat.
Weather conditions, changing stock levels, and upcoming fashion weeks can all affect the way you sell your products. Like in the classic example of selling umbrellas in the rain, it's all about keeping your eyes open to the world around you and quickly responding to change.
Decide which information can be relevant, record it and use it to make predictions (5) for your future sales. If you're determined to get a head start on your competition, you have to do things differently than the rest. This means you're not afraid to build your own map.
Finally, your product content can and should delight (6) your customers. You achieve that by creating engaging product stories.
(Inspired by: classification of information types by J.R. Buck, in B.H. Kantowitz & R.D. Sorkin (eds.) Human Factors: Understanding People-System Relationships (pp. 195-231). New York: Wiley, 1983)
As you see above, the main reason for investing in good product content (and digital twins) is to build your competitive advantage. Digital twins are uniquely positioned to help you stand out from your competition
The superpowers they bring to the table include:
360° PRODUCT VISION
You can ask digital twins about anything, from photos and descriptions to ratings & reviews. They know their dimensions and properties, even shipping weight, and where to find them in the warehouse.
ENHANCED SENSES
No matter who you are, digital twins can read you like an open book. Just when you think your cart is good to go, they come up with product recommendations you'll love.
SUPERSONIC SPEED
When a sales opportunity arises, digital twins are ever ready. They enter new markets fast, giving you more time to sell your products before others even pick up on the idea.
Discover more digital twins' superpowers: Digital Twins: How do they work?
Once you develop comprehensive, versatile descriptions for your products, you can handle your existing sales better — all without disrupting your current business. But the main reward? You're ready to welcome new opportunities that will define your future business.
Getting ready for new sales channels
In business, the only real constant is change
.
New opportunities can and do emerge overnight, and only the resourceful few who see them first will get any benefits. Your main sales channel will not sustain forever. In order to stand resilient, you need to understand that at some point it will go away.
It used to be easy to coast for a long time after a few remarkable successes. (…) It's too easy to decide to sit out the next round, rationalizing that you're spending the time and energy to build on what you've got instead of investing in the future.

Seth Godin, author of 'Purple Cow: Transform Your Business by Being Remarkable'
As Amazon is gaining a strong foothold in Europe and Asia, the global economy is in fear of the so-called "Amazon effect". There are two ways e-commerce businesses can prepare for this challenge:
First, embrace the new channel. With digital twins that are trained to sell well on the Amazon marketplace, Amazon becomes a powerful opportunity to reach more customers with your products.
Second,
don't betray your own e-commerce store — instead, focus on excelling at "what Amazon can't do" (#WACD). This includes providing a truly personalized experience that goes beyond personalized recommendations. Digital twins of your products can achieve it by adjusting the way they present themselves to each customer. Once you create a product experience that Amazon can't beat, the threat is gone. Of course, achieving this is a challenge in itself, sometimes too high for eCommerce teams. What can help is using machine learning to your advantage. Whatever patterns human thinking can't detect quickly or efficiently, smart ML processes may.
Major retailers are increasingly turning their e-commerce stores into marketplaces. For example, H&M announced plans to begin selling external brands through its e-commerce platform. In a case like this, the external brands have to deliver product content that can be easily processed for sales. Those who have it ready are at an advantage. They are more likely to get the deal, and they'll be the first to start selling.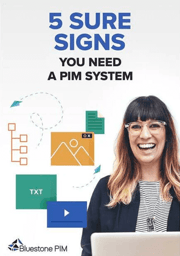 DOWNLOAD FREE E-BOOK
The no. 1 feature that drives purchases is product content
Check if you need a PIM system to manage your product content effectively.
A transparent digital content strategy also makes your business more attractive to investors. (This may seem irrelevant if you've built your company without thoughts of selling it. But when there's an opportunity to do it at a high profit, it is hard to say "no".) Investors are looking for a mass of proof that yours is more than a good idea.
Having digital twins that can sell your products in any sales channel displays a competitive edge over other businesses in your niche. Look at how many online businesses Walmart acquired in the past 3 years. Behind the face value of each acquisition stands the cost of integrating all the incoming product data. For businesses big and small, finding a way to make these processes as smooth as possible becomes an urgent necessity.
Channel readiness is a crucial factor that determines your capacity for growth. In order to grow your business unrestricted, start with creating accurate digital representations of your products. #digitaltwins #digitaltwinsforcommerce
Click To Tweet
Creating digital twins with PIM
If you want to capitalize on the unique advantage that comes with digital twins, you need help from the right technology. As you can imagine, spreadsheets weren't built for this task. Even dedicated Product Information Management (PIM) systems aren't necessarily able to handle it, for reasons such as limited DAM (Digital Asset Management) capability or a limited number of available attributes.
The right PIM solution will enable you to:
establish a single source of truth for all your product data
create complex, multifaceted relations between products
manage unlimited attributes to address the case of every sale
meet the demands of today's busy customers with personalized content
engage customers across all sales channels, both online and offline
easily expand your business to new markets
Bluestone PIM handles all that and much more.
At some point, you have to do it the proper way: put product information at the center and create good digital representations of your products that help you sell well, no matter the channel or setting. The good news is, you can do this without disrupting your existing business. You can build great product content that makes up your products' digital twins, and prepare for the future in parallel with what you have today. The PIM investment will bring benefits to your existing business, so there is every reason to do this now.

Jon Anders Aas-Haug, Founder of Bluestone PIM
If you're not sure where or how to start a digital twin strategy, contact our PIM advisors to receive industry tips and tricks and discuss how digital twins can accelerate your business growth. If you like to see Bluestone PIM in action, come book a demo meeting.
Note: This article was originally published in November 2019 and has been updated to reflect the latest information.