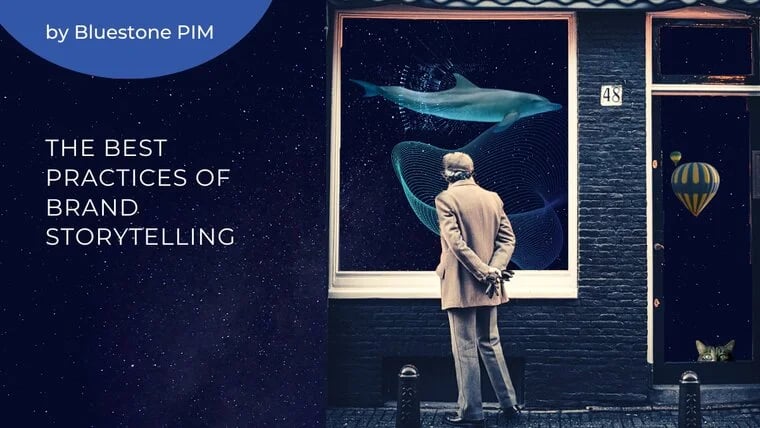 It was an ordinary creamer cow made of porcelain. Small, black, with a bit grumpy look.
However, the secret was the story behind the creamer.
It belonged to the Austen Riggs Psychiatric Hospital administrator in Stockbridge, MA. The cow was a gift from Austen's close friend, famous painter Norman Rockwell who was staying in the hospital during his hard bout of depression.
This creamer's tale is fictional and was written by writer Lucinda Rosenfeld within the Significant Objects project. Thanks to this story in the product description, the creamer cow that was initially bought for $1 at a flea market was sold on eBay for a final price of $26.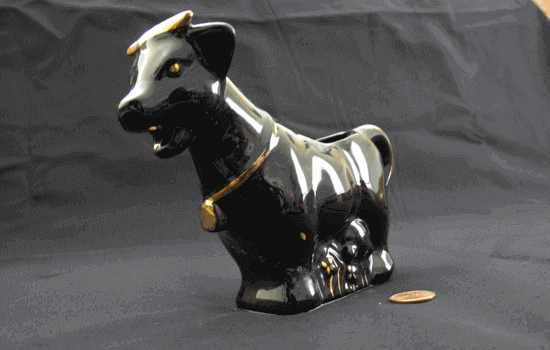 Storytelling is how this ordinary creamer cow was sold for 26 times its original price


This is a simple example of the power of brand storytelling, as other literary works made in Significant Objects, an anthropological experiment devised by Rob Walker and Joshua Glenn.

The experiment aimed to show that "the effect of narrative on any given object's subjective value can be measured objectively." The measure was a purchase price with and without a compelling story.

Let's learn what brand storytelling is, why it is important to retailers, and how you can craft a successful brand story that your customer will love.

First, let's start with the definition of brand storytelling.

What is brand storytelling?
Brand storytelling is the creative use of narratives to build an emotional connection with customers. It can be used to entertain and educate, but the end goal is the same — to help shape the brand's identity and leave an everlasting and positive impression on audiences.
It is hard to date when the golden age of brand storytelling in business has begun. Marketers discovered that storytelling – the social and cultural activity of sharing stories, can be a powerful tool in shaping a brand's identity and in consequence a way of engaging customers and supporting performances of retail sales.
For simple reasons, people easily remember stories more than facts, and they are just as likely to purchase stories and the benefits they get from joining the brand universe.


Marketing is no longer about the stuff that you make, but about the stories, you tell.

Seth Godin

Excellent customer experience and a personalized approach are the currency you can win in the modern competitive retail industry.
Brand storytelling can help differentiate your brand from competitors – inform about the roots of your business, the provenance of your products, or the benefits they offer. Retail storytelling tactics can be used in various channels like an e-commerce website, social media, retail store space, direct selling, and the entire shopping process.
Why is brand storytelling important?
Today's consumers are proactive and demanding, they do their research before making a purchase and check if the brand is trustworthy.
Storytelling enables audiences to connect with brands on an emotional level. Presenting the values and mission helps to shape the customer's decision to follow or explore the brand, or ignore it entirely.
Brand stories are a powerful tool, not only for B2C but also for B2B marketers, speaking to our inner child. In some cases, it can be more effective than an analytical approach and content filled with statistics.
Storytelling helps so many businesses to:
Create trustful and unforgettable brands

Communicate the brand's identity and purpose

Build strong bonds with followers

Build strong brand awareness and emotional connection with customers

Enrich customers experience
3 key elements of brand storytelling
No two brand stories are alike. Each one is unique because there are no ready-to-go formulas in brand storytelling.
But a compelling brand story needs the following key ingredients:


Unique narrative
To create their brand stories, companies must ask themselves some fundamental questions about identity, mission, unique value proposition, and future goals. Then they can build a brand as a character and use types of stories as a framework to tell the brand story, adding emotions and personal touch.


Connection with the audience
Brands need to know their customers' pain points, speak their languages, and invite them to the brand universe using content and community marketing formats such as social media, events, and Q&A sessions. Customers should be at the center of brand storytelling. Essentially, they are a hero in their journey, and brands help them to solve the problem.


Authencity
Instead of showing the company as innovative and successful all the time, it's often better to show its true face, invite backstage, and tell about its uneasy beginnings. Customers will appreciate honesty.
Anatomy of an engaging story


If you wish to influence an individual or a group to embrace a particular value in their daily lives, tell them a compelling story.

Annette Simmons

If you want to skillfully craft your retail brand story, it is good to know more about general storytelling principles. Storytelling is a broad topic, so let's focus on two basic frameworks.


The 4 Cs of storytelling
What must crucial content elements contain to be a (good) story? In this case, the so-called 4Cs storytelling formula may be helpful.
It consists of four elements: context, conflict, change, and conclusion.
According to the formula, the story needs to have a plot and a main character, which the audience will follow.
The story needs to be set in a context (where and when the action takes place).
Something needs to be happening to engage a reader, so we must develop a conflict/crisis involving our main character (it could be a conflict of people or ideas).
Getting through the conflict is the heart of the story, and it always changes the character somehow for the better or worse.
The final result is called a conclusion or closure.
The four Cs formula is a universal tool, and you can use it in fictional short stories and texts for marketing or branding purposes.


7 basic plots of storytelling
Stories we know from books, TV series, or movies are often based on the same plot scheme. For example, the Greek myth of Theseus and Jaws film tells the story of a protagonist defeating a monster.
Christopher Booker took a closer look at famous stories from ancient times to the modern era, inspired by Jung's analysis of stories and their psychological meaning. Based on his research, he has coined several types of plots, which he describes in the book "The Seven Basic Plots."
The theory includes the stories of:
Overcoming the monster to protect the homeland (Beowulf, Star Wars)

Poor protagonist gains power, love, or wealth, loses it, and gets it back, growing as a person (Alladin, Jane Eyre)

A protagonist and companions set off on a quest, fighting obstacles on their way (The Divine Comedy, The Lord of the Rings)

A protagonist goes to a strange land and, after learning important lessons, returns with experience (Odyssey, The Lion King)

Light-hearted, funny character ​​triumph over adverse circumstances (A Midsummer Night's Dream, Bridget Jones's Diary)

A protagonist fall or folly due to making a great mistake. Their tragic end evokes pity (Macbeth, Anna Karenina)

Due to specific events, a protagonist has to change their behavior (Pride and Prejudice, Beauty and the Beast)
Booker's work was summarized as a "brilliant summary of storytelling".


5 examples of memorable brand storytelling
Time to share the best brand storytelling examples among big companies as well as independent sustainable brands from the retail industry.


IKEA
IKEA, the biggest furniture retailer in the world, is like a quirky, light-hearted friend who cares and helps you arrange your own place, where important things happen (mostly offline).
This brand wins the hearts of shoppers not only because of its affordable good-designed products but also because of the brand's warm and funny storytelling in video campaigns, in-store spaces, or social media (famous real-time marketing posts).
IKEA invites buyers to have a trip to their retail store, making the shopping experience enjoyable (meatballs have much credit for that). Customers are always at the center of Swedish brand storytelling because the brand's products naturally become a part of every individual IKEA customer's story.


Apple
Steve Jobs presented the first iPhone in 2007, the iPad Air campaign using verses from the Dead Poets Society, inviting Apple product users to share their art created on Mac and iPad, to name a few.
Every Apple premiere tells the story of being innovative and thinking outside the box. From its beginning, Apple was different from its competitors, making its famous slogan "Think different" genuine in terms of innovative products.
Apple set its marketing strategy far from fleshy ads, focused on telling fascinating stories that added value to its products, and invited consumers to be a part of the brand story. In Apple's case, we see building personal interaction between the brand and customers, which makes Apple a cult brand.
Not every brand can boast of long lines of customers who line up to buy the product on the day of the premiere.


LUSH
LUSH stands out with energetic, provocative, and committed storytelling.
The product storytelling strategy of the British producer of natural hand-made cosmetics is consistent in terms of visuals and messages, from no animal-tested iconic beauty products through no plastic packages to unique digital products and anti-social media policy.
Their brand story is no exception; the best example is a brand website presenting a compelling story about the company's beginning, its mission, the manufacturing process of making products, and CRS activities.
LUSH wants to be transparent, and honest with its customers, showing that beauty rituals can be pleasurable and sustainable for the planet.


Patagonia
Patagonia is an American company that specializes in outdoor clothing and gear showed a great example of how businesses can use their products, values, and ethical or sustainability mission to tell a compelling story.
Their campaign "Worn Wear" was released with almost a 30-minute video as an antidote to Black Friday and Cyber Monday shopping madness. It is "an invitation to celebrate the stuff you already own".
Published in 2014, shortly before the zero and less waste movement grew in popularity, the video takes us to a surfer camp in Mexico and an organic farm in California to meet inspiring people wearing clothes that are part of their stories.


Fischer Sund
Fischer Sun, a local brand from Iceland, is a unique and artsy customer experience that achieves seamless synergy between brick-and-mortar and online.
They are a Reykjavik-based family-owned business that connects an artisan's shop with perfumery and an art gallery. In the online store, Fischer Sund offers natural and environmentally friendly fragrances made of local ingredients.
While searching the online store is good to have sound on because the part shopping experience included a music project called "Flotholt" created by Sigur Rós an acclaimed Icelandic band (the singer Jónsi is also a member of the Fischer Sund team).
Additionally, visitors of the brand's boutique in Reykjavik can join private scented tours to discover the scent exhibitions and taste signature Icelandic Schnapps (adding a touch of local culture is good practice for physical retailers)
The brand story is firmly ingrained in place – Icelandic nature and culture experienced through all senses, offering customers to join this journey to the Land of Fire and Ice and back with unique souvenirs.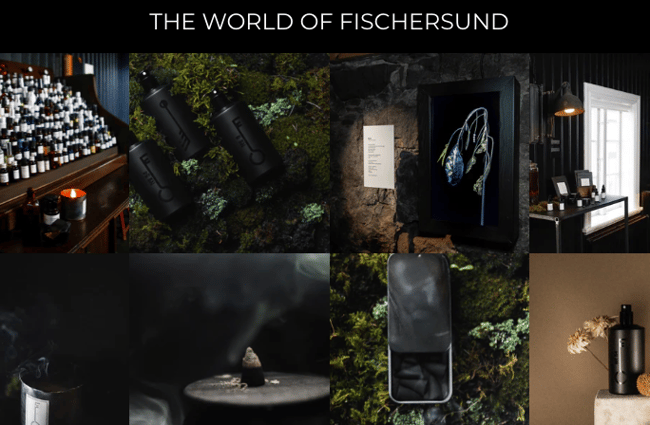 Through the use of rich images, Fischer Sund invites audiences to experience the Icelandic culture
How to use storytelling in your brand marketing?
People don't buy what you do; they buy why you do it and what you do simply proves what you believe.

Simon Sinek


Start with why
At the beginning of adapting storytelling in a company, you should face fundamental issues. According to Simon Sinek's The Golden Circle method, it should be three questions: why, what, and how. The first is crucial because not every business knows its purpose.
In this approach, the secret of Apple lies. The tech giant expressed that its purpose wasn't building beautiful computers but challenging the status quo. Thus, the brand goes not to consumers but to the followers of the same values, which is the beginning of a stronger bond.


Find your unique value proposition
By answering Golden Circle questions, you will have a strong foundation, but you need more to convey a compelling message. Is there anything special about your company – unique product, way of manufacturing, a long legacy, interesting design? Do you have an ethical mission? What exactly can customers achieve with your products?
All this information helps you set your values in brand storytelling. Find your strengths.


Make customers part of your story
Sales process stories fit storytelling as well. You don't have to tell your stories, give voice to your customers. Video testimonials with customers are examples of the most effective storytelling tactics, even for boring products.


Use data-driven storytelling
Searching for interesting facts for your brand story dive deeper into business and product data. Product information is the heart of the retail business and needs management practices.
Storytelling does not mean cutting off from statistics and technology. Communicate insights from databases using narrative techniques and visualizations to explain complicated concepts.


Use the power of images
Creating a connection with customers and helping them remember a specific brand is no easy task to do. The crucial for brand storytellers is to define what and how they want to tell their stories.
Visual storytelling uses images and visual media to tell a brand story, create a bond with customers, and impact shopping decisions. Telling stories through visuals will be influential on e-commerce websites as well as using various formats of social media channels.
Another channel with great potential for visual storytelling is window displays, a physical point of connection with a customer. With a thoughtful visual merchandising strategy, you can create emotions and catch the audience's attention. In a retail store, every element (architecture, colors, furniture) is a part of the story, not only the brand's but also the relevant customer's story.
The challenge is to tell your brand stories using your products and do it vividly to speak to customers' imagination. Certainly, it is something worth trying. Visual merchandising can be a form of art and makes your customers fall in love with your brand.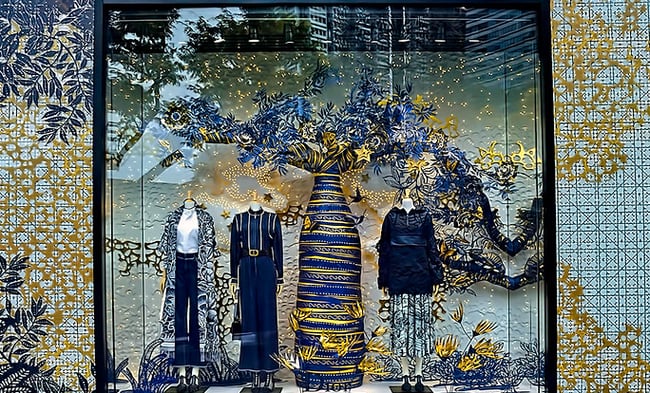 The photo of a window display in Louis Vuitton's physical store in ION Orchard, source: Flickr

Leave room for imagination
Just like in a good novel or movie, in a brand story, it is not enough to provide facts about your company, you need something else that will engage the consumer. Arouse curiosity, and amazement, and evoke emotions through narration.
How can you accomplish this? By deliberately leaving out some details and letting audiences fit pieces of the puzzle together. As the Pixar filmmaker Andrew Stanton once said, what draws people into a story is the "well-organized absence of information."


Final thoughts


A story is a framework for a business's life. The story shouldn't create a trap but serve as a catalyst.

Neil Patel

Brand storytelling in retail can help you boost brand awareness and build trust with your customers. Good authentic brand stories have viral potential and will work in the long run.
Although storytelling is not magic, keep in mind that is one of the tools. The trust built by the story will oblige your business to keep caring about customer experience and business growth. Use technology that makes your everyday work easier.
Check out our newest ebook to learn how modern technology like the MACH-based PIM solution supports retailers with their product content challenges and leverages product information to craft an effective brand storytelling strategy.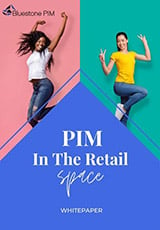 DOWNLOAD FREE E-BOOK
Product Information Management in the Retail Space
Learn how retail companies are creating engaging customer experiences by improving their product data.