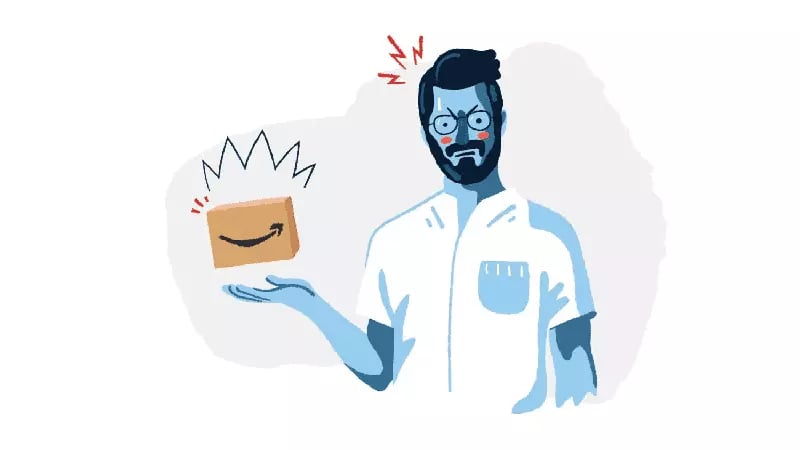 We've seen it all over the news. Amazon has started preparations for its launch in Sweden.
Does it mean that Swedish and Nordic retailers are doomed?
Amazon's 38% market share in the U.S., its massive investments in deliveries, and the famed customer service where the customer is always right, all paint a scary vision of the future for other players in the market.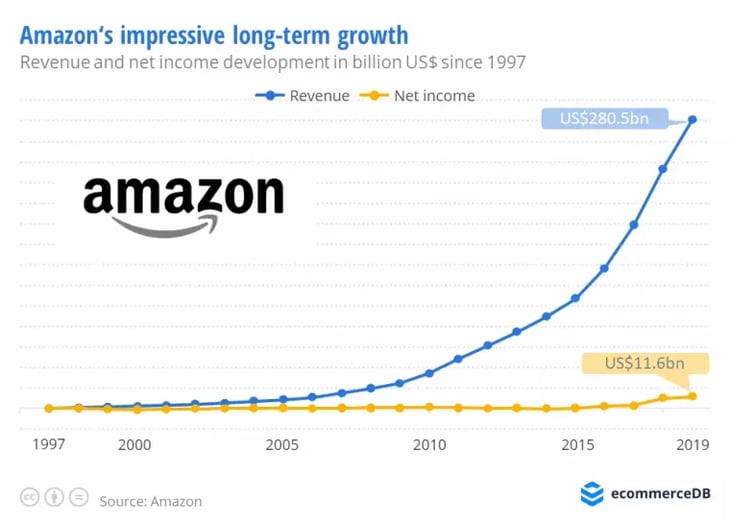 Only Amazon is able to take on 80% of freight costs, making the "last mile" close to free for the customers. Only they can stomach the annual shipping cost of $38 billion (2019).
Combine this with extremely low prices, and you have a lot to compete against. Is it time to throw in the towel?
Not quite yet!
Looking at the previous launches, it takes Amazon about 6 months to establish an eCommerce presence in a new country. This leaves time for preparation as long as you act right away.
We've got you covered with 6 tactics you can use to protect your company from the Amazon effect.
Invest in quality product content
Your product content serves two basic functions – to help your customers find the right products and to compel them to buy them from you.
Use more images, videos, and rich attributes, and don't forget to share the story behind the product. Taking the time to make it personal goes a long way, especially with some of today's conscious customers who use their buying power to make a statement, support socially responsible businesses, or feel unique & original.
Quality product information can take a lot of effort to create, especially when you don't have a team like Amazon's, but there are collaboration tools with advanced algorithms that make product content processes as smooth as possible. (Product information management is one of them.
)
As long as your prices, portfolio, and customer experience are reasonably good, committing to high-quality product content that's aligned with your customers' intent is going to pay off, with fewer carts abandoned and more sales closed. If you're feeling a little lost, don't worry — we've got you covered with a guide to driving online sales with product information. It has all the tips you need to get started today.
Work with your niche
Depending on what you sell, whether it's something low-margin and generic, or rather more specialty, you can take advantage of improving your online product descriptions.
The advantage is especially evident in the case of specialty products. While Amazon easily wins in general merchandise, health and household, CPG, and similar categories, it isn't equally great for all. This shows, for instance, in the sales trends for Amazon's private-label categories, where clothing, furniture, and high-end products are notorious low-performers.
Where Amazon isn't doing particularly well, you can excel. If you specialize, you get the opportunity to know your products and customers better. That's one step away from creating winning digital experiences different from Amazon's same-old.
Deciding on a smaller spectrum of customers and narrowing your niche is a great way to differentiate yourself from Amazon.
Use content marketing and focus on long-tail keywords that will attract a specific type of customer. Remember that Amazon is good at everything – you can be the best at something.
Use your stores
Not so long ago, Amazon didn't have any physical stores. And most likely, they will have none in the Nordic market when they launch.
With over 80% of all sales still brick-and-mortar, this gives you a specific advantage, both in the overall customer experience and in the shipping methods.
However, it is important that the silos between these channels are removed so that you can improve the offline experience.
You need to have engaged store assistants that rise the shopping experience to a new level. Train them to understand that meeting expectations is not an option – they should always over-deliver.
"We don't have your size? I'll order it for you now and it will be delivered tomorrow."
When the silos are gone and sales assistants are properly rewarded for a sale, you will have a proper competitive advantage over online-only merchants.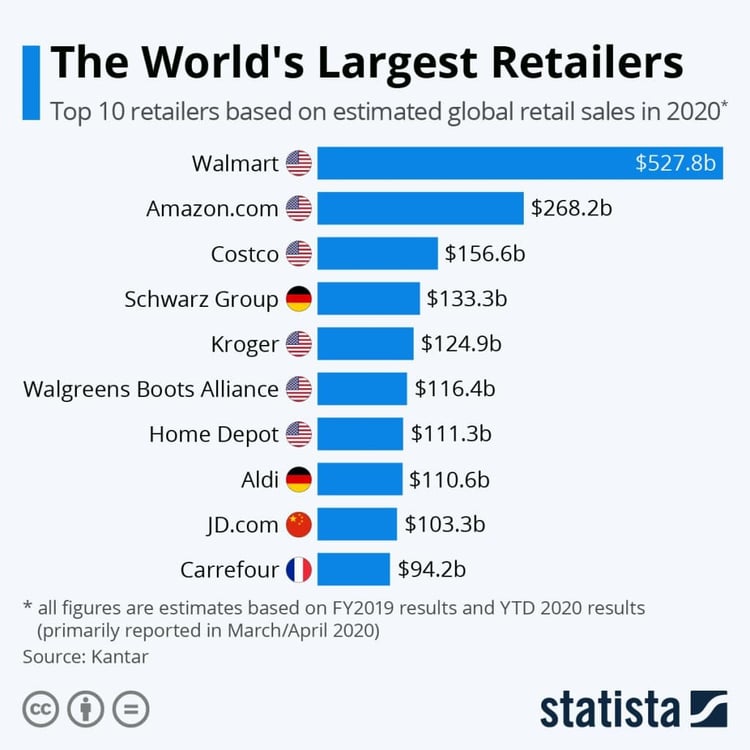 Build a fan base
We all know what the Amazon website looks like.
If you want to buy a pair of trousers or a new charger for your phone, the experience is the same. Although that's good, it does not necessarily build a fan base for the brand.
The main keywords are convenience and fast delivery and NOT engaging customers or inducing euphoria with the brand. We can take GoPro cameras as a case.
The first image here is how the camera is featured on Amazon: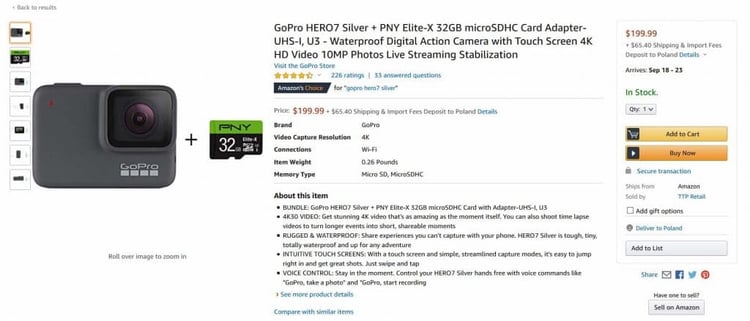 You can buy this and get on with your life. But as GoPro has managed to build a fan-base with the brand, people want to connect with the tribe around these products. And that can't be done on Amazon.
Just see how the product is presented on the GoPro website: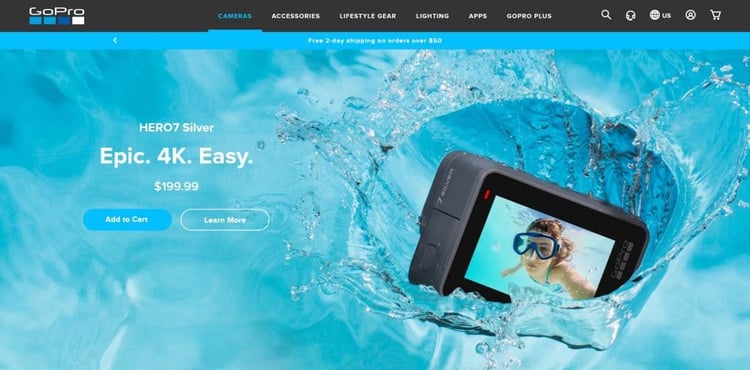 If you really loved the item, wouldn't you rather buy it from the latter page?
Of course, you would.
Build your tribe and make sure that they want to be included by buying from your website and not Amazon.
There's even more you can do. To build your fan base faster, consider implementing PR strategies and securing media coverage to put your brand in front of more customers.
Have the best customer service ever
Amazon's customer service may be great, but other companies are even more famous for going above and beyond to make their customers happy.
Just think about Zappos
A quick Google search on Zappos and customer service brings up tons of stories about their customer service. And these are not stories about how horrible it was, or how long you had to wait – no, these are wonderful stories about exceptional customer service.
About how a Zappos employee boarded a plane to hand over jewelry that had been mistakenly returned to Zappos. Or how Zappos sent flowers when they found out that a customer was sick or how their longest phone call was 10 hours and 29 minutes.
A method of beating Amazon is simply having the best customer service support possible. It may seem strange, yet it's proven time and time again that customers who experience an issue with an order and get amazing customer support are often more pleased than customers who experienced no issues at all.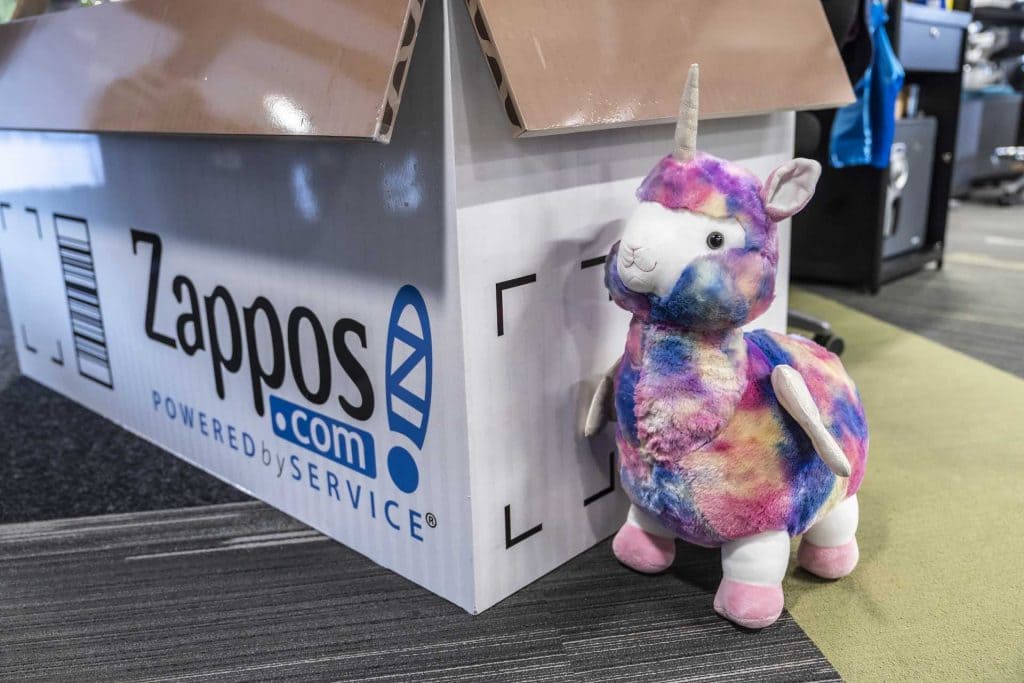 Hop on the Amazon train
Have you considered selling your products via Amazon Marketplace once it opens?
It may seem counterintuitive to sell through Amazon and lose a large portion of your profits to commissions, especially if you have a strong, well-established eCommerce brand. However, bets are that still there is a large audience of potential customers that you haven't been able to reach.
By joining the Amazon program for sellers you will be able to reach further while using smart tactics to keep your customers loyal. If you manage your product information efficiently, in a PIM system that has the necessary integrations, connecting to Amazon is just a matter of plugging into the new channel.
Bluestone PIM Marketplace has an app that lets you automatically send product content to Amazon and eBay, various social channels, and eCommerce platforms. If transferring your product content to Amazon seemed like an issue, you can rest assured there is technology to help you with that.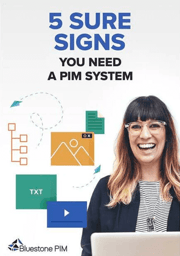 DOWNLOAD FREE E-BOOK
The no. 1 feature that drives purchases is product content
Check if you need a PIM system to manage your product content effectively.
So Amazon will come to Sweden, and yes, it will likely affect the entire region. Major players in the Nordics have to adapt to stay afloat, and the underdogs are getting a chance to rise on the back of the eCommerce giant.
Whether you see the Amazon launch as an opportunity or a threat, it is best to prepare like your life depends on it. Working with the strategies listed in this article is a great way to start.
Want to manage your product information the easy and fuss-free way? Come talk to our advisors and learn how a PIM solution can help you with your eCommerce business.