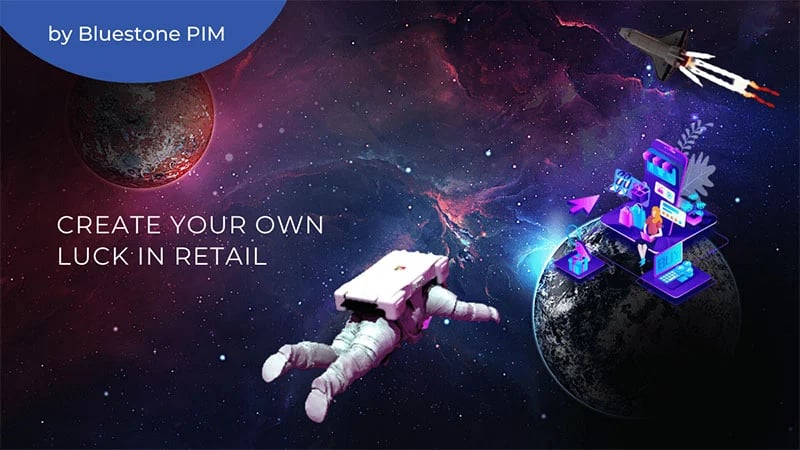 In 2021, retail e-commerce sales worldwide totaled approximately 4.9 trillion U.S. dollars. This figure is forecast to grow by 50 percent over the next four years, reaching about 7.4 trillion U.S. dollars by 2025. According to Insider Intelligence's forecast, in 2022 global retail and e-commerce spending will stabilize, shopping habits will solidify, and the pressure on businesses to adapt will be paramount.
In the post-pandemic commerce landscape, shoppers remain in the driver's seat. After two years of lockdowns turbulence, they will return to stores expecting their favorite brands to offer tools that connect digital and brick-and-mortar shopping experiences. Same-day delivery, personalization, omnichannel, and sustainability are also essential for customers. In order to stay competitive companies need to follow consumers' expectations and implement technology trends, not forgetting about the basics — high-quality product information.
With the support of automation tools, global retail companies effectively centralize, manage and distribute product information at every touchpoint, crafting a seamless and consistent customer experience that drives online sales.
In this article, you will learn how a Product Information Management (PIM) solution can help brands, suppliers, and wholesalers overcome daily challenges and increase retail sales. As we orbit in the retail space, fasten your seatbelt — time for a trip to the planet PIM.
How to increase retail sales: give shoppers the information they want
Offering an excellent customer experience is what today's companies compete in. Shoppers who are not happy can easily go to competitors, that's why every stage of the buyer's journey is equally essential.
What is the basis of commerce experience in the customer's view? The answer is product information. Especially in e-commerce, rich product content is of great importance. The consumer cannot see the physical product, touch it and try it on.
That's why, the purchasing decisions depend on the attractiveness of the online presence of the product, which consists of high-quality photos, videos, compelling product descriptions, and informatively presented product attributes. Google research shows the importance of product data in retail. Numbers don't lie.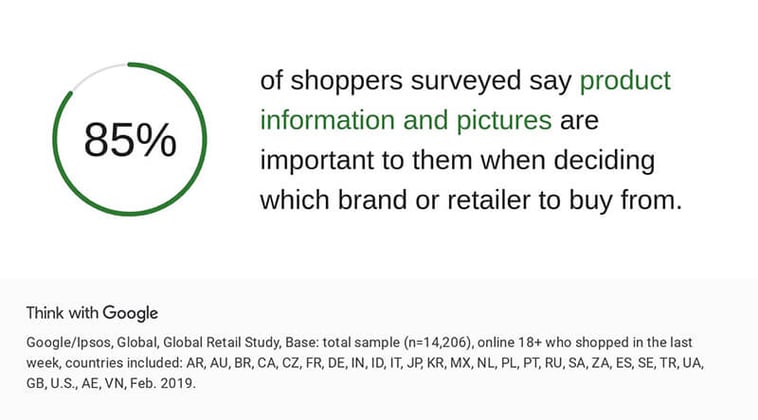 Quality product information is a solid foundation for almost any digital sales and marketing initiative. A shopper who finds complete information about a product perceives the brand as trustworthy and can make a decision about a potential purchase faster. Incomplete and inaccurate content means saying goodbye to a potential sales deal.
Product information should be easy to find when needed and easy to be repurposed for different channels. Managing product content requires a central repository, a source of accurate, relatable information.
It is almost impossible to manage it manually as sharing various spreadsheets with data is error-prone. Thus, global e-commerce businesses use Product Information Management tools to centralize, manage and distribute product information across different channels.


Common challenges in the retail industry
Demanding customers
The modern consumer is savvy and constantly looking for the best option. Because the retail market is saturated, a product or service will easily leave the competition if it does not meet the consumer's expectations. Retailers must remain reliable and provide personalized customer experience to win customer loyalty.
On the other hand, consumers smoothly switch from online to offline shopping experiences using showrooming to try on a physical product and then find the best offer online later or buy online and pick it up in-store. Due to this, they expect seamless customer experience in multiple channels, in many ways and tailored to their needs.
Everything must click, from items available in stock to a user-friendly website, frictionless checkout process, various types of (fast) delivery, and responsive customer success service.
Keeping pace with changing market
Metaverse, social commerce, chatbots, voice commerce — new technology trends constantly appear on the e-commerce map to help retailers make the customer experience faster, more engaging, and omnichannel. If you want to stay in the game, you need to follow the buzz, test, and adopt technologies that fit your niche.
Being agile and fast-react also means long-term efforts in various organizational areas, providing the best employment experience, and investing in solutions that future-proof your e-commerce business. Agility in e-commerce also means being able to add new channels and go to market with the new product very quickly.


A consistent presence in various channels
Customers expect to contact a brand in various channels and that experience will be the same on social as on e-commerce websites or marketplaces. According to Gartner Marketing Research, by 2020 half of brands will have failed to unify customer engagement channels, leading to scattered customer experiences that are out of context.
To avoid losing the sales opportunity, e-commerce businesses should develop omnichannel strategies, i.e., unifying sales and marketing actions in all their channels to ensure a consistent and smooth customer experience.
A vital element of the omnichannel strategy is to provide rich content tailored to the context and shopper's language at each touchpoint. Gartner also recommends prioritizing partnerships that expand omnichannel sales, integrate digital inventory, and highlight customers' fulfillment options.
Omnichannel is not only about selling in multiple channels but about integrating selling, serving, and delivering into one seamless shopping experience.


Benefits of PIM for retailers
It is no secret that retailers have one question on their minds: how to increase retail sales?
Luckily for them, PIM solutions are designed exactly for that purpose. It helps overcome retailers' product management challenges and take a step toward digital transformation. Working with efficient product data management can make sales and marketing teams' work easier and prepare a retail business for the future of commerce.
The innovative tool enables digital asset management, increases product data quality, and gives retailers a competitive advantage by creating a seamless experience across different sales channels. In addition, detailed product descriptions can help increase customer engagement and customer loyalty in the digital world.
Product information management in retail changes the workflows for the better. No more product information workflow inefficiencies and spreadsheet nightmares. Product data collaboration with teams, suppliers, and agencies becomes more fluid and effortless.
To learn more about Product Information Management and what it can do to increase retail sales, check out our What is a PIM: Introduction to Product Information Management guide.
High-quality PIM solutions should offer a wide range of features for every retailer's needs such as:
Support omnichannel strategies

Provide brand consistency across channels

Synchronization with third-party systems (Partner Portal, ERP)

Central repository for all product information

Product attributes management

Efficient collaboration on product data

Printed and digital catalogs

Manage different contexts and languages

Product content staging

Supplier portal

Product sheets

SEO optimization

Growth support
Let's dive deeper into crucial functionalities and a bunch of actions the Product Information Management platform should do.


Must-have PIM features for eCommerce retailers
A Product Information Management tool is software that enables businesses to manage, enrich and distribute their product data in the most efficient and simplified way possible. If you are looking for your first PIM solution, learn what essential features PIM should have for retailers.


Central repository for all product information
TPIM was made for centralizing and organizing product data, so users can import, categorize and enrich product information. PIM software should be easily integrated with a webshop, ERP system, industry databases, or other external sources and bring all product data together.
Having one source for all product information reduces acquisition costs. It provides a single view where you can effortlessly search, update and publish product information across all channels, devices, and languages.


E-commerce in multichannel and omnichannel
PIM should handle all retail-specific product attributes and provide media management to collect and share rich product information to give customers a 360° product experience.
Retailers that rely on multichannel and omnichannel strategies can instantly distribute product content to multiple marketing and sales channels. These features can help you ensure product information accuracy and consistency across various touchpoints and brand consistency across channels.


Effective teamwork on product data
Working on separate documents and spreadsheets within a team can lead to duplication of effort and error-prone product data. Not to mention how time-consuming this work is. When you set up product information management as a central repository, everyone can collaborate and establish a single source of truth.
Your team can work smarter by breaking product enrichment into manageable tasks. Tasks can be shared with set deadlines and assignees. Team members don't have to send emails about specific product tasks anymore. They can share feedback and exchange messages exclusively within the PIM platform.


Managing different contexts and languages
The trick to providing a seamless customer experience is to deliver the right message in the right channel at the right time. The context-aware information is critical to this. With PIM software, you can set up multiple versions of product information for different scenarios. If you enter new markets, with PIM you can also easily manage country-specific content.


Digital assets in one place
Some PIM software includes Digital Assets Management (DAM) features and a media library. This way, you don't need to have a separate tool to keep all your images, videos, and other assets perfectly organized. A PIM software enables you to connect digital assets with your products and lets them in your workflows.
A media library allows you to have all your assets in one place and keep track of any changes in history.


How Bluestone PIM can increase retail sales
Bluestone PIM provides the first MACH-based Product Information Management software to help companies become more agile and increase retail sales.
In addition to standard PIM functions, Bluestone offers several functions based on APIs, microservices, and headless technologies. They facilitate the daily work of marketing and e-commerce managers.


External access for subcontractors
Thanks to external access within the PIM, you can also collaborate with your partners and subcontractors (e.g., marketing or translation agencies) on product information that is relevant to each of them. You can define roles and permissions to have complete control over products.


Product sheets
With PDF Generator, the app available in Bluestone PIM, you can say goodbye to creating product sheets manually. Without using advanced design software, users create high-quality, multi-language documents: product sheets, technical datasheets, and safety data sheets based on predefined templates with preferred company branding. All sheets are maintained and stored in DAM.


Printed and digital catalogs
When creating product catalogs, product information is usually exported to Excel and then manually added to Adobe InDesign. That sounds like pretty tedious manual work. With Adobe InDesign Sync in Bluestone PIM, you can easily import product information into InDesign without copying and pasting from spreadsheets. Any changes you make in Adobe InDesign are automatically updated in PIM.


Content staging
In Bluestone PIM, you can publish your minimum viable content and enrich it later or refine the content as a draft until it's just perfect.
Completeness Score insights in the PIM help teams fix issues like missing attributes or specific image sizes, so no incomplete product will go live undetected.


SEO optimization
SEO is all about visibility. When it comes to search engine optimization, visibility is the first and most important goal for any business because consumers only recognize — and prefer— brands that show up on a search results page.
With Bluestone PIM, you can create original and search engine-friendly product content across all your platforms and avoid Google's penalties which will result in higher SEO rankings.


Growth support
Product information management can easily grow with your data storage. Thanks to cloud technology Bluestone PIM enables the management of millions of SKUs.


Advantages of Bluestone PIM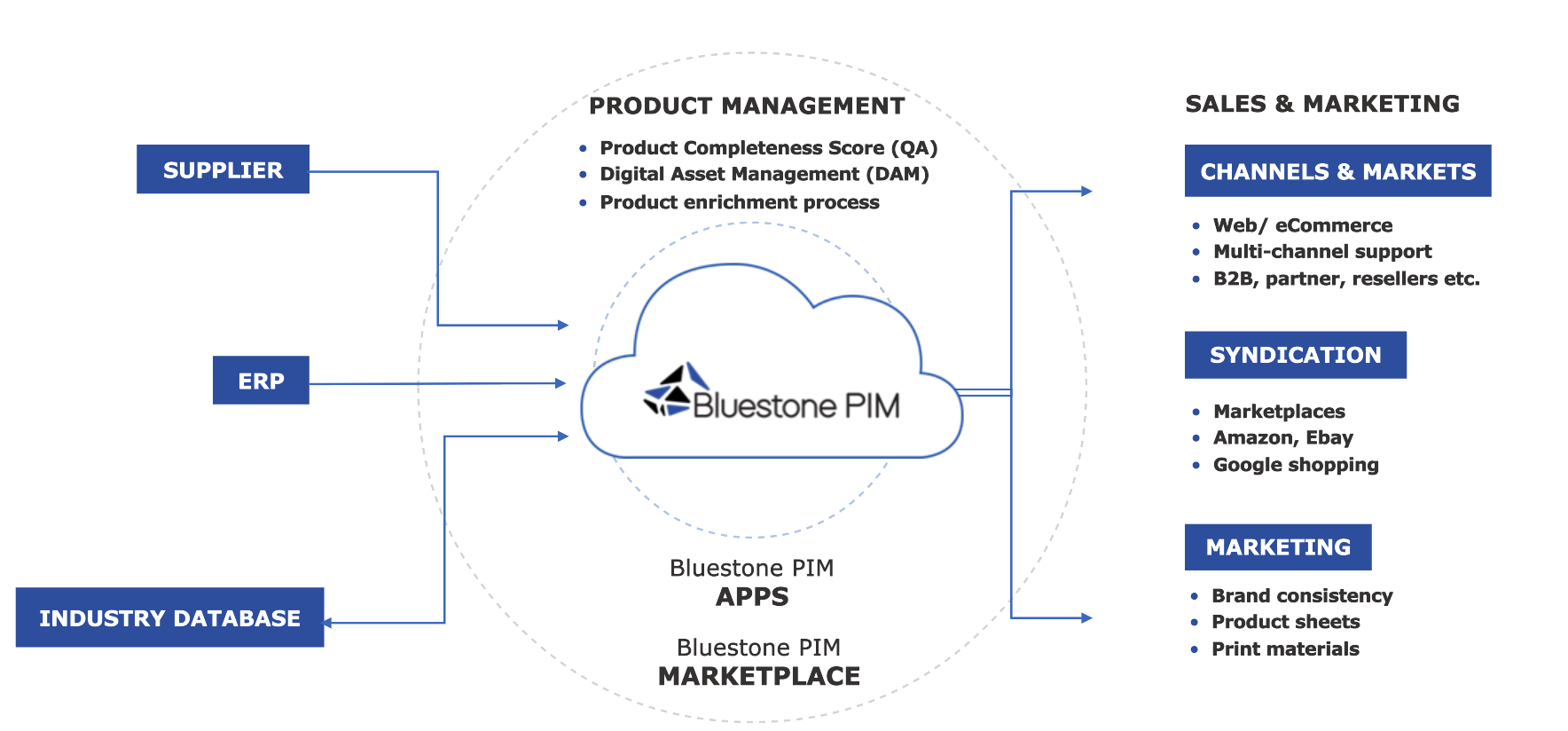 Dynamic updates
Bluestone PIM can exchange live product information with IT components (ERP, CMS, e-commerce platforms) on the fly.


Flexibility and scalability
Built on AWS, the most secure cloud platform, Bluestone PIM leverages the full cloud potential of unlimited scalability. It scales right with your business (without any additional charges).


The first MACH-based PIM
Bluestone PIM fits into the MACH architecture (Microservices-based, API-first, Cloud native, Headless), one of the most modern and future-proof technologies currently available in the IT world.


Seamless product experience
Easily manage your product content across all channels and deliver consistent messages to your customers at every touchpoint.


Marketplace of apps
Bluestone PIM fits perfectly with popular apps to bring more sales and marketing benefits. See all of the available integrations on our Marketplace!
---
Prefer a printed version of this article? Download our e-book PIM in the Retail Space to read offline and easily share with your team.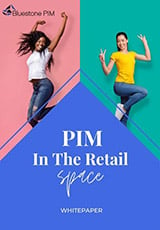 DOWNLOAD FREE E-BOOK
Product Information Management in the Retail Space
Learn how retail companies are creating engaging customer experiences by improving their product data.
It's time to join the composable revolution. If you want to support your business with an innovative tool, contact us to learn how MACH-based PIM software can help you achieve your eCommerce goals.