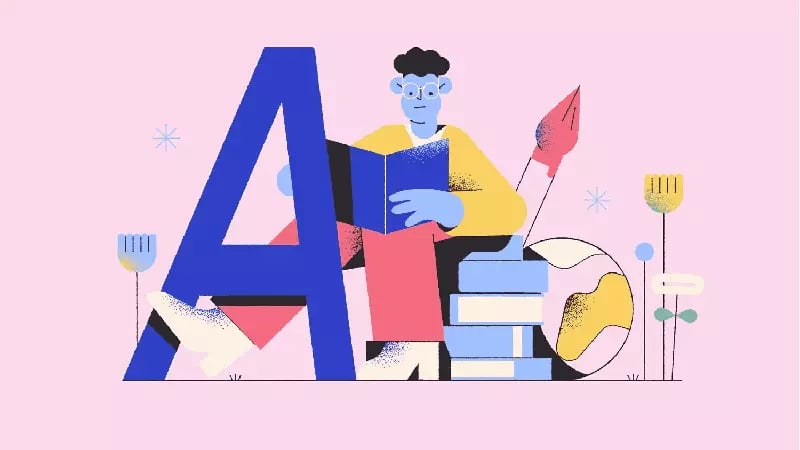 PIM stands for Product Information Management, the technology for creating, managing, enriching, and distributing product content. The role of PIM software is simple yet important. In contrast to internal- and supplier-facing systems like ERP, PIM platforms were developed specifically to support organizations in developing customer-facing product information.
This is done to make large and complex product content portfolios manageable across numerous sales channels. The result is accurate product information that helps you drive online sales.
In this article, we will work our way through PIM-related terminology so that by the end, you should feel confident to join high-level PIM conversations and follow along. Are you ready? Let's go!


ERP
Enterprise Resource Planning systems were developed for managing main business processes. They are used for storing, processing, and interpreting information from various business activities.
While certain product information can be stored in an ERP system, enriching it to the point of being market-ready is typically beyond the scope of ERP and requires standard PIM features, for example, the ability to store alternative product attributes for use in different channels, eg. the eCommerce store and the B2B portal.
Enriching product information to make it truly market-ready is beyond what ERP can do.
Click To Tweet
MDM
Master Data Management is where business and IT work together to ensure the uniformity, accuracy, stewardship, consistency, and accountability of the enterprise's shared master data (Gartner).
While MDM and PIM have a common goal — both aim to establish a "single source of the truth" of an organization's data — PIM focuses on product data only, and for many sales businesses, MDM may be expensive overkill. It may also lack features designed for specific industries and verticals that are typical PIM customers.
MDM is a must for companies of a certain size. True or false?
Click To Tweet
There are also many other similarities and differences between a PIM and a MDM solution. To learn more, check out our blog article PIM vs MDM: Functions, Benefits, and Differences.


DAM
Digital Asset Management can be a standalone system or a module of PIM. DAM allows organizations to manage large volumes of digital media, such as images, videos, and documents.
It enables you to keep historical versions of this data, and as it is in the case of Bluestone PIM, it can also provide a high-performance media bank serving media directly to your eCommerce website and other sales channels.


Supplier Portal
Complementary to PIM, a supplier portal serves as a standalone platform where suppliers can enter their product data directly to be fed into the organization's PIM system.
Due to the challenges that often arise with the consistency of such data, the supplier portal should be tightly integrated with the PIM system and use identical data validation schemes, so that the imported data can be considered 'clean' and fit in with the organization's standards.
Product information development concepts
Now that we know what PIM is for, let's look at the processes that need to be established for the PIM to be able to do its work.
The organization of resources has a profound impact on the efficiency of the PIM system. That's why it is important to have a reliable data model and workflows for managing product information. It's also equally important to make space for unhampered collaboration, which is possible with the right collaboration tools.


Data Model
Identifies the data, the attributes, and the relationships or associations with other data.
The goal of developing a data model for an organization's PIM is to minimize manual work with product data and ensure its high quality. The data model provides a generalized, user-defined view of data. The easiest way to look at it is as an empty "overview" or structure of data, without the actual data inside.


Access Control
A security technique that controls who can create, read, update, publish, or delete product information in the PIM system.
With fine-grained permission control, you can limit which products, attributes, and categories each user can access. You can invite external users, such as partners and suppliers, to collaborate on product data directly in your PIM system, knowing that they will only see the information you intend them to see.
A PIM platform needs to provide fine-grained permission control to ensure that your contributors only see the information you want them to see.
Click To Tweet
Workflow Management
The coordination of tasks that need to be performed to achieve business goals.
In the context of PIM, this involves sequences of tasks in planning, creation and enrichment of product content, and its distribution to sales and marketing channels. Publishing workflows ensure that no important action slips through the cracks.


Collaboration
Managing product content is, more often than not, a collaborative effort between your marketing and eCommerce teams.
For efficiency and accountability reasons, clearly defined responsibilities are a crucial aspect of the process. In order to create space for optimum collaboration, a PIM system needs to give users the ability to assign tasks, add comments, and track progress.
Content management concepts
Let's get down to the nitty-gritty of working with product content.
Entities and tools that make up your PIM system are designed to support one goal – making your content management processes easier, faster, and smarter.


SKU
Stock Keeping Unit is an individually identifiable item for sale and all the associated attributes that distinguish it from other types of items.
Product variants that differ in select attributes are treated as separate SKUs. SKU often also refers to a unique product identifier, which may be used as the primary identifier of the product in PIM and the integrated systems.


Product Category
A higher-level entity that contains related but distinct products. Product categories are used in PIM to provide structure and organization. They can be imported, added during enrichment, or even created automatically based on attributes provided by the data source. The latter is a two-way relation – a category can also provide category-level attributes to be shared among its products. CLAs save time during product content updates as long as the products share enough features.
Category-level attributes become indispensable if your products share enough features.
Click To Tweet
Localization
Each product in a PIM system can have unlimited versions of content set in different languages. With its ability to store alternative simultaneous versions of product content, PIM is the platform of choice for organizations aspiring to extend their international reach. The more context-aware information you provide, the more meaningful message you convey. With a system like Bluestone PIM, you can go beyond translations and serve new markets with location-specific, relevant content.


Filtering
An essential interface feature of a PIM system. For organizations that sell hundreds of thousands of SKUs, the ability to isolate a selection of products and process them collectively is an indispensable time-saver. If your PIM system has flexible filtering options, you can quickly narrow down a selection of products, tasks, or media to work on it further.
Sales and marketing concepts
A PIM system supports marketing and eCommerce teams in creating engaging content and immersive product experiences across a variety of channels.
Channels are the future of sales – it is fair to say that the ability to pick up new sales channels quickly will determine sales success in an ever more competitive digital landscape.


Multichannel
Every company that sells products through physical stores and online is operating in a multichannel business model.
You never know exactly what mix of channels will make the sale. Harvard Business Review report shows that 73% of customers are using multiple channels in their shopping journey. PIM integrations with external channels take the manual work out of the way so that you can focus on developing content suitable for the different channels.


Omnichannel
Also called unified commerce – is an integrated way of thinking about peoples' relationships with organizations.
All interactions are treated as touchpoints, which together should create seamless and immersive experiences in order to delight customers. A poorly orchestrated omnichannel experience equals no omnichannel experience, that's why it is important to choose the components of the omnichannel strategy with great care and attention to detail.
A poorly orchestrated omnichannel experience equals no omnichannel experience.
Click To Tweet
Marketplaces
Including Amazon, eBay, Google Shopping Feed, and countless others local to various countries – have become an integral part of selling online.
For many sellers, marketplaces provide initial exposure that gives them the traction to establish eCommerce sales. For these companies, marketplaces often continue to be a significant source of profit. The right PIM provides integrations for common marketplaces and the ability to support new ones with little development overhead.


Digital Twin
Quick channel adoption is made possible with the help of PIM superheroes called digital twins. In the digital world, your products don't exist – only their digital twins.
A digital twin is the best possible representation of your product. It's the entire product content, including photos, descriptions, and specifications. Your products will not sell themselves, but with great digital twins, it's as close as it gets.

Interested to learn more about the superpowers of digital twins? Read more here: Digital Twins for Commerce: Build a Sales Strategy for the Future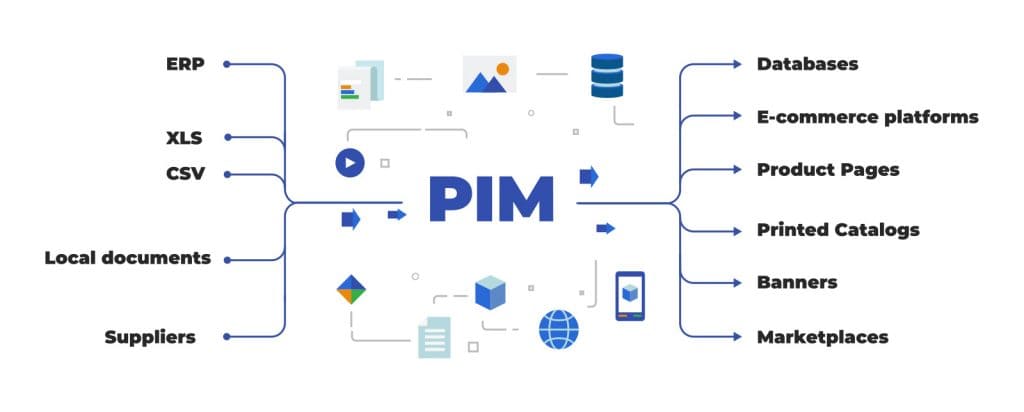 IT concepts
Whether an organization relies on technology partners for implementing PIM or takes on the process internally on its own, it is helpful to know some IT concepts that typically accompany the implementation and use of PIM.
Here are a few important terms. AI and machine learning are included because they make anything better!
Data Source
Determines where product information was obtained from. Sources can range from import files (e.g. CSV or XSLX), internal and external databases, and supplier portals, to ERP, MDM, and countless other systems.
In the ideal world, the majority of data sources are connected via APIs and the PIM system is able to retrieve data automatically in real-time. However, today's business scenarios still often involve manual or scheduled imports, and a PIM system cannot go far without supporting them.


Master Data
This is the data that will be used in every other system as the "single source of the truth".
Any changes to master data override changes in secondary locations. Selecting which data source will be used as a master data source is a strategic business decision. It's important to note that even when PIM is not the master data source, it can still be used to enrich and feed the data back to the original source.
Selecting which data source will be used as a master data source is a strategic business decision.
Click To Tweet
Data Mapping
During the import of product data, a PIM system can automatically map the fields found in the imported file to attributes present in the PIM.
Some systems have AI features that are able to identify what type of attribute is the best match for the product information you are importing. In Bluestone PIM, this is visually presented with different colors and icons to make it easier for you to see different types of product information at a glance.


Machine Learning
Defined as the ability of computer systems to learn from previous input, it has many uses in PIM, including prefilling certain attributes and providing automatic suggestions on how to improve the quality of product content.
Machine learning is the holy grail of PIM. A PIM system that can analyze and enrich your product information for you is a great asset, especially if it's able to work more and more independently with time.
---
I hope this article has cleared some of your doubts related to PIM terminology and product information management for eCommerce and digital channels. At least now you will definitely remember what PIM stands for
Equipped with new knowledge, you can continue your research into Product Information Management with more confidence and learn about the many ways this technology can serve your company or your customers.
Have any other terms you would like us to cover? Resources you'd like to share? Be sure to let me know in the comments.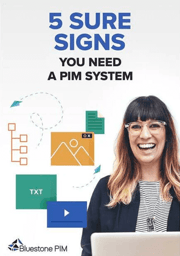 DOWNLOAD FREE E-BOOK
The no. 1 feature that drives purchases is product content
Check if you need a PIM system to manage your product content effectively.
Interested in Product Information Management, but not sure where to start? Contact our advisors to learn how you can get the ball rolling with Bluestone PIM!