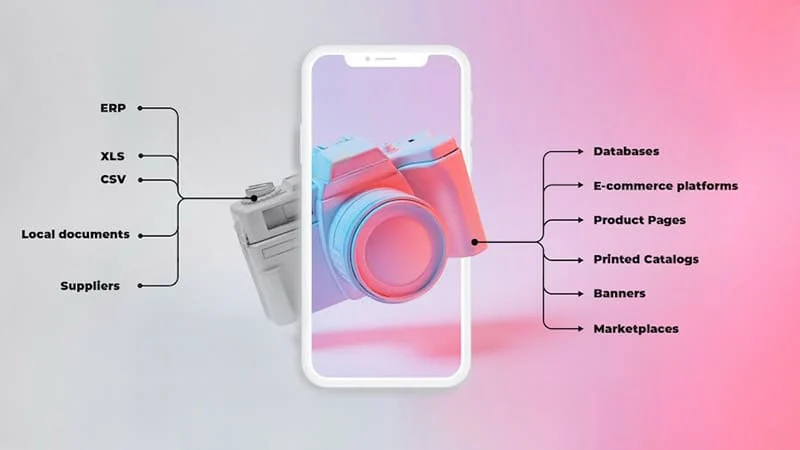 B2C retailers sell multiple products, all having unique features and specifications. Back in the day, retailers would have printed catalogs with product information, including the product's history, price, specs, and other details.
As the internet and eCommerce took over, inventory sizes increased, along with the amount of data to be collected, managed, and shared. That's when product information management (PIM) came into the picture.
Here's a definitive guide to PIM and why it's important for B2C e-commerce.


---
What Is PIM and How Can It Help?
Product information management refers to managing and enhancing a product's information needed for marketing, sales, distribution, and customer shopping experience across all channels. Here, product information includes (but is not limited to):
Product and technical specifications
Product lifecycle information
Sales statements
Product metadata information
Marketing information
PIM systems are increasingly cloud-based and allow retailers to manage their products and services from anywhere. They integrate seamlessly with other enterprise solutions like ERP, CRM, etc., allowing retailers to manage all their operations from one place.
PIM can help retailers in many ways, such as:
Faster time to market
Sell more products and explore up-sell and cross-sell opportunities
Increased brand loyalty
Improved product data management, quality, and compliance
Better omnichannel product experience


Why Is PIM Important in Modern B2C eCommerce?
Retail eCommerce is booming.
The global retail eCommerce sales were valued at $4,280 billion in 2020, up from $1,336 billion in 2014. Furthermore, this number is projected to reach $6,388 billion by 2026. Many retailers are experiencing exponential growth as most eCommerce product categories have taken a fast lane. Whether you sell apparel, electronics, or grooming products, you've likely experienced more demand in the last couple of years.
Managing product information is one of the critical aspects of selling online. Most sellers sell multiple products and services on numerous channels. Handling the information about all the products can be challenging.


The Challenge of Managing Product Data Across All Sales Channels
Let's understand this with an example.
Suppose you sell smartphones. What information about a smartphone would you likely have? Product specifications like camera, RAM, storage, etc., is one part. Then you have technical specifications like glass material, body material, chipset information, and so on. There's also the date of manufacturing and warranty information. Then you have shipping information, handling information, and much more.
What if the smartphone has different variants like most smartphones nowadays do? You'll need to manage the same amount of data for all the variants on all available platforms.
This information resides in different places, such as spreadsheets, folders, and other data repositories. If you need to verify a piece of product information or change it, you'll need to juggle through several files, folders, and spreadsheets to find the data.
Now imagine doing this for hundreds and thousands of products in your inventory. If that sounds difficult, there's more.
If you sell on multiple channels, you'll have a separate product catalog for each channel. If you change a product's price, you'll need to update product information for each channel separately.
Most e-commerce sites start with less than 25 products and later expand to over 100 products. For some sellers, this number can be in the hundreds or even thousands. Amazon, for instance, has 12+ million products. Many retailers have shut down brick-and-mortar outlets and embraced full-time eCommerce to sell more products and services of different types.
Therefore, inventory sizes are constantly increasing, making it difficult to manage product information.


PIM Makes Your Life Easier
Here's where a PIM system comes into the picture. It acts as a central repository for all your product information. All the data associated with each product, including product specifications, technical specifications, marketing information, etc., is stored in one place. You don't need to go to and fro between spreadsheets and folders to find the data. Everything will be at your fingertips.
A PIM system is more than just a data repository for your products. You can use it to update product data across all channels. Let's take the pricing example again. Suppose you sell a shirt for $50, and you increase its price to $55. With a PIM, you can change the price just once, and it will be displayed on multiple channels. That's what omnichannel commerce is all about.
Not only will this save you time, but it'll also create a good product experience. Most shoppers check a product's price on multiple channels to compare prices. Customers expect to find the same price for your products and services. If the same product is available at different prices on different channels, your customers might have trust issues.
PIM resolves this hassle by helping you maintain information consistency across all channels, which increases customer loyalty and trust and helps you sell more.


How Can PIM Help with Evolving B2C Markets?
B2C retail is evolving, especially after the pandemic. Online retailers need to adapt to this changing landscape. A PIM solution can help you manage change more effectively and adapt to the evolving B2C markets.
Here's how a PIM can help.


Act as a Single Source of True Information
Information about a product can be scattered and stored in various places. You can have technical specifications coming from the production team and pricing information coming from product line managers in another place. You could also have different versions of product information stored in different locations.
So how would you know which data is accurate?
PIM software eliminates all discrepancies by acting as the single source of truth for all eCommerce information. It stores all the data about a product coming from different departments and sources. This includes everything from digital assets to inventory information to pricing details and more.
As a result, the distribution process becomes seamless. You can confidently share product information with your customers or stakeholders without worrying about errors or inconsistencies.


Manage Various Types of Product Content Easily
Product content can serve various purposes.
Take product images and photos, which can be used to visualize your product, or QR codes, which can carry additional product information or help you gather valuable data about your customers.
You can create a QR code and put it up on your product packaging or print ads. When people scan the code, you can get critical information like the date, time, and location of scanning and the device used.
This information can help you make informed marketing decisions.
Whether you're working with product photos or data-rich formats like QR codes, either can be managed in your PIM platform just as easily and efficiently, with the benefit of having everything in one place.


Speed Up the Time to Market
Introducing a new product or setting up a new channel can increase your sales and revenue exponentially. However, you can't overlook the information management requirements.
A new product means you'll need to collect pieces of product information from various departments and aggregate them into one place. If you launch a new channel, you'll need to extract information about all products from your ERP and update it for the new sales channel.
This process is both time-consuming and prone to errors, and a PIM system can prevent this hassle from happening.
You can manage and update product information for new products and channels with a single click and release products faster.


Enhance Marketing and Sales Strategies
Marketing is essentially data-driven. Online shoppers expect personalized experiences.
A PIM solution allows you to enhance the quality of your product data and distribute it to your sales and marketing teams in a timely fashion.
Having accurate and up-to-date information across channels is an effective way to drive online sales and marketing results.
A PIM system also allows you to create marketing content directly from your PIM dashboard. Content marketing is crucial for eCommerce brands, and it will always continue to be that way. Marketers need to sell experiences to customers, which boils down to creating content and copy that compels customers to take action.
A PIM platform lets you edit all aspects of your products on the go. This includes titles, descriptions, features and benefits, images and videos, and more. Many PIM systems also come with built-in digital asset management (DAM) capabilities, which enable you to generate compelling visuals and consistent content from a centralized dashboard.


Integrate to Enhance Functions
The key function of PIM is to make you efficient and help you save time. PIM integrates with many software solutions, mainly ERP, CMS, and eCommerce marketplaces. These integrations allow you to run your eCommerce business from a single dashboard without moving back and forth between different tools.


Enhanced Customer Experience
Customer satisfaction is difficult to achieve for eCommerce businesses. Customer expectations are constantly increasing, with consumers expecting free shipping, timely delivery, seamless returns, and more. Here, hassle-free returns play the most important role in customer experience.
Above 80% of online customers never shop from an eCommerce retailer after a bad purchase experience. However, returning a product is always an unpleasant experience for both buyers and sellers. The best thing an online retailer can do to improve customer experience is to give a customer fewer reasons to return a product.
Almost 65% of product returns are due to a mismatch between the product description and the actual product. You can alleviate this number by providing complete product data bundled with rich product images to your customers. A PIM helps you share accurate product data with customers, allowing you to eliminate discrepancies and reduce the return rate.
As you can see, a PIM platform is a crucial ingredient of B2C sales success and it becomes indispensable as your business scales. Contact our PIM advisors to kickstart your Product Information Management strategy with a personalized plan for your business growth, or book a PIM demo meeting to see Bluestone PIM in action.