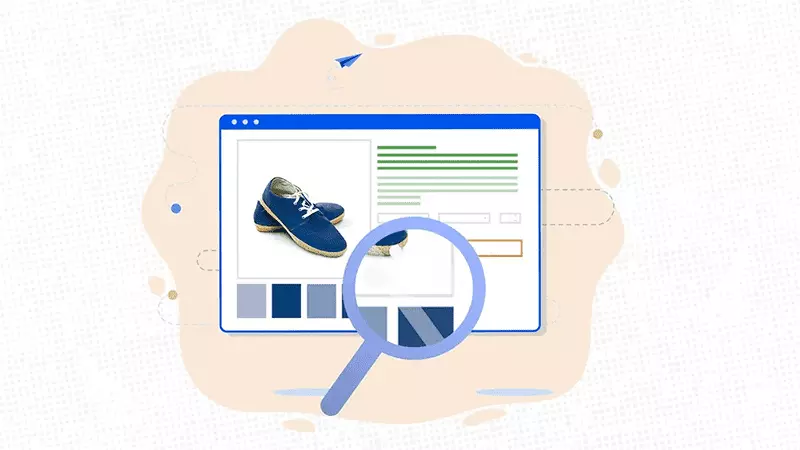 Product pages – we all rely on them heavily in our online stores, but how much time do we actually spend on optimizing and improving them?
If you create a simple page template that suits most cases and simply expect a product to sell "itself," you can easily miss your sales targets and higher conversions. On one hand, it is hard to design a one-size-fits-all product page, but on the other, there are key website features and functionalities that are always relevant, no matter how attribute-rich a product is, whether it has variants or plenty of configuration and customization.


Conversion rate is defined as the percentage of visitors that land on your website who complete a desired action.

So, what elements should an effective product page pay attention to in order to truly show off the best digital twin of your product, reach and exceed average conversion rates, and accommodate for sudden surges of online interest?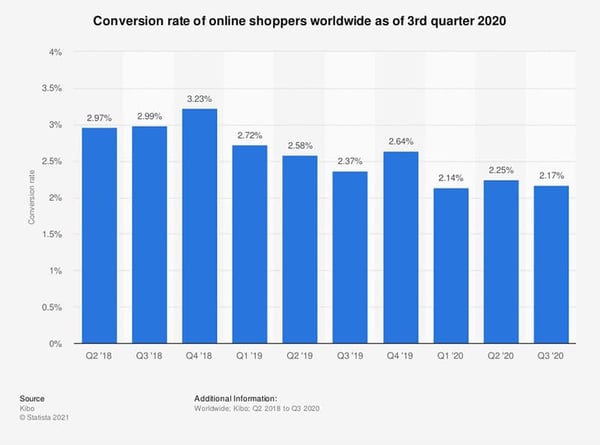 Despite the surge of online shoppers in 2020 during the pandemic, Statista reported that the worldwide conversion rate had been steadily dropping
Titles or product names
This may sound simplistic because having a title is something that every product page has, right?
If you take a quick look at the leading B2C online stores, you see that product titles are usually meaningful and descriptive of the product.
Unfortunately, the situation is not so uplifting for B2B solutions.
An ERP platform, which is often the basis for information being fed to an online store, produces low-quality titles. Abbreviations and attributes as part of product names, and inconsistent text cases, such as capital letters, make it harder to understand what kind of product we are dealing with.
This can really undermine the customer experience. Let ERP be ERP, but pay attention when creating meaningful product titles in PIM, and use these in customer-facing channels. Implementing a PIM solution will ensure consistent and high-quality product data in all those channels.
It is PIM, not ERP that should be the source of product titles. Let ERP be ERP, but allow PIM to do its job
Click To Tweet
Product description
A good story sells, whether this is the product's background story, where, how, and by whom it was produced, or how it should be used. A good story also allows website visitors:
to easily understand the advantages of the product
to envisage themselves using the product
to understand how their everyday lives can improve from a purchase
Avoid general descriptions written by suppliers – not only are they dull, but their generality is shunned by search engines.
Original product descriptions always work better than generic ones taken from a common industry database or a supplier. Changing from mere product descriptions to narratives facilitates a stronger relationship with the brand and makes room for boosted conversion and higher margins.
Also, bear in mind who the product description is aimed at and align the message with your buyer personas.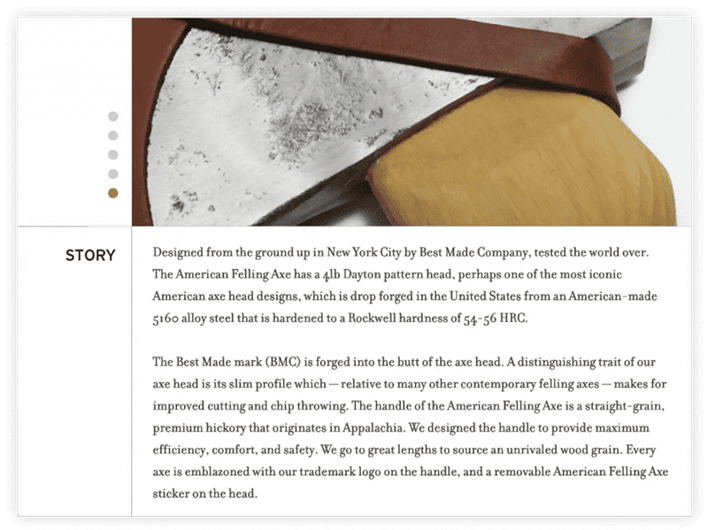 Specifications and attributes
It is easy to think that attributes and specifications are only height, length, width, or weight. However, these usually do not cover all the questions that customers have in mind.
What a product is made of and how it should be used, maintained, and stored are also questions that customers have. Use customer service or store personnel to find out more about what information a customer expects from a product.
By covering all the areas that a customer can imagine, the chances of a purchase rise exponentially. If you have products that have multiple technical specifications, consider implementing a comparison tool.
We have written more about handling product attributes in 'How to Create Product Attributes That Sell'on our blog.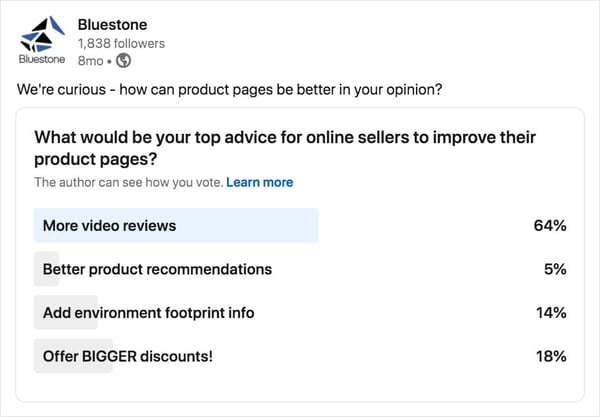 Variants
Give the customer clear information that the product is available in other variants, either by pull-down menus or by different input fields connected to other variants.
In addition, you should explain what it means if the customer chooses one variant over another, especially with regard to features that are not easy to decide on (i.e., not size or colors).
Look at the example from the U.S. online furniture retailer, Crate & Barrel. Here, if the size of the sofa is too large, you can try the petite variant.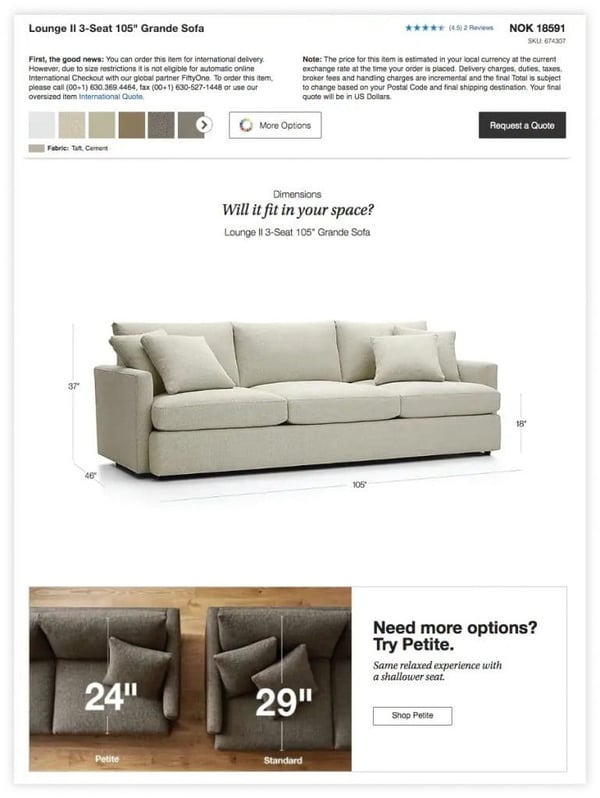 The relevant landing page is a good example of how you can easily influence your customers' purchasing decisions and help them find their way to other products that fit their needs better.
We have discussed product variants more extensively in our 'Product Variants: Benefits, Tips and Examples' blog post.
Breadcrumb path
Many website visitors arrive at product pages after a Google search. By adding breadcrumbs, you can make it much easier for them to find similar products in the same category, without having to go through the entire category structure.
An effective category structure, reflected by the breadcrumbs, originates in PIM, where products are managed through categories. Product pages that focus on user experience should also include the breadcrumb path on mobile websites.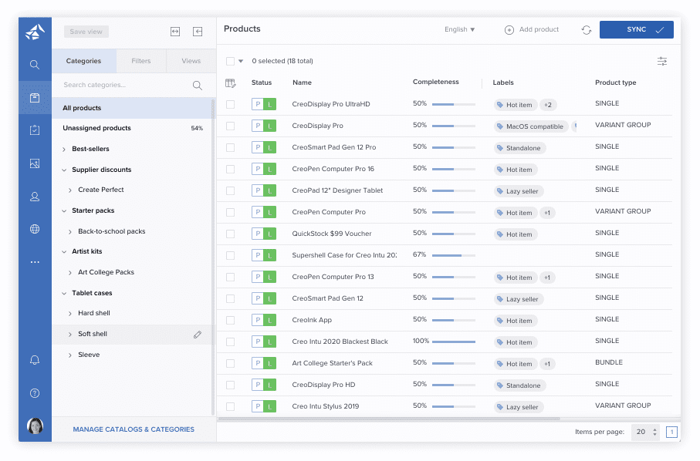 Quality images and video
A good product page contains high-quality, informative product images or videos.
A solid base for making a sale comes from adding a 360-degree view, close-ups, contextual images, photos from different angles, images of the product in use, and a product video.
Accessories and replacement products
Nothing is more frustrating than buying a product only to find out that you need another product to use it.
A good product page tells this to the customer straight away, without triggering cart abandonment. Examples here include additional or necessary accessories or replacement parts.
Products that fit together
Some products are typically used with other products. They may be in the same furniture series, such as a table and a cupboard that belong to one line.
Online clothing stores are good at this by putting together matching outfits and recommending them to customers. It is an excellent way to show greater product diversity and to cross-sell or upsell other relevant products that they might be interested in, even if those products are not exactly what they were looking for in the first place.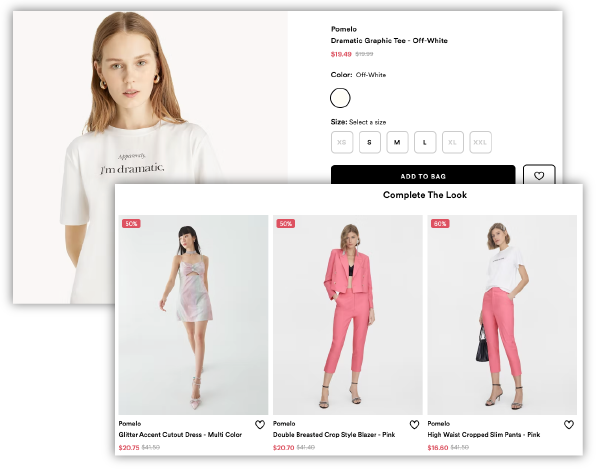 Looking for a white tee? Why not complete the look with matching apparel?
Source: Pomelo Fashion
Documentation
An effective product page also contains links to all necessary documentation. There may be brochures, user manuals, assembly instructions, FDVs, environmental certificates, or the like.
Finding a document associated with a product should be easy and made available for download.
Wishlists
Providing a wishlist or a reminder functionality makes it easier for the user to remember the item and purchase it on their next visit. In this way, an "Add to wishlist" function can serve as a secondary call to action.
If one also receives a message about the item when, for example, its price has been reduced or its availability is changing, then this can be a factor that determines the sale.
FAQ and chat
Even if a product page contains all the elements above, a customer can still have questions about a product. An intuitive chat can take away the remaining hurdles before making a purchase.
If you do not have the opportunity to have a live chat, then questions should be easy to find via an FAQ. The advantage of the latter is that an FAQ can be made available to other customers with similar queries. You can also provide additional social proof behind a product by implementing a comment section on social media.


I believe this can increase conversions, but I would suggest that you choose to use live chat software only if you are truly available during business hours to immediately respond to customers that request a chat.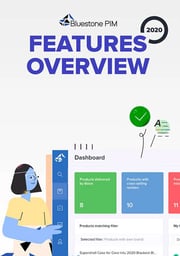 DOWNLOAD FREE E-BOOK
Take your product information to a new level
Check the unique features of the first MACH-based PIM.
Conclusion
All things considered, product information (descriptions, attributes, media files, etc.) is still the number one feature that customers look for on a website. To meet the ever-growing market requirements regarding product data, sellers can benefit from a dedicated product information management platform. In particular, you should implement PIM to:
Eliminate errors and mistakes in product content
Ensure brand consistency with 'one source of truth'
Drive online sales with product information
Put in place data quality monitoring
Schedule a guided demo with a Bluestone PIM expert to learn how PIM can help your business sell more products in digital channels.