What is a product description?
A product description is the text or copy that describes the features, benefits, and unique selling points of a product.
Product descriptions are commonly used in marketing materials and product detail pages. They are often displayed alongside other product information, such as product attributes, return policies, and customer reviews, to give customers a comprehensive understanding of the product and its value proposition.
Take the following product detail page for Toby's Magic Cow by Lush as an example: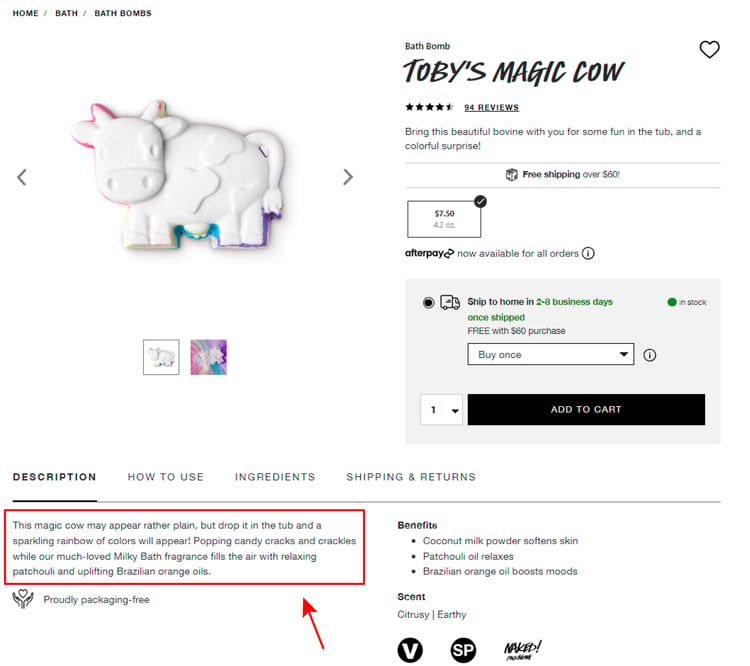 Source: Lush USA
The product description for this bath bomb product is:
"This magic cow may appear rather plain, but drop it in the tub and a sparkling rainbow of colors will appear! Popping candy cracks and crackles while our much-loved Milky Bath fragrance fills the air with relaxing patchouli and uplifting Brazilian orange oils."
In this example, the product description creatively highlights the key features of Toby's Magic Cow bath bomb. It captures the attention of potential customers by describing the delightful surprise of a colorful display and the sensory experience it offers. By painting a vivid picture and appealing to the senses, the product description aims to entice customers to try the bath bomb and create a memorable bath-time experience.