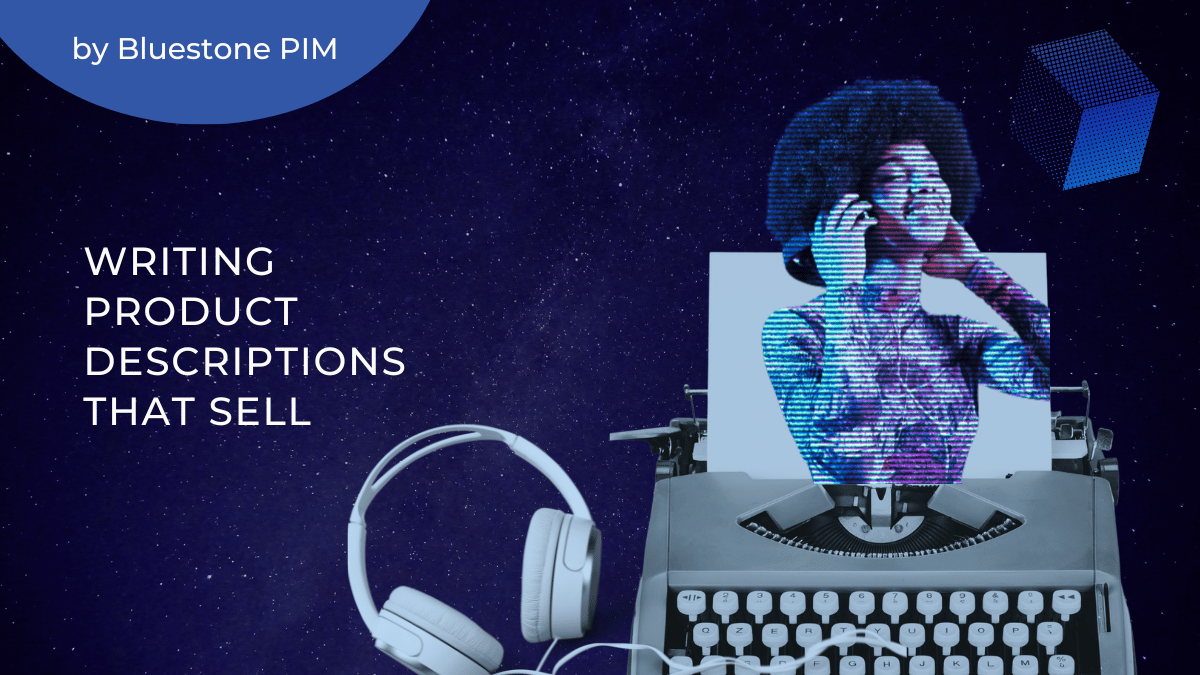 As a retailer, your product description serves as a powerful tool to entice and engage your prospective customers. It's the first touchpoint for your audience, and an informative and engaging product description can be the deciding factor in their purchase decision.
In the article about the art of retail storytelling, I mentioned the case of a second-hand creamer cow that was sold on eBay for 25 times the price for which it was initially purchased—all about the story in the product description.
In this comprehensive and practical guide, you will learn more about the pivotal role of product content and how to craft compelling product descriptions that sell.
Furthermore, I will show you some awe-inspiring examples and arm you with some useful apps to refine and speed up your writing.
And last but not least, you will figure out how to save tons of time by creating a structured template to create consistent product descriptions that resonate with your target audience.
Product description—why is it important?
For almost any digital sales or marketing campaign, quality product information is a must. A product description is essentially an advertisement for your product.
It is better not to underestimate its power because a well-written description can differentiate your product from competitors and help customers make informed purchasing decisions (which leads to a great customer experience).
To fulfill its role fully, the product description should be clear, concise, informative, unique, and consistent with real physical product images. And without fluff, please; shoppers do not read product descriptions like passionate stories; they like to scan the text to find the list of features of your product and explain how it will benefit the customer.
Fortunately, there are generally product copywriting rules that can be used as a recipe for perfectly baked product descriptions. I choose the most universal and significant.
Writing an irresistible product description: 7 golden rules
#1 Keep your audience in mind
Before you start writing your product description, you need to know who your target audience is. If you have well-defined personas in your marketing strategy, return to their descriptions.
What are your audience's pain points? What features of your product will appeal to them? Knowing your audience will help you tailor your product description to their specific needs and interests.


#2 Talk about the benefits of your product
When talking about the best example of storytelling, many marketers love to invoke Apple's campaigns.
One of them is "1,000 songs in your pocket", the famous slogan for the 1st Generation iPod Nano. This is an amazing copy that communicates what customers expect—benefits, not features.
Customers want to know how your product will benefit them, not just what features it has. Instead of listing features, explain how those features will make the customer's life easier or better.
For example, if you're selling a vacuum cleaner, don't just list the features like "powerful suction" and "long cord." Instead, explain how those features will benefit the customer, such as "powerful suction means you'll spend less time cleaning, and the long cord means you won't have to switch outlets as often."


#3 Paint using words (and power words)
Enhance your product description by using descriptive adjectives and language that create excitement and desire. Use persuasive language that instills a sense of urgency or scarcity to motivate customers to make a purchase.
For instance, instead of simply stating, "Our product is good for your skin," use language like "Our product will leave your skin feeling irresistibly soft, flawlessly smooth, and radiantly glowing."
When a description feeds the customer's imagination and does not sound pushy, sparingly, you can use some powerful words that sell, like:
New

—

sounds fresh and exciting,
Proven

—

builds credibility,
Limited

—

creates a sense of urgency,
Free

—

everyone loves free stuff,
Easy

—

implies simplicity and convenience.


#4 Follow the KISS rule
The immortal design principle known as KISS (Keep it simple, stupid) also works well when it comes to writing product descriptions. Crucial is to avoid using technical jargon and overly complex language.
Make your product description easy to read and understand by using short sentences and simple words to convey your message. Use a natural tone and voice. Remember that your goal is to persuade the customer to buy your product, not to impress them with your vocabulary.


#5 Make it easy to read
Make it easier for the shopper to scan the product description by providing maximum readability in the text. Avoid walls of text, instead, add more space between paragraphs and subheaders.
Using bold and bullet points is a great way to highlight the most important features and benefits of your product. This makes it easier for customers to quickly understand what your product does and how it can benefit them.
Enliven the text with high-quality product images and graphics.


#6 Add a pinch of storytelling
Storytelling is a powerful tool that can create an emotional connection between your customer and your product. By sharing how your product has helped others in the past or by providing a scenario of how it can solve a problem, you can make your product more relatable and appealing.
For instance, if you're selling a fitness tracker, you can tell a story about how it helped someone improve their health and achieve their fitness goals. You can describe how the tracker motivated them to exercise regularly, keep track of their progress, and set achievable goals.
By sharing a relatable and inspiring story, you can help your customers visualize the benefits of your product and encourage them to try it for themselves.


#7 Don't forget about SEO
You wrote a fantastic product description; it would be a shame if only a small percentage of users saw it. As a last step, you need to make sure your description is seen and approved by the search engines as well.
To increase your product's visibility in search engine results, it is important to use keywords that your target audience is searching for. To do this, research the keywords your audience uses and include them in your product description. This will help your product reach higher in search results and attract more potential customers.


4 inspiring product description examples
One of the best ways to help you improve your product descriptions is to study examples of great ones. Here are a few exceptional examples to inspire your copywriting.


Apple, AirPods (3rd generation)
Example of product description:
"With Personalized Spatial Audio that places sound all around you, Adaptive EQ that tunes music to your ears, and longer battery life that charges up in a snap. It shrugs off sweat and sprinkles, and delivers an experience that's simply magical."
Apple has mastered telling engaging stories and offering not only the product but the experience that the product brings. Just take a look at the brand's product pages.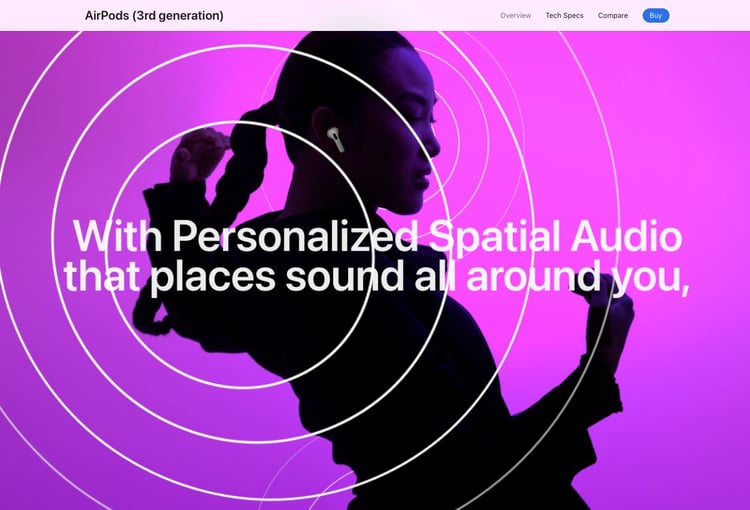 Source: Apple


They provide immersive product storytelling with stunning visuals, along with attractive and informative descriptions at the same time.
It works because… the description succinctly and effectively highlights the key features and benefits of the product using descriptive language. It is a compelling yet concise way to grab consumers' attention and generate interest.


Glossier., Milky Jelly Cleanser
Example of product description:
"A gentle yet effective creamy gel face wash for all skin types. Milky Jelly Cleanser is a pH-balanced daily cleanser that's packed with five skin conditioners, including ultra-soothing rosewater. It removes all traces of makeup, grime, and dirt, leaving your skin soft, smooth, and perfectly clean."
Cosmetic descriptions are almost a separate category. The website of the American manufacturer Glossier. is a case of how to do it right. Here is an example of one of their bestselling products.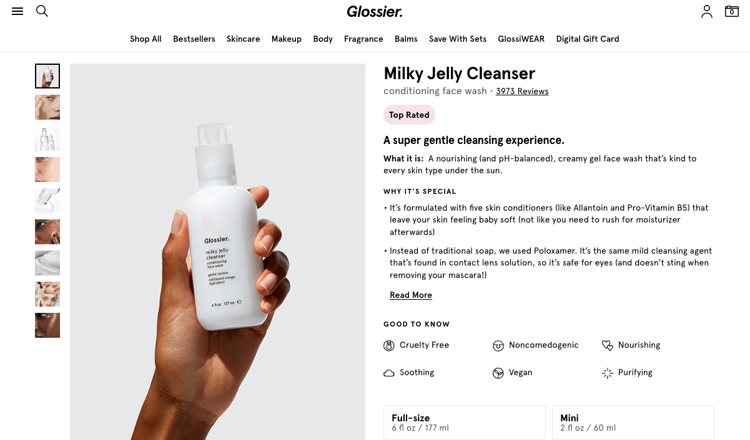 Source: Glossier.


It works because… the description is compelling and clear, thanks to the appropriate formatting with bullet points and icons. Also worth noting is the review section figures high in the structure of this description.
Customer reviews are a type of social proof, a precious one on product pages that can have a significant impact on purchasing decisions.


KitchenAid, Pro Line® Series 7 Quart Bowl-Lift Stand Mixer
Example of product description:
"Whether you need 14 dozen cookies* for the school bake sale or shredded chicken for Taco Tuesday with friends and family, the KitchenAid® Pro Line® Series 7 Quart Bowl-Lift Stand Mixer has the capacity for every occasion.
This durable bowl-lift stand mixer was built to last, and features 10 speeds to gently knead, thoroughly mix and briskly whip ingredients for a wide variety of recipes and comes in a variety of colors to perfectly match your kitchen design or personality.
Expand your mealtime creativity with over 10 optional hub-powered attachments**, from food grinders to pasta makers and more. *Using the flat beater; 28g dough each1, **sold separately2"
Beautifully designed KitchenAid mixers are the object of desire of many home chefs. The brand is able to neatly include all the advantages and benefits of this product in the description, which is complemented by high-quality photos, including 3D product images.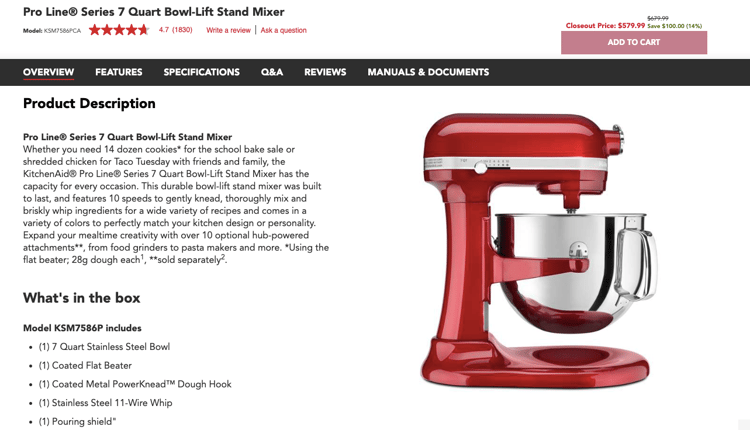 Source: KitchenAid


It works because... the description is concise. Despite providing much information, it highlights the features and benefits of the mixer, and is free of any marketing fluff. This makes it easy for customers to quickly understand what the product is all about.


Poo~Pourri, Before-You-Go Toilet Spray
Example of product description:
"Spritz the bowl before you go and no one else will ever know! Shop the famous before you go toilet sprays that have earned over 100,000 reviews.

Poo~Pourri is always formulated with essential oils and plant-based ingredients that eliminate bathroom odor before it begins, so you can leave the porcelain throne smelling better than you found it. P.S. Did you know you could filter by scent type? That's stinkin' cool!"
Pourri proves that such ordinary products as toilet spray can be distinguished not only by their smell but also by their charming packaging and funny product descriptions.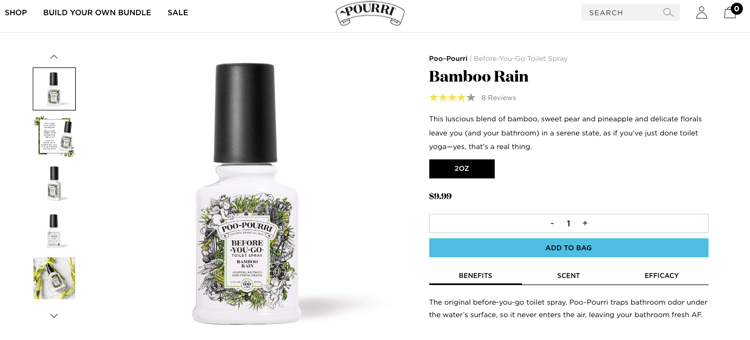 Source: Poo~Pourri


It works because… effective humor. It creates a memorable impression and makes the product more interesting to customers.
By injecting personality and wit into their marketing, these brands are able to differentiate themselves from their competitors and stand out in a crowded marketplace.
Engaged user feedback completes this compelling product story of toilet spray.


Tools that help you write product descriptions better and faster
Writing a simple product description can be tough, and writing a great product description that can capture customers' attention is an even bigger challenge. Thankfully, there are several tools that can help get the job done.
Here are a few tools that you can use right away:


Hemingway Editor
If you need help with readability and style, look no further than the Hemingway Editor. This web-based app helps you write clear and concise product descriptions. It highlights complex sentences, adverbs, and passive voice, making it easy to simplify your writing.


Grammarly
Grammarly checks your text for grammar, spelling, and punctuation mistakes and ensures your product description is error-free. In the features available in paid plans, you can also set a specific tone of voice if you want to write in a particular way (such as in a formal or humorous style), but in most cases, the free plan has everything you need.


Yoast SEO
If you're writing product descriptions for an e-commerce website, Yoast SEO can be helpful in optimizing your content for search engines. It analyzes your writing for readability, keyword density, and other SEO factors to improve your search engine rankings.


Thesaurus.com
Sometimes, it can be challenging to find the right words to describe a function or product attribute. Thesaurus.com can help you find synonyms and related words that make your product descriptions more compelling and different than your competitors'.


Notion AI
Recently, Notion launched AI features that support writing various types of text. You can use it to provide suggestions and ideas for your content, improving your writing, but also to create a template for writing product descriptions, making the process more efficient and consistent. Overall, it is a great tool for anyone looking to overcome writer's block.


---
By using these writing tools, you can improve the quality and effectiveness of your product descriptions.
By building your own writing toolkit and workflow, you can make the writing process faster (and less painful), which results in more engaging, unique, and persuasive descriptions for potential customers.


What should I include in a product description?
A perfect product description fits your specific products and target audience. However, product descriptions are a massive copywriting job, especially if your business has an extensive product portfolio.
There is no time to reinvent the wheel when launching new products. Plus, your descriptions should be consistent.
Creating a template can save you time and ensure that each description is consistent. The basic form of a product description should include these essential elements:
Headline: Include the product name and the main benefit. Don't forget to make the headline catchy; it must catch the customer's attention.
Introduction: Provide a brief overview of the product and its key features. This is the place to show off concise but compelling copy.
Benefits: In this section, list the product benefits and explain how they will improve the customer's life. Descriptive language and practical examples are welcome here.

Features: List the key features of the product and explain how they support the benefits.

Call to Action: Persuade a customer to purchase with a clear call to action and powerful words.
Implementing this structure every time you write is the first step. The second is to ensure that your text is SEO-friendly.
Including relevant keywords in your headline, introduction, and description can improve your product's visibility in search results, and makes it more likely to be seen by potential customers.
Additionally, including product images and videos can enhance the description's appeal and make it more engaging.
And finally, remember to test your template and tweak it as needed. Analyzing the metrics and feedback from your product descriptions can help you identify areas for improvement and optimize your template for maximum impact.
Whether you're creating a new product description template from scratch or revamping an existing one, putting in the time and effort to create a high-quality template can help you stand out in a crowded marketplace and drive sales for your business.


Short summary
Product descriptions are inconspicuous texts of great power. It is worth paying enough attention to these words so they can resonate with your target audience and drive sales.
Remember to focus on benefits, not features; use descriptive language; and make it SEO-friendly. With these tips, you'll be on your way to creating killer product descriptions in no time 🔥
If you want to dive deeper into topics of product storytelling and creating an awesome omnichannel shopping experience, check out our free eBooks: Getting Ready For E-commerce Peak Seasons and The Art and Science of Customer Experience.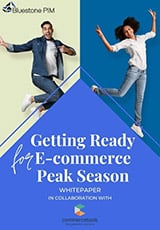 DOWNLOAD FREE E-BOOK
Read this guide full of marketing and tech hacks
for online retailers to get well-prepared for holiday sales.