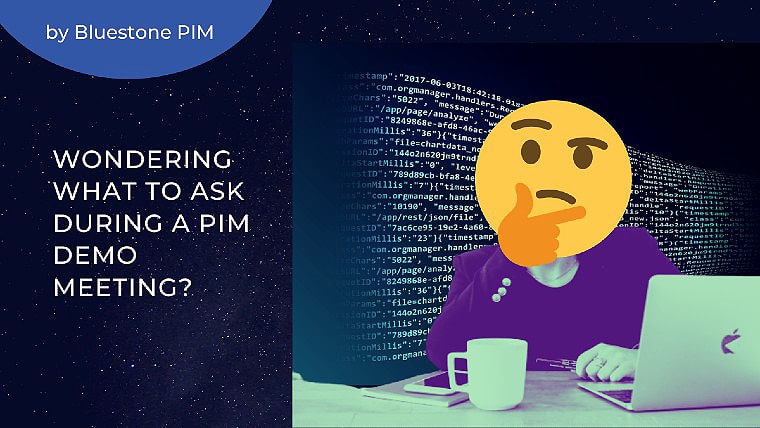 If your company has a large number of SKUs, many sales and marketing channels, and product pages available in multiple languages, that's a lot of product data. It's a sure sign that you need help – specifically a product information management (PIM) solution.
The best way to find out exactly how PIM can help your business is to book a demo before choosing the right PIM vendor.
During the 1:1 conversation with a PIM specialist, you can discuss your product information needs, get tips on product content, and learn what the product enrichment processes look like.
Already booked a product demo? Great! Now is a good time to prepare to get the most out of your conversation with a consultant. Think about your current state and expectations, and write down the most important questions you want to ask.
In case you are still a little confused, we have prepared 5 important questions you should ask during the product demo meeting.
1. How does your PIM connect with other systems and IT components?
You may have the intention of integrating the PIM with your existing EPR/CMS system, product catalogs, and webshops like Magento (because that's what PIM is for).
This is why you should ask how long these integrations can take and how often they will be updated because your product information must always be accurate and up-to-date.

Also ask about APIs (Application Programming Interface), a technology that allows two software or applications to seamlessly communicate with each other. SaaS PIM systems typically use REST API endpoints or alternative APIs such as GraphQL APIs, Falcor APIs, or JSON-Pure APIS.
The PIM vendor should offer a full set of APIs for exchanging information between PIM and other systems. It's also good to ask for a set of public APIs that are lightning-fast APIs for retrieving product content for real-time use.
2. How will PIM help me improve the customer experience?
New product catalogs? Amazon store? New social media channel? With API-based interoperability, your business can respond to rapidly changing customer expectations and get to market faster.
According to the Ventana Research survey, the top two reasons for using PIM are to improve customer satisfaction and customer service. This is critical for business users of e-commerce companies.
The PIM system is designed to provide a solid support for your sales and marketing channels. It easily connects to new sales and marketing channels with a Product Data Syndication feature, allowing you to distribute and sync product data to all sales and marketing channels from one platform, and supports omnichannel strategies.
This gives your customers access to high-quality and personalized product content at every touchpoint.
What channels are available to your company and what new ones do you want to add to sales and marketing distribution? Provide insight into your plans during the demo meeting so that you can envision how PIM fits into your overall strategy.
3. How does your PIM manage digital assets?
The performance of a PIM system will affect the performance of your e-commerce website. Therefore, it is important to know how many digital assets it can handle.
By digital assets we mean crucial variables such as the number of SKUs, product attributes, locations, and supported languages.
These are parameters for calculating data storage, customization capabilities, and scalability. They are also a factor used to determine the price of the PIM plan.
The next issue is how easy and intuitive it is to manage data in PIM. For example, PIM systems have no problem with product content consisting of many product attributes, but there may be big differences in how you can create and manage attributes for products.
Demo meetings are the perfect opportunity to see how the PIM systems you are considering work in practice in certain situations.
4. How can your PIM handle a growing amount of product data?
What if you started off with 1000 SKUs, and a few years down the road, you have plans to expand your inventory to 10,000 SKUs? What about 1,000,000 SKUs?
Be sure to ask the PIM provider about the scalability. Can the system handle a growing number of SKUs or a dramatic increase in traffic, say 100 times more in a week?
The good news is, yes it can, if the PIM system is a cloud-native SaaS!
Unfortunately, there is fake PIM software on the market trying to jump on the SaaS bandwagon. They attach the label of SaaS to themselves but have none of its benefits. Here's a quick guide on how you can identify a true SaaS PIM from a fake one.
Cloud providers deliver on-demand computing power, storage services, databases, and other IT resources in a simple "pay-as-you-go" pricing model. In practice, a cloud-native PIM gives you scalability, power reserves for large seasonal sales like Black Friday, and the necessary capacity needed to import one million SKUs for example.
A good product information management solution should grow along with your business data storage.
5. How should I prepare my company for the PIM implementation?
For many organizations, the implementation of product information management became a real game-changer. It will change the way your company works with product data, and it will impact your team's workflows.

If PIM is to be implemented quickly and smoothly, this project must be a high priority with proper management and strategy. Ask a PIM specialist where to start and how to model and manage your product data before PIM comes.
You can also check out our Best Practices for PIM Implementation article to learn 3 quick things you can do first to get your teams prepared.
More tips before buying
You might have other questions about product data on your mind, so here's a list of related pages you can check out:
Got a question that you still can't seem to get an answer to? Why not drop us a message? Our PIM experts are eager to answer any questions you have about product information management!
If you would like to see Bluestone PIM in action, schedule a demo meeting with us for a personalized product tour. It's free with no obligations or conditions attached.