Don't be fooled by hokey software providers who put their on-premises Product Information Management (PIM) solutions into a hosting server and start calling it Software As A Service (SaaS).
It's not SaaS. It's a wolf in sheep's clothing.
So how can you tell the difference between a true SaaS PIM and a "fake" one? Well, before you choose the best solution for your business, be sure to ask a few basic questions.
At its core, the SaaS solution allows customers to subscribe to and access a business service without the need to install, manage, or maintain any additional software or hardware.
Click To Tweet
The rapidly growing popularity of the SaaS business model has led to fake SaaS PIM solutions springing up like mushrooms after heavy rain. This shouldn't be a surprise since everybody wants to hop on that money train, right?
So, when you consider implementing a platform for managing product information, make sure the PIM provider has invested in developing a true multi-tenant SaaS platform.
This is the only way to reap all the benefits a SaaS business model has to offer.
So what do you need to do?
During the sales meeting, just ask the following 7 questions. And pay attention to the answers.
1. Is your PIM platform a multi-tenant SaaS?
The answer should be "Yes." A true multi-tenant SaaS is configured, not customized.
Therefore, all customers should be using the instance of the software, which guarantees smoother development and quicker release cycles.
Of course, some customers may require specific features. However, those special requests should be addressed through configuring or enriching the platform with additional apps, not custom-made solutions.


2. Does your software run on the cloud?
Traditional PIM platforms are mostly hosted on virtual machines and this type of approach requires a lot of operation and maintenance work. But with cloud computing, that is a completely different matter.
Cloud providers such as Amazon Web Services (AWS) deliver on-demand computing power, storage services, databases, and other IT resources in a simple pay-as-you-go pricing model.
In practice, this gives you scalability, power reserve for that big Black Friday sale, and the necessary capacity to import one million SKUs. Therefore, a true SaaS PIM should take full advantage of the API economy and all the benefits the cloud infrastructure offers.
This is the best way to grow your business faster, while the cloud provider does your administrative work for you.


3. How long will it take to integrate your PIM platform with my other systems?
Thanks to REST API endpoints commonly used by SaaS solutions, the integration between the PIM platform and systems such as a Magento 2 webshop, an ERP system, and/or a product catalog builder can be completed extremely fast.
Therefore, the software provider should offer a complete set of Management APIs, which is used to exchange product content between PIM and other systems.
You should also ask if there's a set of Public APIs, which is a lightning-fast API for retrieving product content for real-time use.


4. How often will new features be delivered?
Upgrades should be frequent (e.g., multiple times per year) and delivered seamlessly by the PIM provider in a way that will not take the platform offline or disturb your business activities.
Some PIM vendors, such as Bluestone PIM, ensure new releases every few weeks.


5. Will I ever see a cost associated with the new version?
No, there shouldn't be any additional fees for obtaining access to new features in the software.
That's why fake SaaS PIM providers usually offer "free upgrades" through customizations and integration.
What they don't like to admit, though, is that both customization and integration come with additional payments. In practice, you would need to pay for each of those "free upgrades."


6. Is my data safe with you?
The solution you're planning to use should guarantee full security for your product data.
Cloud-native platforms always use secure data centers and servers operated by the cloud provider, e.g. the AWS infrastructure.
In addition, all communication via APIs should require authentication and authorization protocols such as OAuth2/OpenID Connect and JWT.
So, if a PIM provider tells you they take care of your security, but can't present any certificates, your warning bells should go off.


7. Can I have a free trial to get to know the solution better?
With a true SaaS PIM, you should be able to easily sign up for a free demonstration and see for yourself how the system looks and feels in a practical setting.
During the trial, you should be able to use simple and clean documentation that will help you to get familiar with key features and functions. Also, ask the PIM vendor if they can conduct a short training session for you.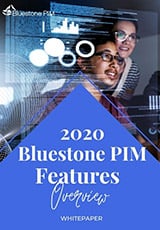 DOWNLOAD FREE E-BOOK
Take your product information to a new level
Check the unique features of the first MACH-based PIM.
Interested in product information management, but not sure where to start? Contact our advisors to learn how a PIM solution can boost your e-commerce strategy.
Note: This article was originally published in January 2019 and has been updated to reflect the latest information.