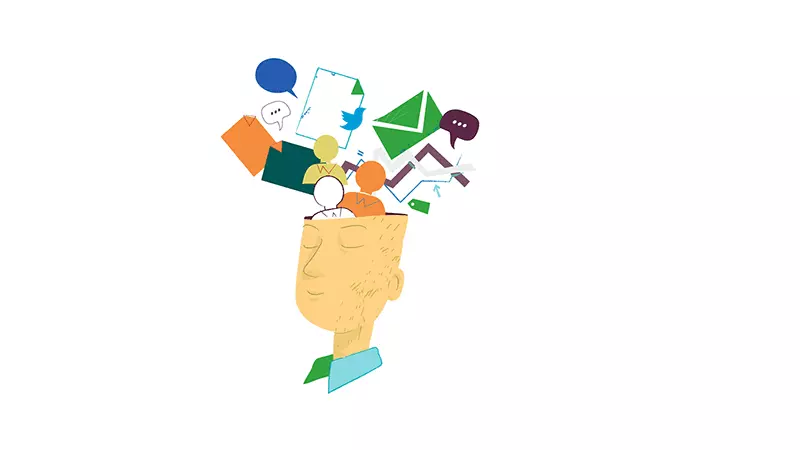 Here's the awful truth: as you're reading these words, your products are competing with the exact same ones offered by other resellers or with similar products available through international marketplaces.
It's a constant battle for the hearts and minds of customers who are choosier and pickier than ever before. You may sit down with your arms crossed and fulminate against Amazon, or you can do something to make customers love your products and drive your online sales.
If you are the latter, what you need to do is manage the product experience.
What is Product Experience Management (PxM)?
In the absence of a formal definition, it's fair to say that Product Experience Management (PxM) is all about delivering compelling product experiences that create an emotional connection between customers and your products.
This experience is built upon product content, which is unique, personalized, context-aware, and well-targeted – content that provides customers with the right information throughout their entire shopping journey.
Successful Product Experience Management (PxM) leads to satisfied customers, higher conversion rates, and ultimately, better sales, while building strong loyalty at the same time.
Click To Tweet
This approach is often based on the hottest e-commerce trends, such as:
Product content analysis
Personalization
Contextualization
Automation and optimization
Today, considered as a natural step forward from Product Information Management, PxM is becoming a significant strategy for e-commerce businesses, and therefore, it is quickly gaining in popularity.
What are the cornerstones of successful PxM?
Creating a compelling product experience is not something you can do over a cup of coffee, nor is it a complicated process that demands a lot of consideration and effort to implement.
By following these 4 simple steps, you are well on your way to crafting a consistent and captivating product experience for your customers.


1. Organize information
Start with gathering product data from different sources, such as spreadsheets, hard drives, ERPs, or local files. It is easier to manage the data when they are stored within one system instead of being dispersed in multiple platforms. The PxM system should allow you to establish one source of truth for complete and accurate product information.
Ideally, the PxM platform should come with Digital Assets Management (DAM) features, which will help you with the management, enrichment, and distribution of media files such as images, videos, or PDFs.


2. Enrich product content
Content is the core of successful product experience management. Go beyond a detailed description and use relevant attributes, media files, and product relations to deliver a great product message.
Use product storytelling to create an emotional connection with the customer and mix it with well-thought-out SEO tactics on your product pages to allow search engines to skyrocket your products.


3. Contextualize your message
According to Gartner's 2018 State of Personalization Survey, about 87% of existing marketing leaders personalize their marketing communication and campaigns. Both marketing and e-commerce teams should apply the same tactics to the product-related content they produce.
Different markets require different versions of product information, so you should optimize your content to meet the demands of different customers, sales channels, languages, marketplaces, or culture-specific conditions.


4. Send your content out
When your product information is complete, accurate, context-aware, and generally awesome, it's finally time to send it to the right sales channels, no matter if they're online, mobile, or offline.
Use connectors and lightning-fast APIs to integrate PxM with e-commerce platforms, POS, marketplaces, ERP, and other IT systems for better flow. This will automate the syndication of your product data and equip all of your systems and sales channels with the latest product information at all times, so you'll never have to manually update multiple platforms or worry about serving customers with outdated or potentially misleading content.
What's the difference between PIM and PxM?
Despite common misconceptions, it's necessary to understand that Product Information Management (PIM) and Product Experience Management (PxM) are not the same thing.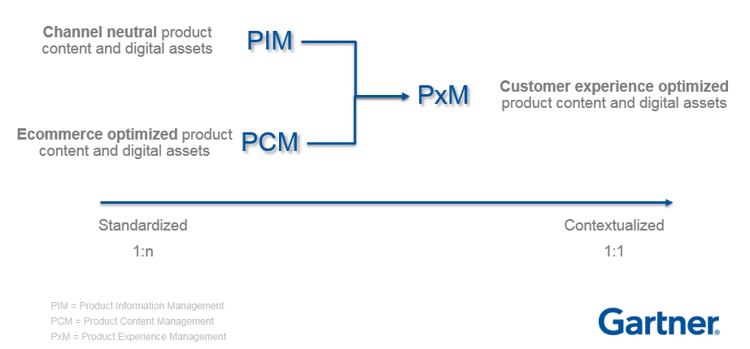 PIM provides a single solution to centralize, manage, and enrich product information, while PxM is responsible for providing right customers with the right content at the right time. PIM can be understood as "WHAT" you use to describe products, while PxM can be considered as "HOW" you do it.
Still not sure how they work? Just look at it this way.
Let's start with PIM
Today, as a business owner or a marketing manager, you're probably seeking to create powerful experiences that meet the expectations and demands of your customers.
This, of course, begins and ends with providing them with high-quality product information – not just a simple title being the name of the product and few lines of basic description. That's the tip of the iceberg.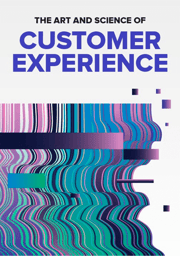 DOWNLOAD FREE E-BOOK
The Art and Science of Customer Experience
Over 50 pages of expert advice and top CX tips
For example, to create an effective product page, you need unique descriptions, detailed product attributes, high-quality images or videos, information about available variants and related products, and attachments such as a product card or shipping restrictions – the list goes on and on. In practice, this means you need to manage tons of product information.
According to Gladly, 71% of consumers want a consistent experience across all channels, but only 29% say they actually get it.
Click To Tweet
Doing this manually with the use of spreadsheets, emails, or product data stored on your hard drive can quickly turn into a nightmare. Trust us, we've seen this firsthand.
So, given the fact that product data usually comes from many sources (both internal and external) and given that the ERP system is not the best place to store product information, what you actually need is a solution that will help you to:
Collect product data from multiple sources and in multiple formats into a single source of truth
Create consistent and reliable information about your products
Provide your colleagues with easy access to product data
Send the enriched product information everywhere you need it sent
Makes sense, right? Right! And this is the reason why you need Product Information Management.
Now let's talk about PxM
Unfortunately, displaying accurate, correct, and consistent information is often not good enough to sell your product. This is simply because customers won't buy your products if a description is not relevant to them.
Especially not today, since omnichannel-savvy customers expect a convenient, personalized shopping journey, regardless of the sales channel they prefer to use. They are choosier and pickier than ever before, remember?
According to Retail Dive, 65% of consumers research products online before stepping foot inside a store.
Click To Tweet
Therefore, in order to create an emotional connection with the customers, your product content must be accurately tailored to each sales channel and smartly optimized according to different expectations, languages, markets, or cultural norms. Oh, and don't forget – the way you present your products needs to be SEO-friendly and visually attractive.
Now, you may think that these trends apply only to a small number of Millennials or hipsters, but actually, you're wrong. The percentage of demanding customers is constantly growing. Just look at these numbers: the 2018 Salesforce Research that surveyed over 6,700 consumers and business buyers globally shows that 76% of consumers expect companies to understand their needs and expectations.
Conclusions? Without a proper product content strategy and a set of tools to centrally manage this content, you will not win the hearts and minds of today's customers.
So, do you now see why you need PxM?
Which companies offer the PxM solution?
Luckily for you, there are dedicated solutions on the market which can help you manage the ever-growing amount of product information while creating great product experiences at the same time. We owe this to the fact that a new trend has emerged – an offer of integrated PIM and PxM solutions for e-commerce businesses.
Here's what Gartner has to say about this trend:


A number of product information management (PIM) vendors have recently changed their solution positioning to product experience management (PxM). I believe there are two key reasons for this shift towards PxM. Firstly, vendors want to differentiate themselves from traditional PIM solutions. Secondly, the primary consumer of PIM/PxM is digital marketing and commerce teams which are looking for solutions that can help to simplify customer experience management while meeting the complex demands of customers and channels.

Here at Bluestone , we know that Product Information Management is a foundation for Product Experience Management.
Furthermore, we believe Bluestone PIM, combined with strong capabilities in Digital Asset Management (DAM) and a plethora of smart apps available in the Marketplace, can be successfully used as a PxM platform.
Interested in product information management, but not sure where to start? Contact our PIM advisors to learn how a PIM solution can boost your e-commerce strategy.