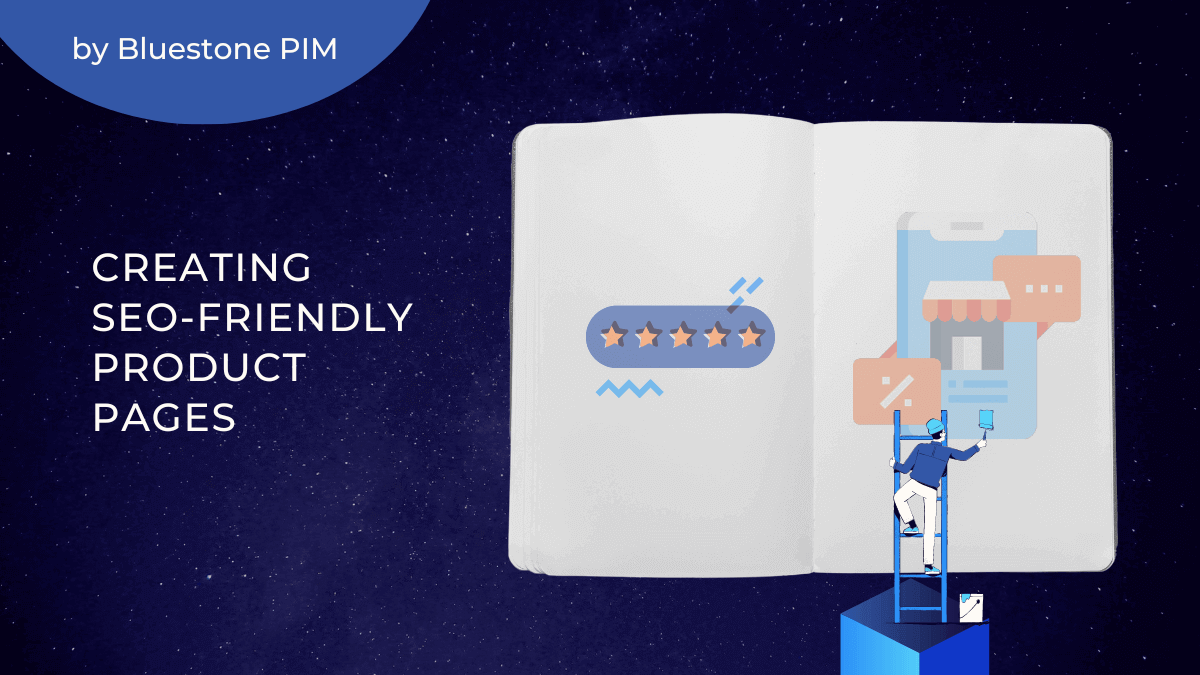 Due to the wide range of marketplaces and products in the digital world today, it can be challenging to make your product page discoverable on Google's results pages.
A product page is the main selling point for your eCommerce sites, representing your products in all their glory to visitors who could potentially become customers.
For this reason, you need high-performing, informative, and optimized product pages to boost customer confidence and maximize your conversion rate.
SEO for product pages determines their effectiveness at attracting and engaging customers, and allows your products to appear higher on SERPs. On top of that, it's an easy way for you to increase traffic to your site and improve site performance.
In this product page SEO guide, we will teach you how to create great product pages that generate higher conversion rates, significantly increase your sales, and improve your overall search engine rankings.


What does SEO bring to eCommerce product pages?
SEO brings numerous benefits to eCommerce product pages, just as it does to websites in general. If you want to get found, you need to have your products near the top of the search results.
One of the most important factors which influences your rankings is how relevant your website appears to search engines when users enter key phrases.
Having a well-optimized product page with the right information at the eCommerce store where you sell the product can help you to appear relevant.
The eCommerce product page SEO involves shaping your on-site and off-site activities to build good relations with search engines, giving you an advantage over your competitors.
For this reason, it is necessary to optimize your eCommerce product pages appropriately so that they rank high in Google and give you lots of sales.


List of eCommerce Product Page Essentials
1. Create a well-researched keyword strategy
Your product pages should be based on well-researched keywords, as they are your main way of directing the audience to what you are offering.
This will increase organic traffic to your site and help boost your conversion rate — both of which are important for any retailer. A well-researched keyword strategy will also help you better understand your market, ensuring that your target market is in focus and not a "jack-of-all-trades" approach.
First and foremost, you should come up with three to five product-focused keywords with one main keyword to focus on for each page of your website.
By choosing keywords that people are actually searching for and converting to, you'll be miles ahead of the game. While search volume considerations are useful, don't let them distract you from what really needs to be done: developing a keyword strategy based on maximizing the relevance of keywords used in conjunction with your products.
Keyword intent is another important data point to consider when carrying out keyword research.
Here you can create a more effective strategy by keeping what your users want in mind. Most frequently, product pages have transactional intent, or in other words, it is very likely that someone will buy something on these pages.
Don't forget to use long-tail keywords because they have less competition, which makes it easier to achieve higher rankings. Consider product questions as well.
The SE Ranking keyword generator can help you expand your keyword list, including long-tail keywords and questions to target in your Google marketing campaigns.
By analyzing keyword parameters using SE Ranking, you can get the difficulty score of each specific keyword, find out how hard it will be to get a web page to the top of the SERP by targeting a keyword, as well as find out how many monthly organic searches a selected keyword gets on Google.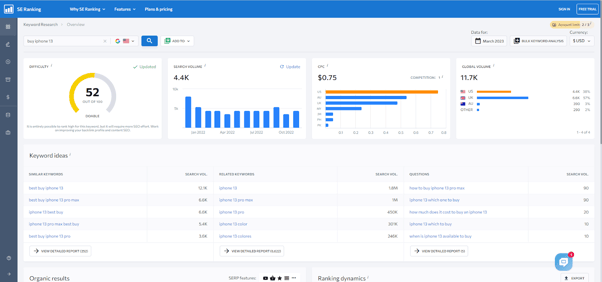 Source: SE Ranking


2. Make sure you optimize product pages perfectly
Product pages allow you to convince your website visitors to make a purchase.
If your product pages are going to convert the maximum amount of visitors into sales, they need to shine with high rankings in Google.
To rank well in Google Search results, you need to optimize your page's title and meta description, include high-quality content with relevant keywords, and more.
Product page optimization comes down to writing the most persuasive, conversion-oriented copy and building a top-notch visual design.
The goal is to present just the right amount of information so that people feel informed enough to purchase and not so overwhelmed that they leave before choosing one of your products.


Source: HorseFeathers


One of the best practices to follow while optimizing product pages is to include keywords in their titles and headings.
This helps search engine bots understand what your page is actually offering and can place you in a better position on the SERPs. Look for opportunities to incorporate target keywords into the meta descriptions of every product page.
In addition, write meaningful, useful, and interesting product descriptions that highlight the benefits of your product and make your site stand out from others in your niche.
Think about how a visitor shopping for the specific item you offer might search for it online and use this as inspiration to create informative content that addresses common questions that purchasers have.
It's also helpful to include your best-performing keyword in the main content, however, don't overdo it.


3. Keep your product page content fresh
Your product pages need to walk the fine line between attracting visitors, earning your visitors' trust, and also offering them exactly what they're searching for.
Product pages are your chance to shine, whether you're selling products for your manufacturer or yourself. You should strive to make your product pages compelling and exciting so that customers feel compelled to read them and interact with forms, offers, or special deals you choose to include.
Businesses and publishers usually use thin content to attract clicks, but in most cases, an alluring headline doesn't translate into value for visitors. As a retailer, you have to sell your items using an up-to-date product description, following your brand's voice and offering the information shoppers need to buy your product.
The best way to keep your audience on your site is by writing content that speaks directly to them in a language that they can understand.
Moreover, don't forget about call-to-action (CTA) buttons, as they are important elements of website design that encourage visitors to take the next step in the buying process.
While creating a quality and up-to-date content strategy, don't copy and paste content from manufacturers and suppliers because chances are that they or other vendors are using the exact same copy.
Although they may have great product descriptions which could lead to increased sales — it may actually hurt your rankings with search engines if you use the same content. This is because duplicate content hurts Google's ability to understand which page is original, and it may lower your rankings for it.
Duplicate content is one of the easiest ways to get your site penalized.


4. Add FAQ to your content (based on keyword research)
High-quality information is what really matters to rank high in SERPs. If a user doesn't see the value in your content, it is doubtful that he will convert.
Most categories and product pages are light on optimized content and do not have FAQs marked up with simple questions and answers. Keep in mind that users who do not find your content useful may bounce from your site and search for another solution.
Search engines are literally the gateway to your potential customers. If a customer can't find you using this gateway, they will never get to your product pages.
To determine the focus of an FAQ section, put yourself in your customer's shoes. Run research with commonly asked questions so that you can identify all the possible questions you should answer, and then organize them into a FAQ section that's easy to find and reference.
This can be done by identifying keyword opportunities, conducting a search query analysis, and reviewing the competition using sundry SEO tools. These keyword research results will be useful for copywriters who are writing content based on those target keywords.
It's critical to generate content that is compelling and can answer any questions a user might have. Otherwise, users can move on to a more seasoned company, which will negatively influence your bounce rates.
An effective FAQ section can help you answer any customer questions that may arise from your product pages. In addition, using FAQ-structured data can also potentially help your business with rankings on the SERPs.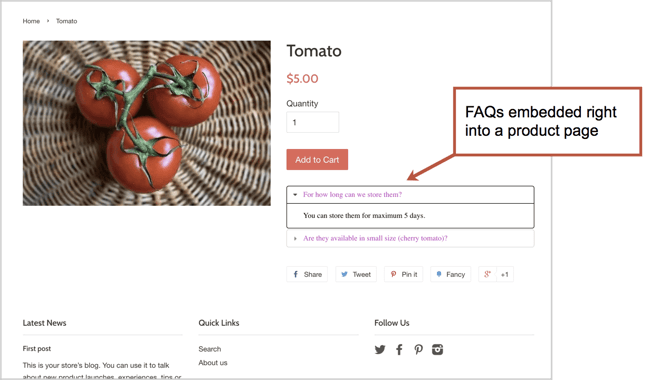 Source: OrbitMedia


This is something customers will readily click on as they no longer have to visit multiple third-party sites to find the answer they are looking for. Moreover, it helps the brand to easily include the answers to questions that people have related to their products.
You should add FAQ-structured data to your product pages and use content marketing strategies to promote them.


5. Use big and clear images
Images are a critical part of any eCommerce website because they help customers make buying decisions.
Potential buyers need to be able to see what they are paying for. This is why it's recommended to add photos of items from all angles, especially if your items look drastically different depending on their position.
Use zoom-in and zoom-out features to give customers a good idea of how an item looks from different perspectives. Doing this helps potential buyers imagine themselves in possession of the item they are looking at and makes them feel like buying it fits into their lifestyle.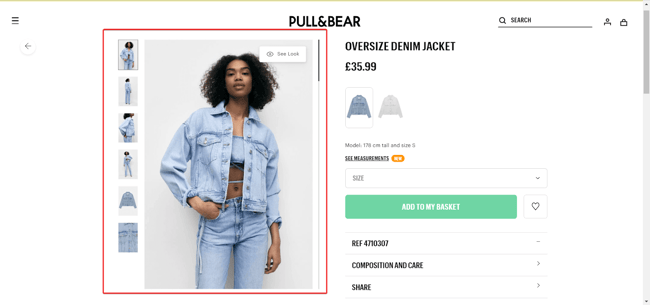 Source: Pull&Bear


When you want to draw people's attention and persuade them to buy a particular item of clothing, accessories, or shoes, pictures are imperative.
A picture is worth 1000 words, you could say.
You may notice how many sales you lose because potential shoppers cannot find enough details about your products – images can fix this issue and help increase your conversion rate.
Image SEO optimization is a process in which an image's title, caption, and alt text are optimized to increase its ranking.
By optimizing your images with metadata, you increase their visibility in image search results. Optimizing your images through resizing also helps your website load faster, which results in a better user experience for all visitors.


6. Incorporate engaging product videos
A lot of people are wary of buying something that is difficult to understand from just pictures, especially if it's a pricey purchase, but videos showing how the product is used might just be the thing that convinces them to make the purchase.
Whether you are offering an informative tutorial or engaging in storytelling to tell your customers why they will love your product, videos are far more effective at demonstrating and selling your product than a static image or written description.



Source: Amazon


Make sure to check that your videos don't impact the user experience by being too heavy or distracting and that they're optimized for search engines.
If a video is too long and the viewer gets lost, bored, or confused, it could hurt your site's user experience rather than help it.
It's also important to keep in mind that video files that are too large can badly affect your website's speed. Your page speed, in turn, can have a major impact on your conversion rate and website performance.
Optimizing your videos will not only increase the speed of your website but will also improve your load times.
Furthermore, when it comes to creating videos, it's worth taking the time to add meta tags. Meta tags, also known as metadata, are bits of information that tell Google how to display your videos — including a title, description, tags, and a thumbnail.
These little details can help visitors click on your video when they're searching for something related to what you're talking about in your video. This will also help your videos receive the best possible ranking and improve the overall user experience.


7. Encourage user engagement
It is not good for an online store when users abandon the product page without making a purchase.
The main reason why users leave without making an order is that they are not convinced that their money will be well spent.
One way to convince the user otherwise is by making them feel they are getting a better deal out of their purchase. As a marketer, you can leverage user engagement by emphasizing discount offers and directing users to products that are likely to increase in value over time.
This can be done by showing both a percentage discount and the actual savings made on the purchase. In addition to encouraging faster purchases, this also helps to build trust amongst potential customers because they recognize that you have something of value there – like a good deal that may soon be gone.
When combined with urgency and scarcity techniques, users will convert with an increased sense of urgency. This essentially involves impressing upon your users that the products on offer are in limited supply and that if they don't act fast and buy now, their chances of getting a bargain will be lost forever.
Furthermore, try to use countdown timers to show urgency for a limited time only. You can use each method on its own or several methods in tandem to encourage users to buy.
Just make sure that your customers are getting the best possible experience when they shop with you. These are all psychology-driven tactics that increase user engagement and conversions.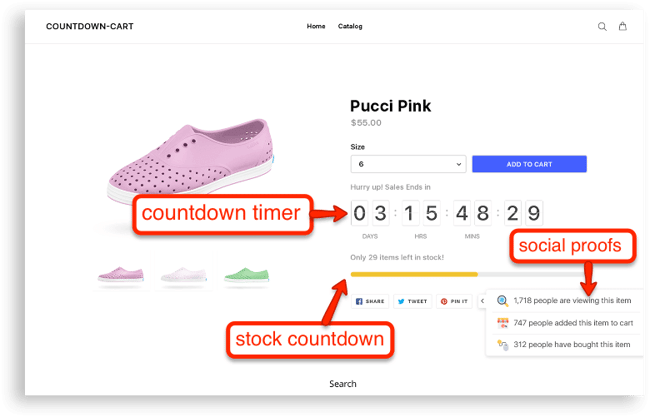 Source: Beeketing


8. Utilize structured data
Structured data for product pages is the missing piece of the puzzle that every eCommerce site should have.
It is generated from structured markup languages like RDFa, Microdata, and JSON-LD, turns the content on your product pages into code, and makes it a lot easier for search engines to understand.
Structured data helps describe your content (adding information at a deeper level than the page title or URL) and leverage signals like product identifiers and attributes to communicate your products' features and other important information directly in search results.
This is the kind of data that search engines are looking for because it helps them better understand the content on your web pages.
By implementing structured data, you can obtain special search result features and enhancements like Popular Products or Product Snippets, which give more information about the page content to users directly in search results, or even have your products appear in a special featured section on Google Shopping.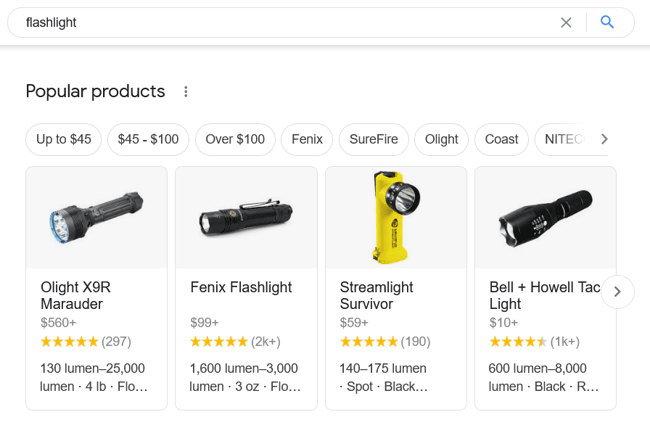 Source: Feedonomics


With the help of structured data, you can boost organic rankings, get more traffic from search engines, and attract more visitors from search engines' enhanced product listings.


9. Add trust badges and customer reviews
Increasing your conversion rate and sales is tough, but it's even harder if visitors don't trust your brand.
Customers these days are becoming more critical about who they buy from. In an attempt to become more transparent and gain their trust, businesses started to add trust badges to their website and include customer reviews and testimonials.
Once you have established your brand identity and created the right tone, you are ready to think about trust-building visuals.
A trust badge or social proof on your website can help reassure potential customers when they decide to buy your products or services. When you show that other people trust your brand and use your products, it helps potential customers feel more comfortable purchasing from you.
And there is nothing better than word-of-mouth marketing when it comes to growing your business.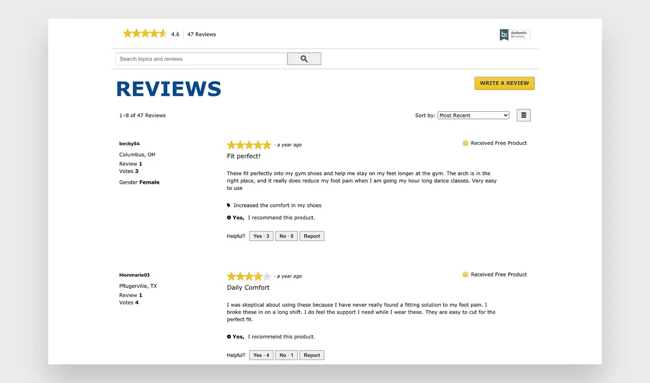 Source: WooCommerce


There are also other ways you can boost your customers' confidence in your business, such as:
Be transparent about the terms and conditions of service delivery, especially for expensive goods.

Offer secure payment options via secure gateways and SSL certificates.

Offer a personal guarantee that your business can fulfil your customer's needs; ask them if their product was delivered on time, and if they were satisfied with the quality of services.

Offer a money-back guarantee through trusted platforms like PayPal.

Add logos or seals that indicate that your business is certified with standard bodies.


10. Implement internal linking and ensure easy navigation between pages
While there will always be a variety of opinions about how many links you should have on your pages and where they should be placed, nobody will ever disagree with the statement that you should have internal links.
Internal links are the links that connect different pages within a website. They can be either text or images that are clickable and direct users to other pages within the same website.
Considering that internal links to pages on your own site engage users longer and help improve your product page SEO, you can't go wrong with providing these pointers.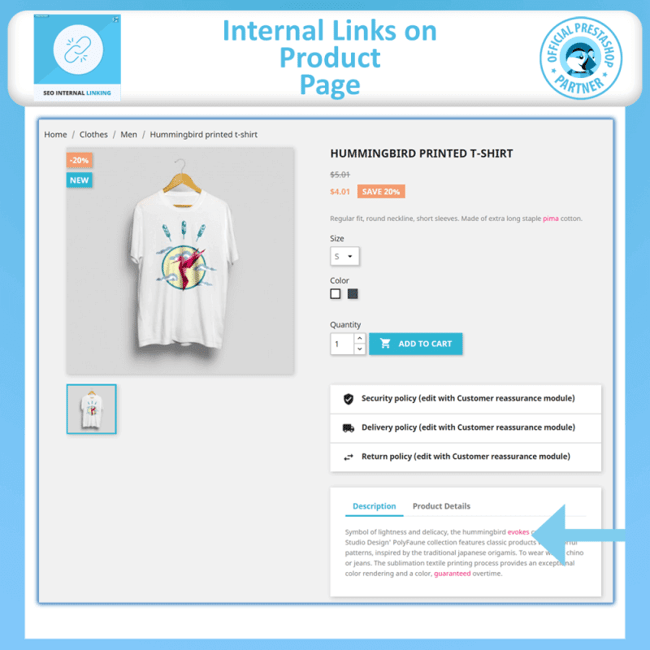 Source: FMEModules


When you include internal links on a product page, you are providing users with additional information that they may find helpful or interesting, giving them more reasons to explore your website further, and allowing them to become more confident in their purchase.
This could include links to related products, product reviews, product comparison pages, or other helpful resources that provide more context about the product they are considering.
Internal linking can help people navigate through your page's architecture while also making it easier for search engines to crawl the website and make sense of the content. This is important because it connects users more easily to the content they are looking for.
The main challenge for the web developer when it comes to internal linking is finding a balance between establishing links and avoiding the creation of unnecessary links. Internal links should be created only to provide value to the reader.
One of the best ways to know that you're creating the right number of internal links is to create a sitemap. That way, there will be no missing links since a web developer will be able to see them all at once.
Note: Internal links can be implemented in a number of ways. One way is through anchor texts or using the <a> HTML anchor tag followed by the internal page address. If you're using a CMS, like WordPress, Drupal, Joomla, or another type of CMS, there are internal page linking plugins that allow you to link internally using categories and tags. This is the recommended way to create internal links because it gives your readers more options than just standard anchor text and URLs.
Conclusion
We all know that sales are important. But what if we told you that not optimizing product pages means losing money on other metrics?
Conversion rates, cart abandonment, time on site, and average order value often depend on how optimized your product page is. Your competitors are already improving their product pages and bringing in more leads, so it's time for you to start optimizing as well.
But before you can do so, you will need a centralised hub like a Product Information Management (PIM) solution to store all product information where you can manage, enrich, and then distribute them to all sales channel. From product data syndication to data completeness, PIM has the features you need to help you sell more, better, and faster.
Learn how a Product Information Management solution can provide you an easy and effortless way to manage up to 2 million SKUs and help you deliver a seamless and consistent shopping experience for your customers at all touchpoints. Get in touch with our advisors or schedule a free demo today!