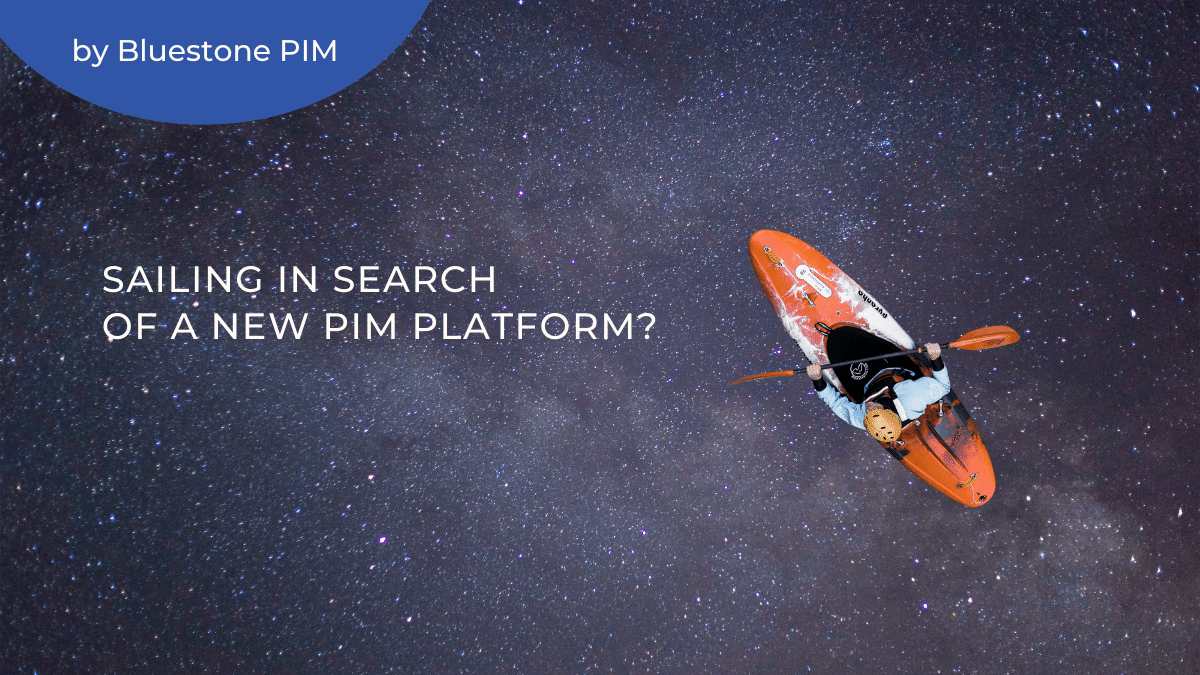 Running an eCommerce or retail business isn't easy, and managing a catalog of 1000+ SKUs can just be as complicated.
It can be even more frustrating when after investing so much time and money into onboarding a PIM software, you realize it cannot integrate the features you need to support your new marketing and sales activities.
Or you are unable to scale your PIM according to the demands of the ever-changing eCommerce landscape, and you are forced to subscribe to a new and more expensive plan that comes with features that you don't need.
Or the PIM user interface is so unintuitive and user-unfriendly that it is slowing down your teams, and you just cannot afford to lose any more time trying to figure out how the software works.
These are the common complaints by companies that were burnt by their first (or even second) PIM experience. As EVP of Sales and Marketing at Bluestone PIM, I have reflected on their challenges and would like to share some thoughts.
So if you are in the market looking for a new (and better) PIM software, consider these 6 tips to help you find the best PIM software with the features and scalability you will need now or in the future.
Common PIM challenges
In the past five years, I have met tech executives and eCommerce managers disappointed with their PIM platforms. Their first experience with Product Information Management (PIM) software was often impaired. There were many reasons for that, such as:
slow data syncing and loading
limited scalability to support new business objectives
poor user experience brought on by an unintuitive user interface
incompatibility with third-party apps
inflexible and expensive subscription plan bundled up with unnecessary features
Clients choose such solutions to support the way they manage rich product content and optimize it to increase their digital footprint.
That's why a high-quality PIM platform tailored for global businesses should be able to handle rising numbers of SKUs and be customizable for different locations and multiple languages.
Many of our clients choose the PIM solution because they struggle with the lack of a single reference point for product information across the company's departments. This is where PIM shines — by becoming a central repository for product information and simplifying data flow with third-party systems via features like a supplier portal.
Thanks to that, teams gain one source of truth working with product information. If the PIM platform performs slowly and does not scale, product data is still scattered in different places, and PIM does not fulfill its primary function.
Choosing a new PIM: 3 things you SHOULD DO
1. Rethink what you need
My first piece of advice is straightforward - before you schedule a demo, do your homework. Make a list of all things that didn't work last time and the key features you're looking for. If you need mainly a central repository for business data scattered in different files and folders, then maybe you need MDM software rather than a PIM (although most PIMs have built-in MDM capabilities).
Do you want to build a compelling and consistent 360-degree product experience? Then search for PIM providers that support PxM (Product Experience Management) strategy.
Once you have prepared a good list of questions, it's time to jump into a demo meeting with each PIM provider. Then ask away your questions.
2. Try the unlimited power of a cloud
A high-quality PIM system should handle a growing number of SKUs and the amount of increased traffic during sales peaks. That's why scalability is so important, and solutions based on cloud computing can win it and save your commerce website from the breakdown in the middle of Black Friday.
Ten years ago, companies' standard choices were on-premises Product Information Management solutions running on private servers. This kind of PIM software needed to be updated manually, and it turned out that they have limited scalability.
In recent years I have observed on the market that companies started looking for cloud-native, multi-tenant SaaS PIMs because they offer automated updates and unlimited scalability.


3. Connect multiple systems and channels through APIs
Suppose your first bad experience with PIM was slow syncing. Then this time, I recommend diving deeper into the API economy, a business model based around using APIs (application programming interfaces) in the digital economy. Thanks to REST API endpoints, PIM can integrate with other systems and platforms like Magento or ERP with a click!
Keep in mind that the software provider of API-first PIM should offer a complete set of management APIs. It is good to ask does the PIM support open APIs publicly available to software developers. They are lightning-fast APIs for retrieving product content for real-time use.
Choosing a new PIM: 3 things you SHOULD AVOID DOING
1. Don't lock yourself in a monolith
Monolithic on-premises PIM solutions slowly begin to be displaced by microservices-based (tech giants like Netflix or Uber support this technology).
In a monolithic application, all functions are managed in one place, as it is built on a single code base. As a result, monoliths are considered easier in development, testing, and deployment. However, implementing even small changes needs the deployment of the entire application. Moreover, scaling this "one huge block" over time can be challenging.
Microservices are unique because they allow upscaling one service without the need for upscaling the other services to remain stable. With PIM software based on microservices, users can seamlessly keep the platform up to date and tailor tech solutions to their business needs.


2. Beware of hidden costs
You probably know there are no set-in-stone pricing plans for PIM solutions because they depend on factors such as organization size, number of users, number of SKUs, or the number of supported languages.
However, there shouldn't be any additional fees for updates and obtaining access to new features in the software, especially if we are talking about SaaS solutions. Keep it in mind and put these questions on your checklist for the demo meeting.


3. Don't choose a fake SaaS PIM
Back to SaaS again, be aware that not every PIM solution offered in Software As A Service (SaaS) model is true SaaS.
Some software providers put their on-premises PIM into a hosting server and name it SaaS. You can identify true SaaS from fake ones just by asking a few questions about PIM software providers. Use these examples:
Is your PIM platform a multi-tenant SaaS? (answer should be yes)
Is your software cloud-native? (should be yes)
How long will it take to integrate your PIM platform with my other systems? (should be fast)
How often is the system upgraded? (should be frequent)
Future-proof your business with MACH technology
On-premises and open-source solutions still have their followers, but it's hard not to notice that the composable approach and MACH architecture are growing in popularity among tech leaders. These are new trends that are here to stay.
PIM systems based on MACH architecture (microservices-based, API-first, cloud-native, headless SaaS) can enable long-term agility, unlimited scalability, customization capabilities, and speed. In the composable approach, PIM is one of the Lego blocks you can merge with other digital commerce solutions you need, like marketplaces or CMS, and sync them on the fly.
Embracing a composable approach, digitally mature companies have maximum freedom in building their tech stacks and react fast to new trends and rapidly changing markets.
If you want to know more about MACH technology and the MACH-based product information platform, download this free eBook below to learn more, or contact our experts to learn how a MACH-based PIM can be a better choice for your eCommerce business.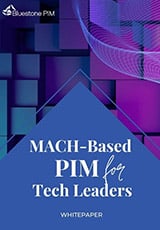 DOWNLOAD FREE E-BOOK
The First MACH-Based PIM
Learn how modern PIM software can help you expand the market reach and design a future-proof commerce stack.
Get (re)started with Bluestone PIM
Product Information Management is the first step in making your products visible and appealing in the competitive online retail market. With a centralized repository for your product content and digital assets, you can manage, optimize, and publish them to all sales and marketing channels from a single location. This reduces your time-to-market, eliminates product data errors, and delivers a consistent and engaging shopping experience for your customers.
Contact our experts for a free consultation if you'd like to learn more about PIM and how it can help your business sell more, better, and faster. Or schedule a demo meeting to see Bluestone PIM in action!