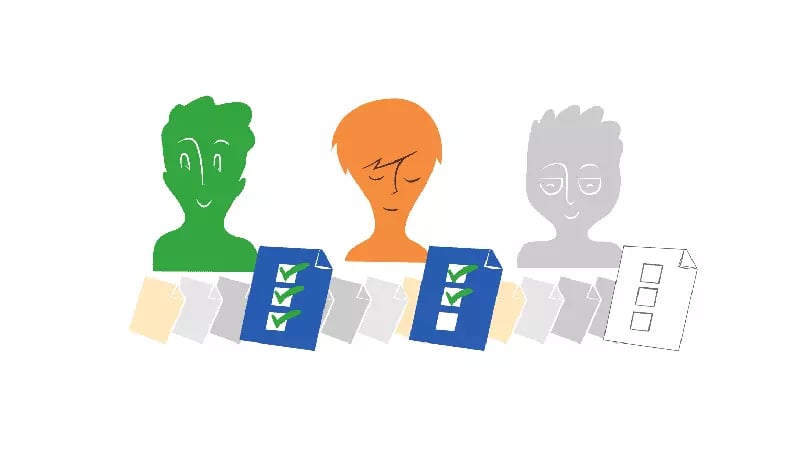 Customer experience is the future of digital commerce. According to Walker Insights, it is the key brand differentiator, not price or product like many have thought. That's why it is definitely worth investing your time and efforts into creating great customer experiences for your customers.
But before you can optimise the customer experience, let's first go through the basics.
What is customer experience?
Customer experience refers to basically every interaction a customer has with a brand across every sales channel, online or offline, desktop or mobile.
It's definitely a broad understanding of the term, but the range of elements that make up great CX are equally wide – from the touch and feel of the webshop, and 24/7 customer support, to addressing negative reviews on social media.
Now let's ask the more important question – why did customer experience become so important?
Well, to answer this question, I will use some statistics:
84% of organizations working to improve CX report an increase in revenue. (Source: Dimension Data)
Increase in customer retention of merely 5% can equate to an increase in profit of at least 25%. This is because returning customers are more likely to spend 67% more money. (Source: Bain & Company)
72% of satisfied consumers will share a positive experience with 6 or more people. (Source: Thinkjar)
Now that we've explained why modern-day companies need to focus on making the shopping experience as easy, personal, and relevant as possible, it's time to show 7 simple ways you can improve customer experience without breaking the bank.
How to optimise the customer experience
1. Create a customer-friendly website
In general, eCommerce customers are divided into two groups – people who already know what they are looking for and those who need some assistance.
The first group will surely appreciate a big, easy-to-find search button enhanced with an autocomplete feature powered by AI technology. This significantly improves the customer experience.
The second group should be able to easily find whatever they're looking for. That's why products must be organized by categories, just like a physical store is. Also, a variety of sorting options such as price, size, or color will be helpful for them.



However, when it comes down to interacting with your online store, everyone expects a homepage that is fast, easy to navigate, and aesthetically pleasing to the eye. Preferably one with a simple and clean design – not many options and no unnecessary distractions.
Essential tip: Take the time to ask people what they think about your page. Use simple usability test services to measure visitors' first impressions and fix all the things they dislike.


2. Optimise your product pages
The obvious truth is that the main goal of any eCommerce website is to drive online sales. And a compelling product page makes all the difference between a sale and a quick bounce.
According to A.T.Kearney, providing more accurate, more complete, and more consistent product information can increase conversion rates from 17 to 56%.
Click To Tweet
In this context, a product page should be the equivalent of interacting with a salesperson in the physical store. It should let your customers visualize themselves using the product.


That's why a perfect product page should have the following essential features:
descriptive, specific titles
unique, rich, and complete descriptions
detailed specifications and attributes to answer all the questions customers may have
prominent "Add to cart" and "Checkout" buttons
high-resolution product image on a white background (with a zoom option)
appropriate meta information for images
high quality videos showing how the product can be used
clearly presented shipping information & return conditions
related products & accessories
customer reviews
In fact, we asked the Linkedin community how eCommerce sellers can improve their product pages. And surprisingly, they preferred to see video reviews over discounts! So that is saying something.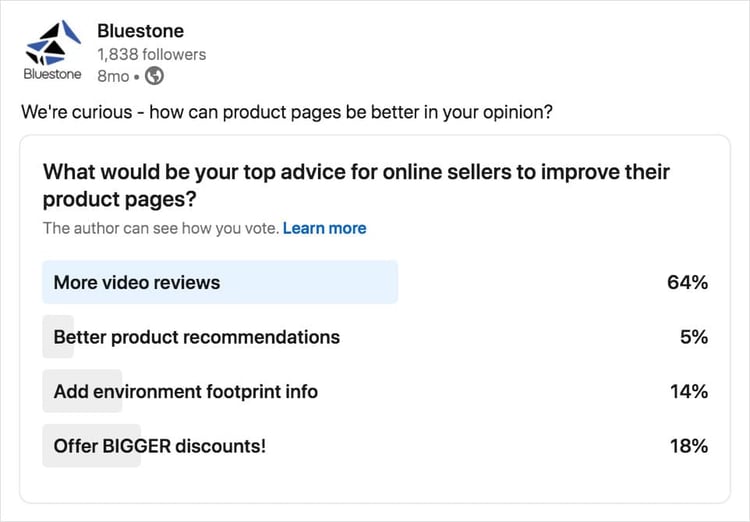 How can you use product information to maximize sales? Read more here: Drive Online Sales with Product Information: The Ultimate Guide
Essential tip: Don't forget to put the price in a prominent place, and if you offer a discount, strikethrough the old price.


3. Diversify your presence
Today, people are shopping where they find it most convenient. Did you know that according to a Harvard Business Review report, 73% of customers are using multiple channels during their shopping journey?
Yet still, many retailers believe that they can add their products to Google Store and Amazon and call it a day. It's a serious mistake. The truth is, those marketplaces are so big and so crowded that without proper promotion your products will rarely show up in search results.
It would be more beneficial for your business to diversify your presence in the world of digital commerce. After all, the more sales channels you use, the more customers you can reach. Just remember to:
review how each sales channel is performing
deliver consistent information across sales channels
check how you can support each channel with advertising
compare the overall sales the channels generate
collaborate with social media influencers
Why is an omnichannel strategy so important? Read more here: Omnichannel Is the Future of the Retail Industry
Essential tip: Each sales channel you use must be properly managed. A Product Information Management (PIM) software can help you build a successful omnichannel strategy.


4. Introduce a simple checkout
Back in 2000, Amazon revolutionized the eCommerce industry by introducing a super-simple purchase process. That was a game-changer, which was supposed to set a gold standard for all eCommerce businesses.
However, even today, many retailers offer a complex, multi-step checkout process. They completely ignore the fact that it's not just frustrating, it's actually discouraging – according to Splitit, 87% of customers will abandon their online carts if the checkout process is too complicated.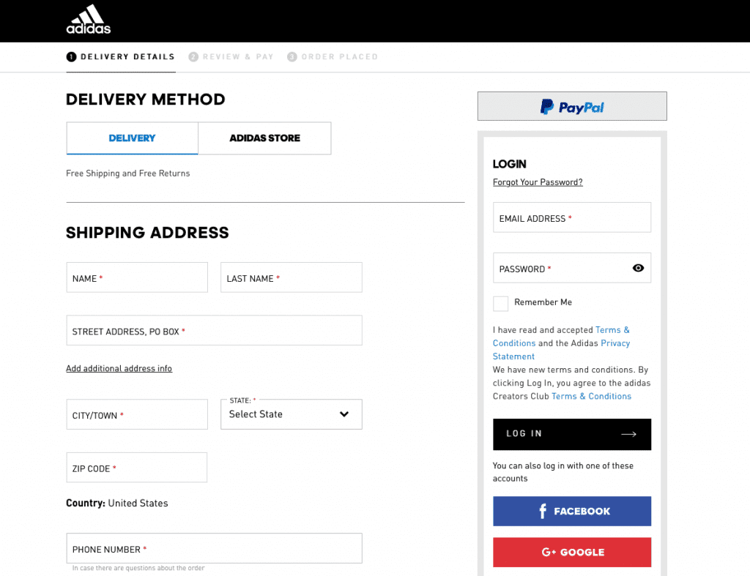 That's why a truly customer-friendly webshop must have an intuitive and simple checkout system. Here's what you can do to simplify it:
Reduce the number of checkout steps to 4
Remove all distractions that may disrupt the process
Include a visual progress indicator
Now, when you're ready to go one step further, consider introducing some smart improvements which top brands successfully apply, such as:
Hide the main navigation bar to create a self-contained checkout page
Eliminate the need to set up an account (it's a deal-breaker)
Suggest complementary products inside the cart itself
Offer a variety of payment options via credit card and of course PayPal
Essential tip: Run an A/B test to discover what type of checkout process brings the highest conversion rate for your eCommerce platform.


5. Don't forget about your mobile customers
Mobile commerce (or m-commerce for short) is one of the hottest trends in 2019 with massive potential for retailers. According to Big Commerce, by 2021, mobile sales are expected to account for 54% of total eCommerce sales.
That's why by now your online store should already be accessible on mobile devices. That's for starters.


If the [Google] bot finds that your site is hostile to mobile users or loads very slowly, you're definitely going to lose rank.

– John Lincoln, CEO of Ignite Visibility

Secondly, you must optimize your site for mobile. According to ThinkWithGoogle, 53% of customers will leave a mobile site if it takes more than 3 seconds to load. Two simple things you can do are check your server's speed and reduce the size of images.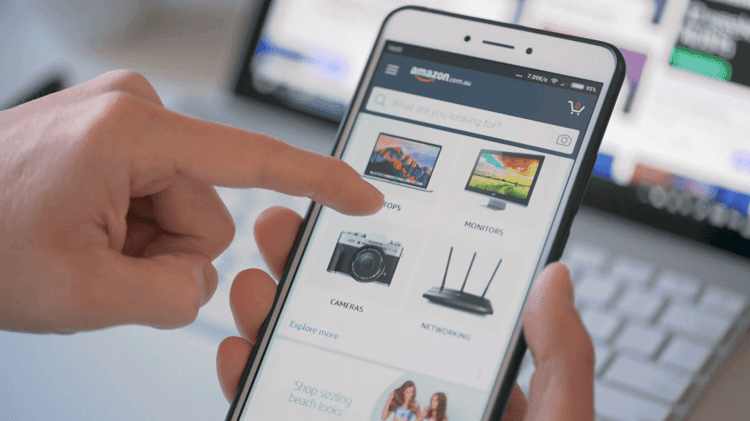 Thirdly, review your web analytics to check how many people visit your website using smartphones and tablets. If this number is bigger than 30% of your overall visitors, consider creating a dedicated app. It's much more effective than responsive design.


6. Integrate educational content into your website
Knowledge is power.
Especially today, as content marketing is relentlessly making the traditional "please buy my product" message a thing of the past. As a result, it becomes increasingly difficult for retailers to simply rely on product descriptions and no other content to influence customers.
That is why it is essential that you provide your customers, whether they are on the awareness, consideration, or decision stage, with high-quality content so that they understand both benefits and the value of your product.
If you still have some doubts, here are some interesting TechClient statistics:
61% of U.S. consumers have made a purchase based on a blog post
Small businesses with blogs generate 126% more leads
Websites with blogs have 434% more indexed pages
That's why incorporating customer educational content into your eCommerce site is so important. In the past couple of years, most companies presented content mainly through their blogs. In 2019, however, "content is king", so it's better to place it in a prominent place on the homepage, for instance just below the "crowd favorites" products.
Just like what Rei Coop did:


It's worth noting that coming up with fresh and unique content can strengthen your SEO strategy and ultimately increase your ranking position in Google Search.
Essential tip: Acc. to Search Engine Journal, in 2019, Google primarily rewards content that goes deeper into a given topic, so aim at 2000 words or more.


7. Go the extra mile to delight your customers
There are many small things that you can quickly improve. For instance, the emails you send after each transaction. Don't use the ready-to-use templates your eCommerce platform offers. They're usually unexciting, toned down, and thus, completely forgettable. Take some time to tweak the copy in order to make them reflect your brand personality.
Better yet, try to think about those emails like messages you would send to a friend – because this is how customers are supposed to be treated. Personalize them by adding some humor and conversational writing style.
Secondly, offer your customers extra incentives through rewards. These are best set up and managed with the use of a referral program that takes advantage of customizable reward settings, such as store discounts or custom gifts.
Next, send your customers some extra goodies. It doesn't have to be anything expensive. After all, it might be a "5% off voucher", cool-looking stickers, or free product samples. Think about those goodies as a nice surprise your customers will find while they're unboxing the package.
Lastly, whatever your product is, take advantage of social media to engage your customers. Facebook and Twitter are great communication channels, which you can use to build a loyal community around your product. Also, social media allow you to deal with customer issues much faster than a traditional customer support service.
Essential tip: Regularly interact with customers on social media and quickly address all negative comments in a polite but professional way.
Conclusion
Every person working for a company that is selling products or services should be guided by the motto "Customer experience is first and foremost". Because today, as we've already explained, creating a top-notch customer experience is not only helpful for business growth, it's a necessity.
We hope that the cornerstones presented above cover most of what you need to know about how you can create a great eCommerce customer experience and show you where to start the process of improving it. Now the ball is in your court.
While you're here, why not check out our eBook "The Art and Science of Customer Experience" to learn how you can create an awesome customer experience and maximize your sales potential? It's free to download below!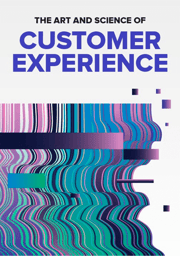 DOWNLOAD FREE E-BOOK
The Art and Science of Customer Experience
Over 50 pages of expert advice and top CX tips
—
This piece is the sixth and last installment of our series on how to create an awesome customer experience. Previously, we presented 5 Examples of Great Storytelling Tactics for Boring Products with great success.
Want to know how you can create an awesome product experience or get your customers to engage your brand like never before? Check out how Bluestone PIM helps retailers maximize their sales potential with product data, or get in touch with our advisors to learn how we help our clients go omnichannel with their brand.