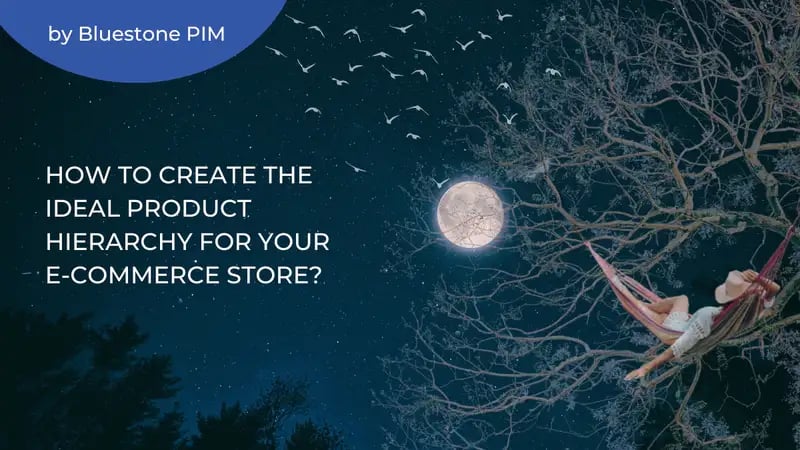 Have you ever noticed that baked goods are the first thing you see (and smell!) when you enter the supermarket? Or that ketchup or mustard can often be found right next to BBQ supplies? These tricks are old, but still effective in getting customers to spend more in the shop.
Online stores have their own clever techniques to keep visitors on the site longer and eventually convert them into customers. Product taxonomy is one of the tactics to improve customer experience and increase sales.
Here is what product taxonomy strategy is all about and how you can implement it:
---
What is product taxonomy?
Product taxonomy is the way to structure and tag your products in the online store. The structure is used to navigate visitors so that they can find everything they need.
Think of a product taxonomy strategy like placing shampoo next to the soap in the brick-and-mortar store. You'd most probably go to look for shampoo in the hygiene products section, and not on the shelf with the yogurts or wines.
Here is the visual example of eCommerce product taxonomy: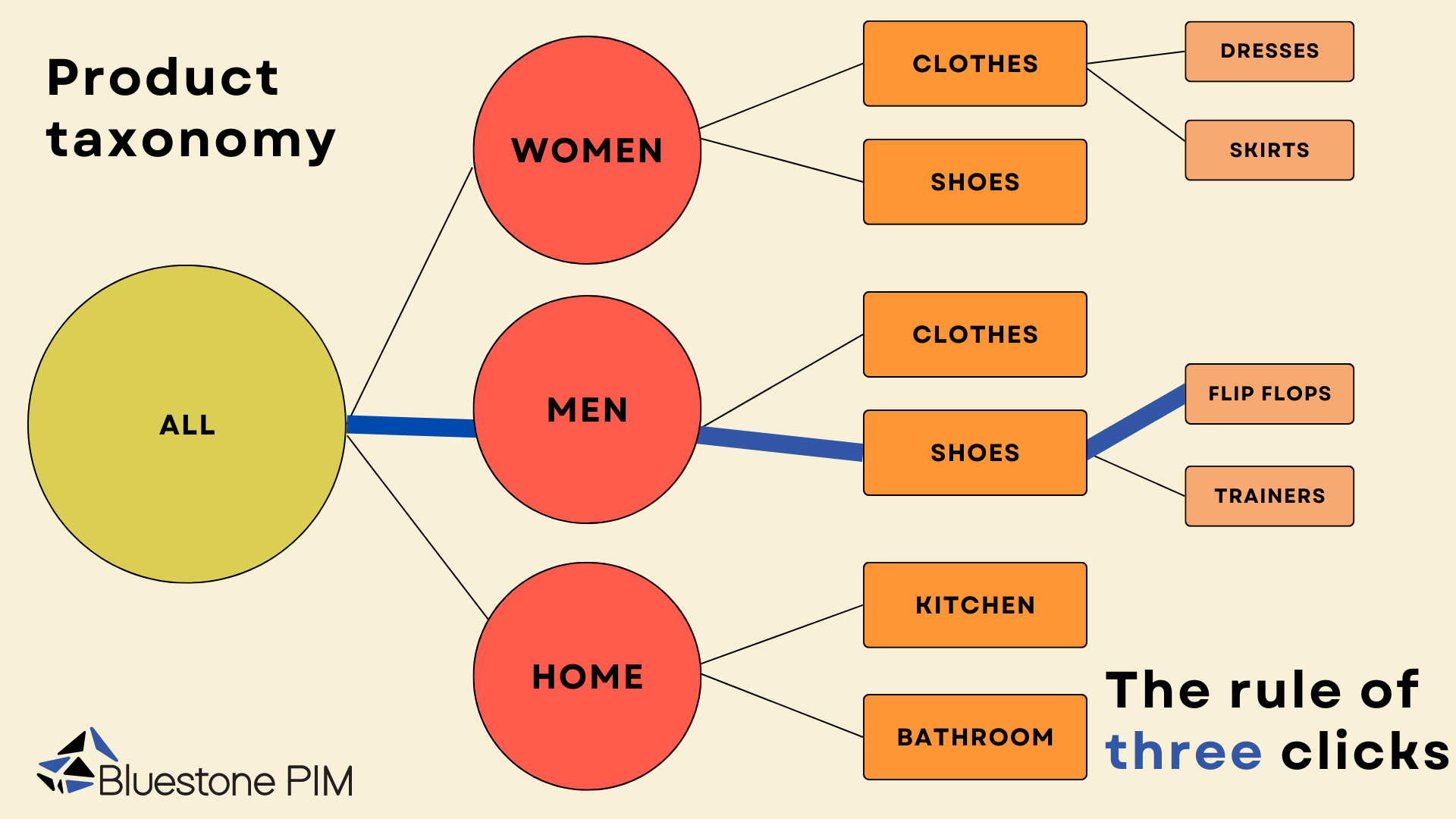 Online retailers would have divided their products into clear categories, just like in the chart above. Considering how well data is organized, finding a pair of flip-flops for men is just a matter of three clicks.
In this case, the visitor does not even have to use a search bar on the website or lose precious time clicking through unnecessary links.
A clean taxonomy structure is not just about helping your customers navigate the site. Here are three key reasons why every eCommerce business should consider reorganizing its products:


Higher rankings on search engines
Developing an appropriate product taxonomy for your online store will help you rank better in search engines. Google will index your product pages* faster if they are well organized and properly tagged. This means that more of your items will show up in search results, leading to more visitors to your online store.
*Indexing website pages means adding them to Google Search.


Improved site's functionality and conversions
Product hierarchy exists to ensure all products can be easily found on the site. Using the right tags and creating a category tree can help your visitors find what they need. Logical product categorization not only improves website functionality but also has a direct impact on sales and conversions.
Developing your own product taxonomy strategy will help you make better internal decisions. When you conduct taxonomy research, you will find products that go unnoticed. In some cases, all you need to do is change the product category or a tag to make your items more visible.


Better customer journey
In addition, an excellent user experience (UX) can help you win the trust and loyalty of your customers. Clear structure, navigation, transparency, and consistency - all these make it easier for visitors to reach their destination. It goes without saying - when we are happy with our experience, we are more likely to come back and even recommend the specific eCommerce store to others.
4 best practices for product taxonomy
To predict customer behavior and give them the best product taxonomy possible, you need to organize product data and run constant A/B tests.
Find the list of the best practices below to learn where to start:


Visualize your taxonomy structure
To avoid duplicate categories and excessive organization, it is important to create a visual model before making changes to your website. It will also help you create a hierarchical structure for products that do not belong in their current categories.
To visualize your product taxonomy, you can use tools like Miro, Lucidchart or Photoshop. Drawing the product hierarchy on the whiteboard can also do the job.
Seeing the big picture will help you make sure you do not overwhelm your visitors with a large number of categories. Otherwise, you will probably see a higher bounce rate.
Follow eCommerce taxonomy best practices and make sure all products are accessible within three clicks. Take a look at our example above. To find a pair of flip-flops for men, our visitors should follow this path: All-Men- Shoes-Flip Flops. That's a total of three clicks to find the right category.
It's always a good idea to shorten the path of your visitors (e.g. Men- Shoes-Flip Flops), because this way they will find the products even faster.
TIP 💯 When building categories from scratch, start with the general one like "Kitchen" or "Men" and then add subcategories such as "dining table" or "shoes".


Name your categories the right way
To come up with a list of product categories and subcategories, it's not enough just to know all the products you are selling. You should start with identifying your buyer. The fashion industry is a good example to illustrate this practice. The main categories ( also known as "parent categories") are named after their buyer personas "Men", "Women", and "Kids".
When creating names for categories, use your customers' language. In some cases, it's worth considering using industry-specific jargon (it is a common practice in B2B).
TIP 💯 If you happen to have the same subcategories, consider combining them in one. Also, you can be very specific with your subcategories or use synonyms to ensure you don't have two identical ones.


Automate product taxonomy processes
Managing categories and subcategories, as well as all product pages, can be very time-consuming and simply require more staff on the team. That's why online stores with at least 1000 SKUs automate their processes with product information management software.
👉 Read our E-book: 5 Sure Signs You Need PIM
The PIM tool helps online retailers and wholesalers to collect and manage product information across multiple selling platforms simultaneously. With the software, you can organize category-specific attributes, ensure that each page has metadata and tags, and even find redundant categories across your sales platforms.
The software is especially useful if you sell products on multiple platforms and want to ensure brand consistency of product categories and attributes. If you sell goods in different countries and need to manage product hierarchies in multiple languages, PIM can help you with that as well.


Test. Test. Test.
Your eCommerce business is unique, and so is its product taxonomy. To make your hierarchy a little better each quarter and display related products, you need to collect as much data as possible. Use tools like HotJar, Google Analytics, Matomo, Kissmetrics, or Woopra to see:
The bounce rate

The most popular product pages

User behavior on the website (heatmaps, video recordings of user sessions)
In order to conduct effective A/B tests, analyze product page performance, and make adjustments to product taxonomy, such data is necessary.
A short summary
Product taxonomy in eCommerce is the structural organization of all available products on the website. Its main functions are to help website visitors navigate the site, improve conversation, and rank higher in the SERPs. Product taxonomy can also improve the website UX, which in turn has a positive impact on customer trust and loyalty.
To develop an effective product hierarchy, it is important to visualize the structure and ensure that all products can be reached within three categories. Proper naming of categories and subcategories requires identifying buyer personas and defining the brand's tone of voice.
To improve the product taxonomy strategy, it is recommended to automate the product management processes by implementing PIM software (product information management).
A smart hierarchy on your website can significantly increase sales. Therefore, you should constantly run tests and collect data with the help of tools to make the right adjustments.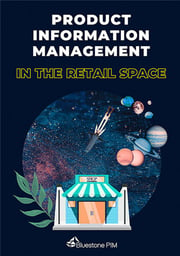 DOWNLOAD FREE E-BOOK
Product Information Management in the Retail Space
Learn how retail companies are creating engaging customer experiences by improving their product data.