Imagine this. You just bought a brand-new house. There's a front yard to play catch and a backyard for the dog. There's a huge garage, a chimney for Santa, and a kitchen big enough to host Christmas dinner.
Simply perfect.
Now, imagine that you start decorating the house by painting the walls of the living room. But instead of choosing a 50 cm roller, you decided to use a small art paintbrush. Makes no sense, right?
Well, this is exactly what working without a smart PIM solution to manage your growing amount of product information data looks like.
So, here comes the $10,000 question: Would you really waste time and energy painting walls with a paintbrush when you can buy a 50 cm roller just around the corner?



The answer: No, you wouldn't. Not in a million years.
So, here's another question: Why would you waste time and energy on manually gathering, emailing, and copy-pasting tons of product information when you can use a PIM solution to make your work smarter, less exhausting, and more enjoyable?


Working without a smart #PIM platform to manage your growing amount of #productinformation data is just like painting the walls of your brand-new house with a small art paintbrush instead of a 50 cm roller.
Click To Tweet
Who needs Product Information Management?
Some people believe that a Product Information Management (PIM) solution is nothing more than a fancy marketing tool. Something only multi-channel marketers can benefit from.
Truth is, PIM is not just a marketing tool!
PIM is a powerful system packed with killer features that provide multi-channel retailers with the technology necessary to:
establish a single source of truth for the company's product data
easily manage product variants, bundles, relations, and more
create engaging product stories across sales channels, both online and offline
meet the demands of omnichannel-savvy customers
easily expand the business to new markets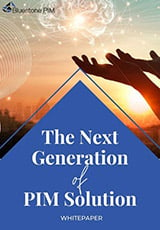 DOWNLOAD FREE E-BOOK
Get a full report
Download your copy of "The Next Generation of Product Information Management".
This is why a smart PIM platform is a perfect solution not only for marketers but also for e-commerce teams, product owners, category managers, business development, and IT departments alike. More importantly, PIM allows all those teams to unify their collective efforts into a seamless workflow.
So, let's take a look and discover how PIM can benefit different teams within modern-day selling companies.
Benefits of PIM for the eCommerce team

Today's e-commerce managers are competing in probably the most challenging industry there is. Here at Bluestone, we understand how hard it is to find the next great sales channel, especially since customers have stopped buying on websites and started moving to various apps, social media channels, and international marketplaces like Amazon.
This gets even more frustrating when at the end of each quarter the sales director asks: "Hey, did we manage to increase sales?"
Unfortunately, nobody knows what the next golden goose will be. But one thing is certain — in today's digitalized world, having a good e-commerce platform is not enough. It's more important to provide customers with detailed, engaging, and up-to-date product information across all sales channels. Just look at these numbers if you're not convinced:
Fact #1:

A Forrester Research study revealed that 87% of shoppers stated that they have left a B2B website to conduct research around a product elsewhere, usually because the product description or information did not meet their needs.

Fact #2:

Providing more accurate, more complete, and more consistent product information can increase conversion rates from 17 to 56% according to A.T. Kearney.
We also know — and this is something you've probably noticed first-hand if you're working in the e-commerce space — that product life cycles are getting shorter. This shouldn't be a surprise, as all organizations want to get new products quickly into the hands of customers. And certainly much faster than the competition.


Successful e-commerce sites use intelligent product categorization for easier navigation, which leads to more purchases.

In practice, this often means the need to streamline the processes for gathering, creating, and enriching product-related content. Doing this manually with the use of spreadsheets, emails, or product data stored on someone's hard drive can quickly turn into an uphill battle.
What's worse — and this is an interesting paradox — is that in order to improve time-to-market, you're actually wasting your precious time on something that should have been automated long ago.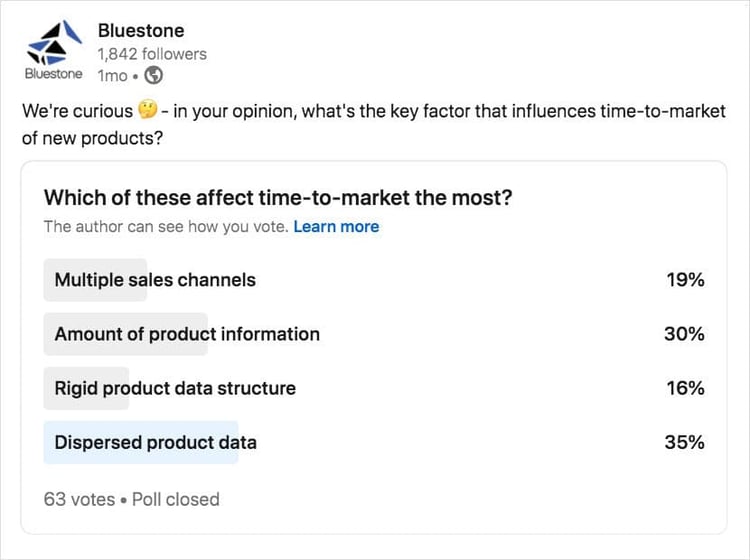 So, if you really want to sell more products across digital channels, reduce time-to-market, and provide your customers with an awesome product experience in the omnichannel, you need a good PIM platform.


Important tip: Forget about enormous Excel spreadsheets and messy Dropbox folders. Start organizing, analyzing, and connecting your product information in a smart way. Having a good PIM platform is the key to success. You'll finally be able to work with product content in one central repository, quickly onboard suppliers, and make necessary changes with just a few clicks.

How e-commerce managers benefit from using PIM:
Consistent and extensive product information in all sales channels
Better product experience in the omnichannel
More efficient cooperation with suppliers
Faster time-to-market for all your products
Benefits of PIM for the Marketing team

Even the best product in the world needs effective promotion. This is why selling companies hire talented marketers, who produce awesome content, protect the brand's consistency, and reach potential buyers across different channels and markets.
But the daily life of any digital marketing manager can become extremely frustrating, especially when there's no central repository for product-related content, digital media, technical product cards, and other attachments.
This quickly leads to situations where even a simple task, such as changing a single product attribute becomes a nightmarish journey through emails from 2017, various databases, and overblown Excel sheets. This scenario turns you into a leading detective in product information crimes.
All of the above takes precious time you should be investing in adding value for money in all your marketing projects.
Given that ERP is not the best system to store marketing data — and that relying on Excel spreadsheets is a bad idea — PIM is the optimal solution for marketers.


PIM is where products comes to live for the marketer.
Using PIM in the marketing department means that instead of product content chaos, there's one single source of truth.
At the same time, all products are connected with their rich descriptions, relevant images, and numerous product attributes, including physical dimensions, warranty type, fabric, scent, or brand.
Also, there are clearly defined product-to-product relations, such as upsell, cross-sell, or bundles.


#DidYouKnow: In a #Nielsen experiment, 20% of website users failed to successfully complete a purchase because of incomplete or unclear #productinformation.
Click To Tweet

A modern PIM platform should be easily enriched with connectors to leading e-commerce platforms, Adobe InDesign plugins, and various smart apps for campaign management, price monitoring, voucher production, web-to-print, and other life-saving extensions.
This way, marketing managers can transform their PIM solution into a powerful all-in-one marketing tool. One that is capable not only of managing and publishing content but also of promoting it everywhere your customers browse and buy products.
And did we mention that all this can be done through one easy-to-use, intuitive interface?
Also, a quality PIM platform allows marketers to use their time more efficiently with the help of automated processes and "social media-like" tools for collaboration. Finally, it's easy to invite your workmates, create or delegate tasks, and keep track of work progress.
This means no more sending emails back and forth, each with huge attachments that more often than not clog the mailbox. At the same time, it's super easy to invite your partners and let them collaborate on the products to ensure they will provide you with the right content at the right time.


Important tip: Some PIM solutions come with integrated Digital Asset Management (DAM) that allows marketers to upload and manage a media file library directly in PIM. Finally, you'll be able to say goodbye to those messy Dropbox folders and say hello to better control over brand consistency.

How the marketing team can benefit from using PIM:
Efficient internal and external collaboration
Ready-to-use integrations with Magento and other platforms
Improved product experience in all sales channels
Integrated digital asset management (DAM)
Fast-growing marketplace with smart marketing tools
Benefits of PIM for the IT department

Today, IT managers no longer act as only service providers; they have become real business partners. After all, their knowledge and experience allow them to quickly identify which software is ready to meet the demands of the future and which is a wolf dressed in grandma's clothes.
This is why both CTOs and IT managers bring ideas to the table regarding how to optimize the entire business model with the use of disruptive technology.
Furthermore, smart IT crowds already know that the days of heavy on-premises software are numbered as they become less and less effective for modern-day enterprises. The truth is, the future of business services belongs to Software-As-A-Service, especially those multi-tenant SaaS solutions built from scratch on microservice architecture and lightning-fast APIs.
Just go ahead and ask your IT colleagues for their opinion on the growing importance of multi-tenant SaaS solutions.


It's impossible to be successful in SaaS without multi-tenancy.
I bet they will tell you that traditional applications for product information management are mostly hosted on virtual machines. This requires a lot of operation and maintenance work. And it brings a significant barrier to changing anything in the e-commerce landscape because you're stuck with a "best-in-suite" model.
In simpler words, you're handcuffed by a huge multi-year contract and there's nothing else to do, but to bite the bullet and suffer through.
Using SaaS PIM, however, allows you to divide the e-commerce machine into smaller pieces, which are then easier to manage, easier to improve, and easier to scale. This, of course, brings plenty of new possibilities for e-commerce businesses that were not available with legacy IT.
For example, new features can be added more quickly and affordably to a PIM system than to an ERP system.


Scalability means you can start small and let the solution grow to meet your needs.
Click To Tweet

And the best part? Being a SaaS service, PIM is extremely flexible and will adapt perfectly to your business, growing with your company according to its evolution. You'll always pay for exactly what you're actually using, with no hidden costs and no additional fees to access new features.
Oh, and comprehensive technical support with live chat is usually included in the subscription fee.


Important tip: Don't forget to ask the PIM vendor to provide your IT colleagues with simple and clean documentation, for instance in Swagger files. This documentation should guide the developers through the implementation process and let them learn about key features at their own pace. Also, if needed, they should get access to a well-documented API reference.

How IT managers benefit from using PIM:
Reduced costs and risks
Fewer IT systems to manage
Ensured scalability for growing businesses
Seamless integration with ERP, CMS, and e-commerce platforms
Automated processes of exchanging information
Conclusion
Now that we've explained why Product Information Management (PIM) solutions make life easier for marketers, e-commerce managers, and the IT department, you really should read this quote from Bruce Eppinger, senior analyst at Forrester, responsible for Forrester's eCommerce platform and Product Information Management research:


Teams that don't have PIM tools risk palpable competitive disadvantage with content that's inconsistent, meets only the minimum market requirements, and fails to engage customers. Teams that do use PIM win customers and expand their markets with product content that engages buyers and drives purchase decisions.
So, if you're unhappy with the way your company manages its product information, simply schedule a Product Information Management demo with our experts to learn how PIM can help your business sell more products in digital channels.