There are things in life we love to repeat. Like the Swedish people, who can't imagine a day without 'fika', a short but sweet moment over coffee and cake. However, there are also repetitive tasks that drain our energy. Regardless of the job and industry, repetitive tasks unnecessarily take too much of our time and effort. This becomes even more mind-numbing when you need to repeat a similar course of actions, altered only by minute details.
When selling online, such a scenario easily translates into the everyday lives of many e-commerce and product content people. Products are rarely marketed as individual stand-alone items. Rather, they belong to ranges, collections or lines, with many variants and differences regarding product attributes. It is challenging when you need to create content for a group of almost identical products multiple times, differing in the value of only one product attribute, such as scent or color. When adjusting such differences, if you multiply the number of product attributes by the number of options under each, you can easily fill a full day's work. In this article you will learn how you can do this job more efficiently.
What are product variants
Product variants are basically options of one 'master' product such as ones that have a different scent, color, SKU price, fabric or other more specific features. It can be a jacket with or without a hood, or an iPhone with 32GB memory, 64 or 128. To the customer, the undoubted value that product variants bring is the wider and more personalized offer. In e-commerce solutions, such as Magento, presenting such options as variants of one product, improves how easy it is to navigate between the combinations of options. And it's an established truth that the number one feature that product pages must offer is quality product information.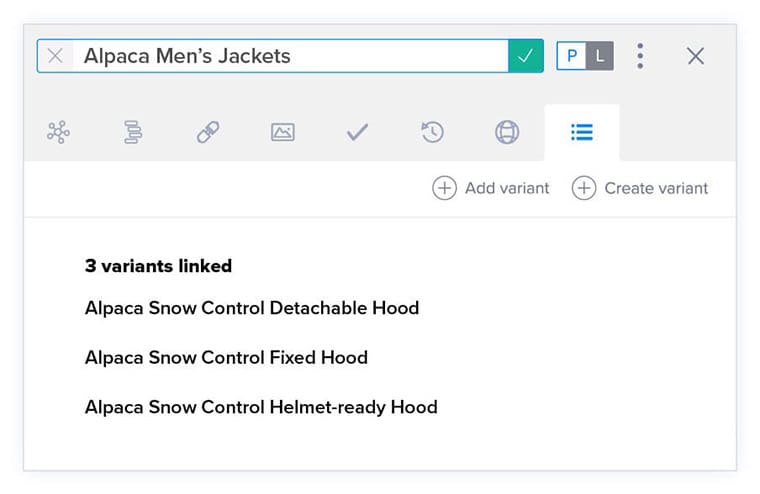 Benefit for customer: Easy comparison of various product options leads directly to better #CX
Click To Tweet
Leverage variants to drive more sales
Having product variants presented in an intuitive, compact, and single-page way enables customers to easily compare the other product options. Therefore, offering products as variants creates an opportunity to drive more sales. There are many actively searching buyers who are willing to buy two bars of soap of different scent, or three pillows of different color that will just look good together on a sofa. If you balance the number of options so as not to trigger decision paralysis, offering variants can really improve your bottom line.
Example: Alpaca jackets
Coming home for a holiday can be a wonderful experience, or an awkward one (yes, we all have that uncle that asks weird questions at family gatherings). When products get together, it is exactly the same. They, too, struggle to get along as one product family. When you are the person that creates the structure for the product content offered in a webshop, you know that the relationship between the product variants matters a lot.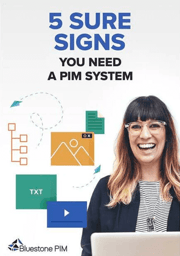 For example, you should be able to decide between the nature of the variant-defining attributes. Some of the product options are inherited in all the variants that belong to the same 'master' product. Other product attributes may be required to be filled, and cannot be left empty. Yet, another type of product values need to be locked. For example you may need to restrain the entire range of jackets to be only part of the Men collection. In such a case, the 'Gender' value should be locked to 'Men'.
One of the Alpaca jackets below has one inherited Purpose attribute, which can be chosen between standard, active or streetwear. Customers also need to know what type of hood, fixed, detachable or helmet-ready, a jacket has. This is a required and variant-defining attribute. All items in this range are part of the Alpaca winter collection for men (locked attribute).
Create templates for products
When you need to add new products, you will save plenty of time if you reuse an attribute structure that you've already created. What you need is being able to save it as a template, so you can apply it to as many products as you want. The next time you need to create nearly the same product, you don't need to start over. It is enough if you just see to the values that are not the same.
Don't create each #productvariant from scratch. Use templates and adjust only the values that need changing
Click To Tweet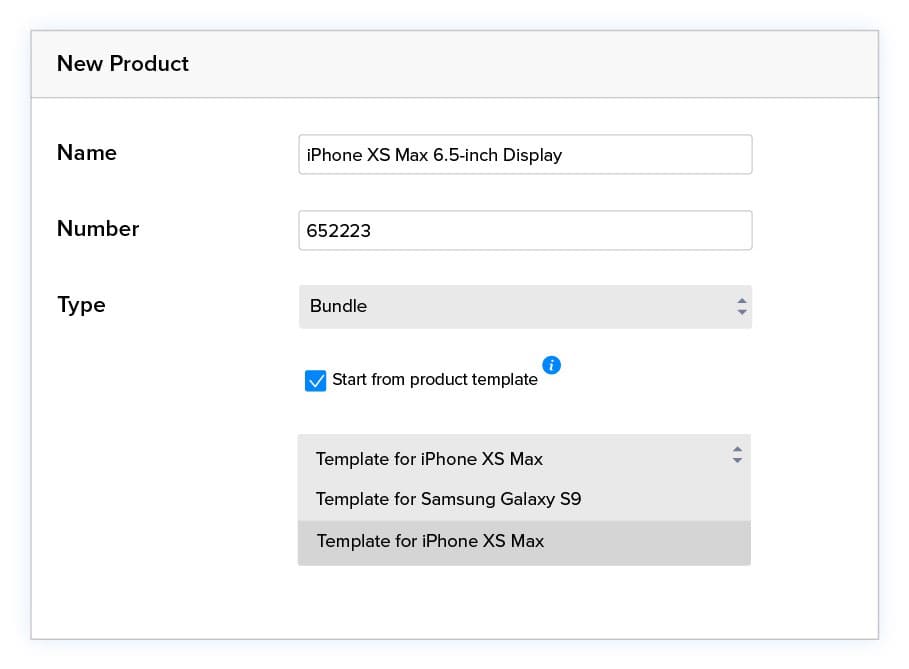 Work with product variants in PIM
Efficient product content cannot be created with the help of only a webshop platform. Although most of the popular ones, such as Shopify or Magento, do offer features for handling product variants, this is not enough when you want to sell them across multiple channels. The choice you have is either manage each of them separately (separate product databases for online store, printed catalogs, POS systems etc.), or implement a PIM platform, which will allow you to do the product content work once and then publish wherever this content is needed. It would be difficult to implement a successful omnichannel sales strategy without a PIM system in place.
Without PIM, product information is managed separately per channel. That's a straight way to inconsistent product experience. Don't lose customers. Implement #PIM
Click To Tweet
The benefits of the omnichannel-ready Product Information Management are numerous; the more SKUs you offer, the more benefits there are. Among others, an omnichannel-ready PIM will enable you to:
-create a single source of truth for all the sales channels and all the products
-eliminate product information inconsistencies
-improve time to market
-enable collaboration on product information
Most probably, your webshop offers product variants; if so, take a hard look at how efficiently you work on their product information. A dedicated product information management solution, which has functionalities for product variants, will help you with it.
Schedule a guided demo with a Bluestone PIM expert to learn how PIM can help your business sell more products in the digital channels.