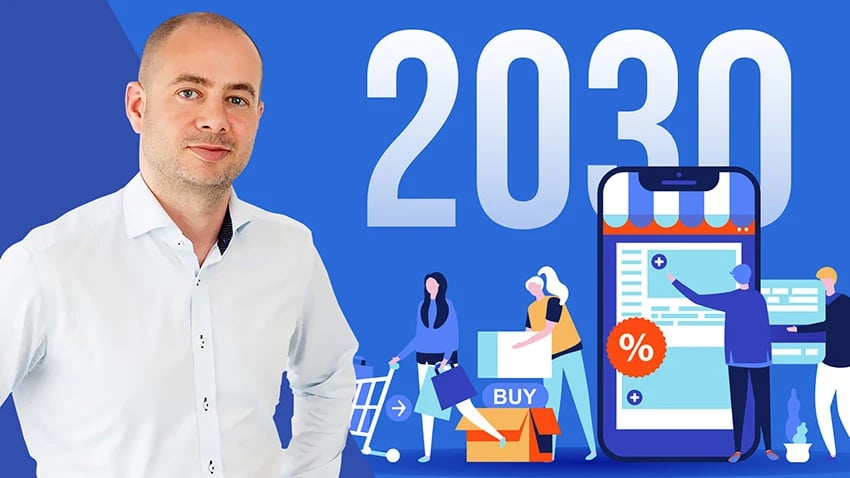 Interview with Einar Augedal, CEO at Bluestone
---
Q: Shopping in 2030. Do you think we're going to use super-advanced interactive screens like the characters from Steven Spielberg's Minority Report to browse and shop?
E.A.: I don't know if the super-advanced interactive screens will become a thing commonly used by 2030, but I guess it cannot be ruled out (laughs). However, one thing is indisputable – the rapidly developing technology will be a key driver for massive changes in retail. Traditional buying patterns will become a thing of the past and both convenience and personalized experience will be put on a pedestal. It will be a completely new world.
Q: Speaking about technology, when we look at where retail is going, we increasingly hear about hot e-commerce trends like AI, Virtual Reality, personalized experience, or Big Data. In your opinion, which of these technologies will have the biggest impact on the retailing industry in the next decade?
E.A.: Virtual and Augmented Reality will definitively transform the retailing experience. We can already see that leading companies like Amazon or Alibaba invest huge amounts of money in utilizing VR in order to improve customer experiences. More importantly, they are already successfully testing the waters. For instance, IKEA uses VR to help customers create a perfectly designed kitchen long before they install it in their homes. It's only a matter of time before other companies, not just the big ones, start implementing similar options for their customers.
Hot #ecommerce trends such as AI, VR, and personalization will require selling companies to change the #ProductInformationManagement from being feature-based to being intention-based.
Click To Tweet
I also think that personalization, hand in hand with AI, will continue to have a huge impact on our shopping experience. Just look at Amazon and their bold company's mission statement about how they want to be the Earth's most customer-centric company. By using AI technology, Big Data, and interactive apps, retailers will know more and more about what we're interested in.
Using this knowledge, they will deliver personalized suggestions that will fit our needs and our needs only. We're already seeing a similar evolution in the world of online marketing, with AI delivering targeted communication to customers and providing them with the right message at the right stage of their shopping journey. Retail will follow the same approach, no question about it.
Q: What about voice assistants and smart speakers like Amazon's Alexa? Will this technology play an important role in the future of e-commerce?
E.A.: Absolutely. I just happened to come across a very interesting report called To be or not to be; The future of the telco business model prepared by Deloitte. It turns out that in 2030 more than a third of the entire population will replace display-focused communication with conversational-centered communication.
In simpler words, instead of browsing the Internet while searching for products, the next generation of customers will simply communicate with virtual assistants either in stores or through the Internet. As voice is the most natural communication method, I'm pretty sure a voice assistant feature will become standard for a lot of stores.
Q: According to Ventana Research, by 2021, 50% of organizations will use modern dedicated PIM to manage product processes and provide high-quality product experiences. In your opinion, why is Product Information Management so important?
E.A.:First of all, I agree with Ventana's predictions. Product Information Management will become increasingly important for all retailers, brands, and wholesalers, because having a quality PIM platform is the only way to stay competitive in the future. Online shopping is growing fast worldwide and the digital representation of each product, also known as the digital twin, is the critical asset of every selling company.
Just look at it this way. Before customers interact with products as tangible objects that can be touched, used, or enjoyed, they look for photos, study descriptions, compare prices, and read reviews on social media or comparison sites. So, long before they buy the products, they already interact with them — or in fact, interact with their digital twins. As a matter of fact, the purchase decision is often based on the quality of the product information each digital twin contains. And PIM allows us to take full control over the digital twin.
In practice, #PIM allows using the #productinformation to create a better product experience, leading to higher conversion rates and better sales. That's why PIM is so important now and will be even more important in the future.
Click To Tweet
Q: Do you think multi-channel retailers can succeed without using a quality PIM platform?
E.A.: No, I don't think they can. As you can imagine, I work a lot with enterprise companies, and I've seen firsthand how difficult it is to manage a growing number of products, each with a wide range of unique attributes and media files — especially when the product data is scattered around different systems and saved in various files, often incompatible with each other.
From my experience, working without a PIM is not just frustrating and time-consuming. At some point it becomes a significant barrier, making successful omnichannel sales and future growth almost impossible. That's why, if multi-channel retailers want to grow online faster, improve time-to-market and deliver to more buyers, they need to forget about the spreadsheets and start organizing, enriching, and connecting product information in a smart way.
Q: What advice would you give to people who are considering implementing a PIM solution this year?
E.A.:My advice is simple: remember that the evolution of digital commerce is constantly changing your customers' buying patterns. Today, and even more in the future, products will be sold through a large number of different sales channels. To meet this challenge, the product data must be centralized and extremely accessible for any digital medium; those that we're already using today, like apps, websites, marketplaces, e-commerce platforms, and those that might pop up in the future.
I also believe that the future of business services belongs to Software-as-a-Service. In my opinion, SaaS is much more than just a disruptive technology, it's a business model for the modern age. One which makes it possible to divide the entire IT landscape into smaller microservices and then manage, improve, and scale them much easier and faster than ever before. This, of course, brings plenty of new possibilities for e-commerce businesses, not available with legacy IT.
Thank you for the interview. It seems that the future of retailing is as promising as the future of Product Information Management. We appreciate you sharing your insights.
---
Interested in product information management, but not sure where or how to start? Not a problem. Our PIM advisors are here to share with you some industry tips and tricks, so come drop us a message and we'll also show you how a PIM solution can boost your e-commerce strategy.