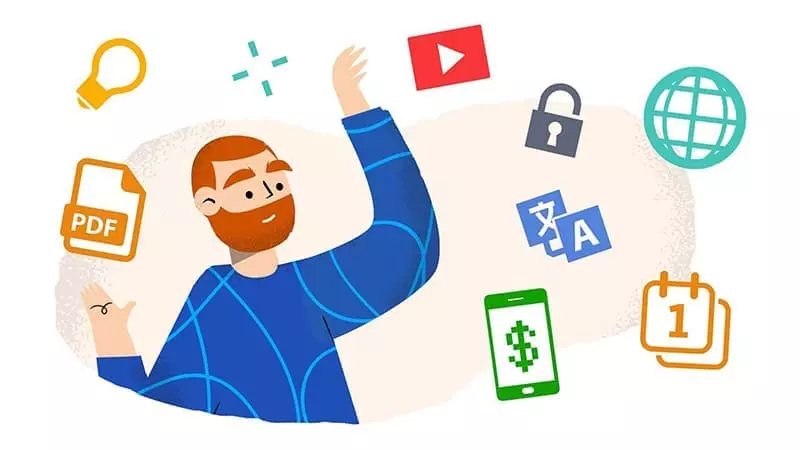 In this article we will lay the basics of Product Information Management. We will look at the benefits that PIM offers to retailers, why PIM is a crucial as-a-service platform and how it affects the ROI of any e-commerce business. If you are looking for ways to clean up and centralize unstructured product data, with a goal to succeed with your digital assets in the omnichannel, read below to understand how a PIM system improves data quality.
Businesses without PIM
Practice shows that, when businesses sell their products online, they often end up having a large amount of product information across various sales channels. Unfortunately, one product is often displayed with disparate description, marketing message, or even product data depending on the channel.
Taking full control over product information is a major step towards creating Omnichannel via @bluestonepim
Click To Tweet
To makes things more complex, product information is usually scattered throughout different teams and kept by many employees in multiple internal systems, instead of being available centrally. ERP systems and Excel spreadsheets cannot exchange information on their own, data may be saved in various formats, or only be available in hard copy form. This quickly leads to a challenge in which managing information of a constantly growing number of products easily turns into a spreadsheets crisis.
This is exactly where Product Information Management (PIM) solutions come to make marketers and e-commerce managers work much smarter.
Why Product Information Management is so important?
A report by Ventana Research goes into detail about the attitude of businesses towards building electronic commerce on the foundation of PIM. Only 1% of survey respondents believed that the integration of eCommerce and PIM is not important. A great majority felt that integrating PIM is very important to meet the goals of an eCommerce business. According to a group of vetted respondents in executive and management roles across industries and organizations, having one single Product Information Management (PIM) application is the best solution for effective management of product-related content. The benefits found in using dedicated PIM technology included the elimination of errors and mistakes, consistency across channels, and improved customer experience..
High quality of product content, including technical data, images, or customer-generated content like reviews contribute directly to the number of purchases, product affinity, reduced cart abandonment, less product returns and facilitate a better product experience.

Borgar Hestad, EVP Sales and Marketing at Bluestone PIM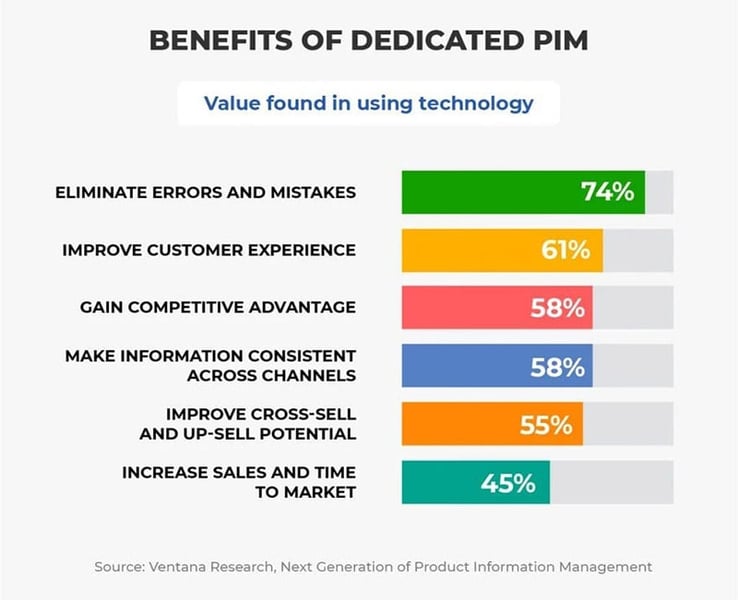 Product Information Management (PIM) vs Master Data Management (MDM)
High-quality, core information essential to all business processes and used by different applications across the entire company is often called its master data. To manage this master data in the most efficient way, companies need to create a smart framework of technologies and processes with a central repository. And this framework is better known as Master Data Management.
For Master Data Management the main focus is to establish one source of data that is used around the organization. But Master Data Management is not just about product information. MDM goes far beyond the realms of IT, Sales, or Marketing department. It's a cross-organizational effort to gather, manage, and distribute data in the most efficient way possible. From this perspective, it's fair to say that PIM is a subset of MDM.
Master Data Management:
In MDM, the main focus is to get all the information related to products, customers, suppliers, partners, employees, locations, etc. into one repository in order to achieve operational excellence.
MDM is crucial for every department in a given company as master data is used on a daily basis by different applications across the entire business.
Product Information Management:
Product Information Management focuses on delivering a set of features to centralize product-related data from various sources and then easily manage, enrich, and syndicate this product content towards multiple sales channels.
PIM is especially important for Sales and Marketing teams.
Product Information Management (PIM) vs Product Content Management (PCM)
The truth is PIM is sometimes confused with PCM. To make things even worse, there are many definitions that position PCM similarly to PIM, adding to the confusion. Despite common misconceptions, there are vast differences between the two.
PCM is a standard feature in most enterprise e-commerce solutions and primarily offers data enrichment. In this case, enrichment equals the ability to efficiently add or edit product descriptions, attributes, images, and data taxonomies. Such features are fantastic for managing a single source of truth of product information.
PIM usually goes much further than just data enrichment. It provides extra components like data quality, data completeness, aggregation, and syndication. These features allow e-commerce businesses not only to centralize product information but also to easily syndicate consistent and accurate information to various sales channels.
Does my team need PIM?
Depending on how much time you are willing to spend on managing product information, you may not need PIM if your portfolio is just a few hundred SKUs and you have no immediate plans to grow. Anything more than that, and managing your content is going to become a struggle. Without PIM, you will need to dedicate much more working hours to editing, reviewing, and cleaning up errors in product information manually to prevent them from impacting your customer experience.
On top of that, if you plan to benefit from using multiple sales and marketing channels, PIM is going to be the most efficient solution to create & store all the different versions of content required by your partners.
To learn more about the factors that can determine whether or not you need a PIM platform, check out "When should I implement PIM".
How is PIM data used?
Businesses use PIM to drive online sales with the help of centralized and organized product data. PIM data can be used across all common sales and marketing channels.
It can make up the content for a product page on an eCommerce website, it can syndicate to marketplaces or comparison sites to broaden a company's reach and diversify the audience.
There are automated workflows to create print and digital collateral to be used in campaigns. In fact, there are no limits to how PIM data can be used – you can feed it to any platform or software that connects via APIs or enables import.
There is space for innovation and exploring the still new fields of social commerce, chat commerce, and AR, based on product data managed in a PIM system.
Will PIM be relevant in the future?
In a nutshell, yes, because of the digitalization processes that retailers undergo.
It's hard to ignore the massive growth that e-commerce industry as a whole is experiencing year in year out. For example, a pre-COVID 19 study by Statista shows that the global retail e-commerce sales will reach a new high by 2021 with 265% growth rate, from $1.3 trillion in 2014 to $4.9 trillion in 2021.
We can now assume that this number will be even higher. Clearly, the future of sales is online, which makes PIM a relevant and necessary platform to use.
Key takeaways
PIM stands for "Product Information Management" and is software designed to manage product-related data in the most efficient way possible.
PIM solutions empower brands and retailers to create excellent customer experience and improve sales in the long-run.
Having a quality PIM platform is a major step towards creating Omnichannel consistency.
The concept of Product Information Management roots back to the late 1990s.
PIM is a part of Master Data Management, sometimes called "MDM for business purposes".
PIM and PCM are not the same thing. Both are central repositories for product-related data, PIM however comes with extra features i.e. for content distribution.
The future of sales is online, rendering PIM a must-have platform.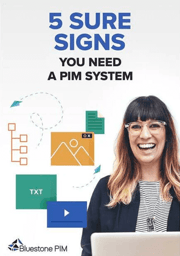 Interested in product information management, but not sure where to start? Contact us to learn how a PIM solution can boost your e-commerce strategy.