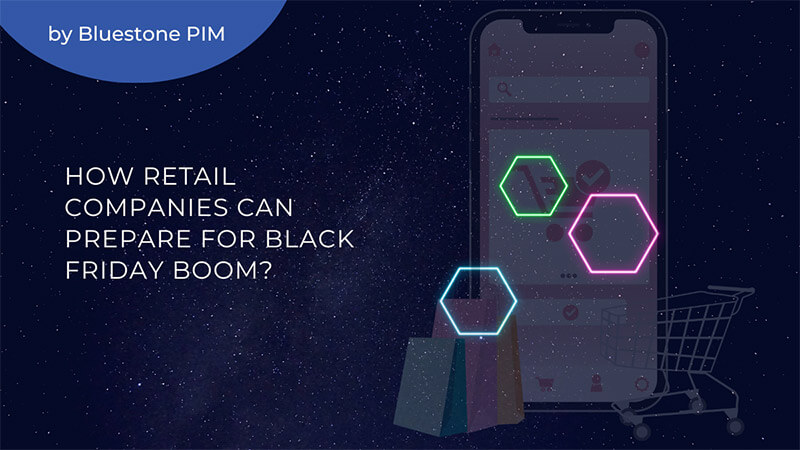 The holiday sales season is coming closer, which every year starts on Friday after Thanksgiving. Black Friday and accompanying Cyber Monday are the busiest shopping occasions for retailers.
The shopping holidays primarily came from the U.S., but in recent years, they have grown increasingly in Australia, Canada, and the rest of the world.
According to Adobe Analytics, U.S. consumers alone spent a record $204 billion online over the 2021 holiday season.
In the aftermath of the Covid-19 pandemic, many shoppers make a purchase online, and this trend seems to continue. As a Statista survey shows, 57% of consumers in the United States still intend to do holiday shopping online.
This means a massive opportunity for online retail companies of any size to increase traffic and drive revenue.
This article has been created to help e-commerce businesses prepare for Black Friday sales and holiday sales, so read on to find inspiration for holiday campaigns and helpful marketing tips you can use this year and beyond.
A bunch of holiday shopping predictions to know in 2022
To prepare for the season well, it's good to look closely at experts' forecasts regarding the upcoming holiday trends and shoppers' behaviors.
The key findings from the latest 2022 Deloitte Holiday Survey are particularly interesting. Below you read selected predictions that mostly come from this report.


1. In 2022 holiday sales will grow between 6% and 8%
According to National Retail Federation's forecast, in 2022, holiday sales will grow between $942.6 billion and $960.4 billion.
It will be a growth between 6% and 8%, so below 13,5% in 2021, driven chiefly by pandemic factors, yet below the 4,9% average over the past decade.


2. Due to inflation, customers plan to buy fewer gifts and spend less time shopping
The latest 2022 Deloitte Holiday Survey shows consumer sentiment and purchasing plans in the face of inflation worldwide.
Due to rising prices, many shoppers expect higher prices and, on average, plan to buy 9 gifts and gift cards (vs. 16 in 2021) and decrease the duration of shopping to 5,6 weeks (vs. 6,1 in 2021). Not expensive purchases, but the celebration is a priority.


3. Online retailers and mass merchants are top of mind
Online-only retailers (34% of consumers) and mass merchants (15%) are the most preferred retail formats by the majority of surveyed shoppers in mentioned Deloitte report.
The following places were: department stores (5%) ex aequo with local independent stores, and warehouse clubs. Only 4% of surveyed consumers plan to visit off-price stores.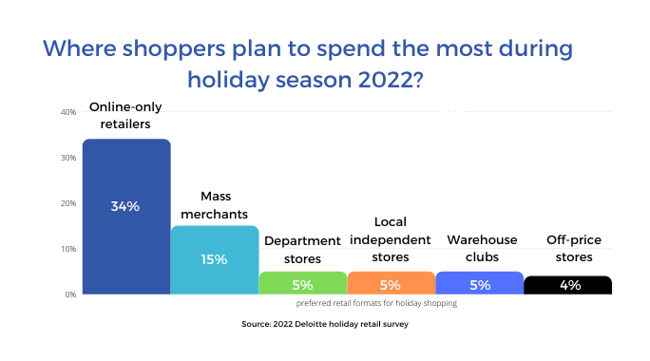 4. 34% of customers plan to use social media as a shopping resource
Another interesting insight from the Deloitte report is social media usage, which has never been higher.
Especially among the digital-native generations, is a vital resource for searching for sales deals. 60% of generation Z shoppers and 56% of millennials plan to use social media for holiday shopping, its growth from 49% and 46% from 2021.
In the upcoming holiday season 2022, most consumers will use social media to visit retailers' pages and make a purchase.
5. 35% of shoppers plan to use emerging retail technologies
Deloitte experts indicate that savvy shoppers go beyond traditional retail formats and plan to test new options to enrich the shopping experience. The trends are growing in comparison to 2021.
Among the top 3, trends majority of shoppers plan to use cashier-less stores (14%), shoppable content (13%), and social commerce (buy button on social media posts - 9%). Only 5% and 6% of forward-thinking shoppers want to try virtual and augmented reality.


3 Black Friday marketing trends
The retail market is rapidly changing. The consequences of the global outbreak and rising inflation had impacts on shoppers and drove them to be more conscious and cost-saving and start shopping early.
Check out these e-commerce trends, which have been well-established in the retail industry. It is worth taking into account when planning a Black Friday marketing strategy.


Black Friday is not a sprint, it's a marathon
60% of U.S. consumers intend to start their Christmas shopping before December.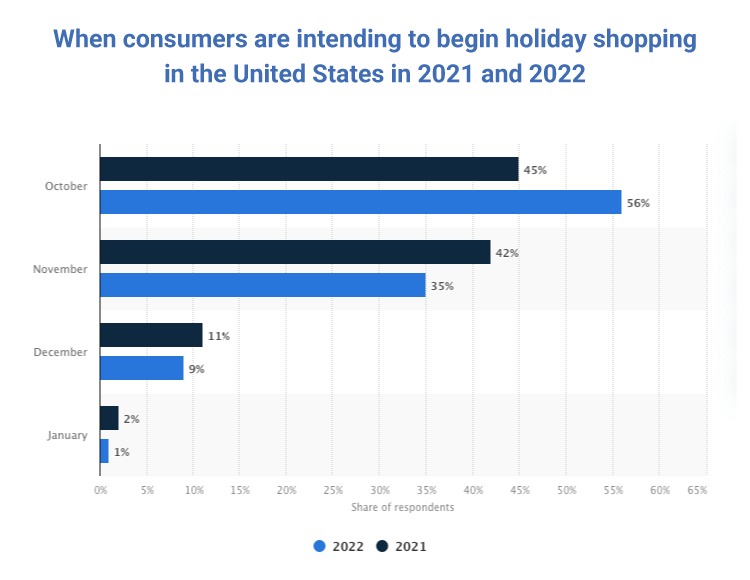 Source: Statista


Black Friday is no longer a single-day shopping holiday. Retailers start with early-bird deals and smoothly continue the campaigns through December.
Similarly, search queries about Black Friday in Google are longer, and consumer interest will spread across 10 weeks (starting in early November to 2 weeks after Black Friday).
According to Google Customer Insights, there are three significant phases of the consumer's experience during Black Friday.
Stage One (the build-up): people don't search for any particular brands and products; they are open to suggestions.
Stage Two (the craze): people begin to look for more specific products and brands.
Stage Three (the last call): people continue to search for attractive deals after the actual day, hoping to find more significant price reductions.
So if you started preparation late, you could still target this cohort of latecomers consumers.


Jump on the wave of social commerce
Sales via social media platforms worldwide are estimated to add up to US $992 billion in 2022.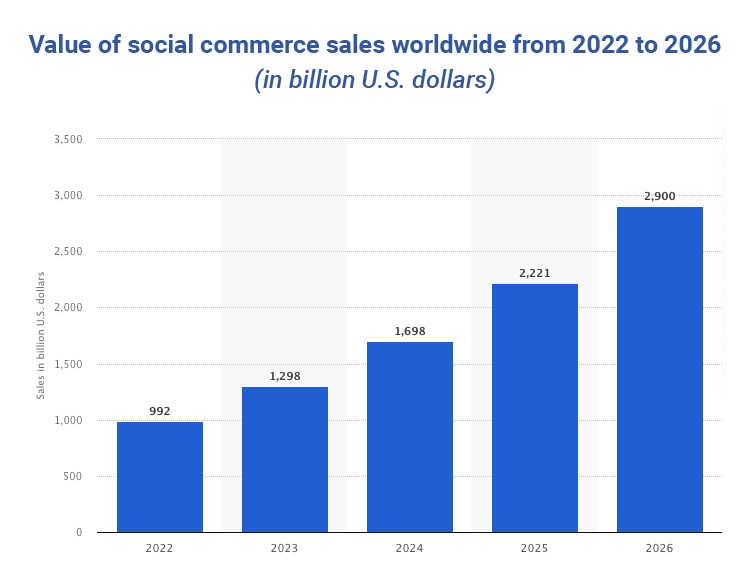 Source: Statista


Social commerce is an eCommerce trend that has been growing in importance in recent years, and it looks like that direction will stay the same since it allows shoppers to purchase directly via their favorite social media channels.
If retailers want to increase their reach, they should go beyond their eCommerce sites and add a product to the shopping apps provided by Instagram, Facebook, TikTok, or Pinterest (depending on which platform customers prefer).
However, it's not a matter of a few clicks.
Before entering the social commerce world, brands need to get deeper into audience segmentation, prepare product listings and tailor them to the specific requirements of certain social media platforms.


Convenience is a key
83% of customers say convenience while shopping is more critical now than 5 years ago.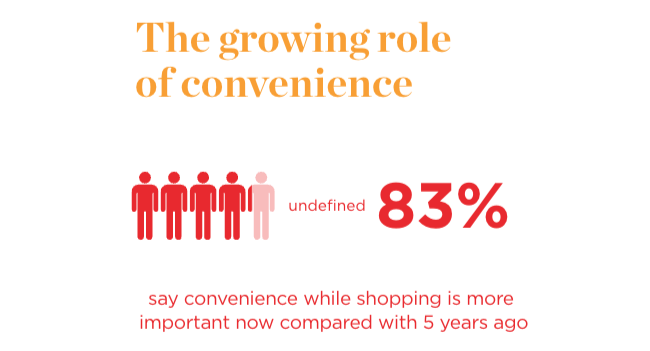 Source: National Retail Federation Consumer View Winter 2020


Convenience is a great part of an excellent shopping experience and a significant factor of competitiveness in today's markets.
During the Covid-19 pandemic, the world shifted almost entirely to online shopping.
Shoppers have become used to the convenience of shopping from home and they now prefer it over other types of shopping.
According to the NRF report, time is crucial to shoppers in terms of convenience.
Shoppers don't want to waste time and energy for long shopping and highly appreciate the easy and streamlined checkout experience.


6 fool-proof Black Friday marketing strategies and last-minute ideas
Prepare product pages
High-quality product information in online stores has a significant impact on purchase decisions.
Before you schedule marketing activities, it's good to start with the foundation - your product pages and optimize their content and prepare product listings for the holiday shopping season.
Follow these key steps to create rich product content.
Track uncomplicated or outdated product information on your product pages and product listings.

Create compelling stories about your products using the best

storytelling practices

. That includes, first and foremost, writing unique, informative, and engaging product descriptions.

Optimize product pages' content for search engines.

Give your customers a voice: include reviews, testimonials, or other social proof.

Use eye-catching and high-quality product images and more interactive visuals like videos and 360-degree product views. A picture is worth a thousand words, so it's a crucial ingredient of engaging customer experience.
💡 Pro-tip: Automation tools like Product Information Management (PIM) software have completeness score features that help marketing and eCommerce teams identify a lack of product information fast and easily. That's one of many PIM features useful for retailers.
Last minute idea: If you run out of time, focus on strategic pages with hot Black Friday deals and all products used in their up-selling and cross-selling bundle.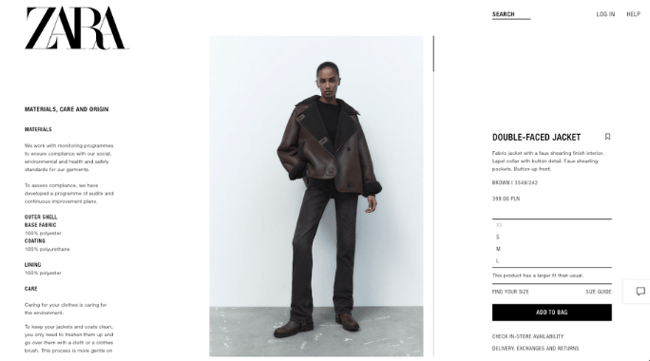 The product page on Zara online store
Create a gift guide
During Black Friday and Cyber Monday, many shoppers purchase holiday gifts, so the best content idea for this occasion will be a gift guide created with your marketing personas and the offer in mind.
This type of buyer enablement content empowers shoppers to make a purchase decision quicker and easier.
To create the guide, dive deeper into your customer segmentation to choose a type of shopper. Then pick the most popular items, segments, and categories; you can also ask suppliers.
A glimpse of the hottest market trends helps you connect all the dots and organize your guide by product categories, budget, age, and gender of shoppers or their interests.
A digital gift guide can be a landing page, an extensive blog post, an infographic, or an ebook. Think about adding videos or gifs to make content more engaging.
💡 Pro-tip: Invite your partners to co-create the gift guide to offer shoppers more variety of product recommendations and boost the reach of the guide promotion efforts.
Last minute idea: Creating graphics with collages of products will be faster than launching a landing page. Use an easy tool like Canva and distribute the graphic guide via social media and e-mail marketing campaigns.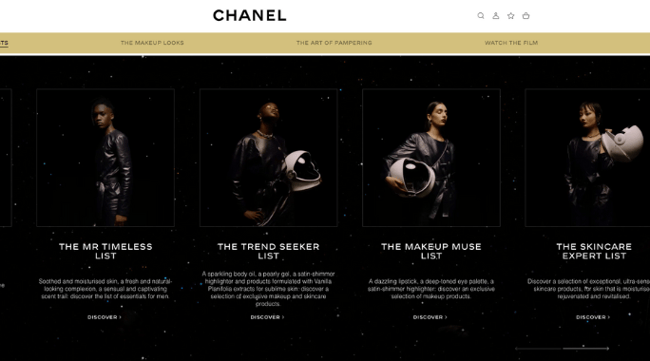 The holiday gift guide on the Chanel website
Set you timing
When this very Friday starts, shoppers' inboxes are flooded with e-mails with Black Friday deals. It is easy to drown in this sea of marketing messages. One of the ways to stand out is by experimenting with your timing. As you can learn from Google insights above, many people start holiday shopping even in October, and there are also experts in searching for late sales.

So you have two ways - catch early birds or act in the last call to attract latecomers. When you set your campaigns' time, it's up to you.
💡 Pro-tip: Get inspired by Kohl's pre-Black Friday time-limited campaign. The brand started early to be ahead of the competition and combined this strategy with things that Black Friday shoppers love - affordable deals and free shipping.
Last minute idea: Who said you can't launch Black Thursday or bring Black Friday back to life in December? Surprise shoppers by activating promo codes or discounts for loyal customers after the proper day.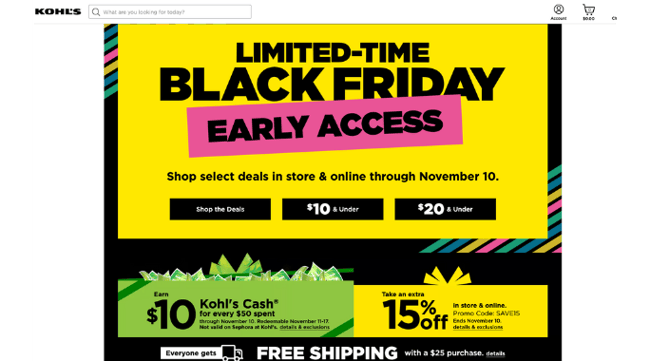 The early-bird Black Friday campaign on Kohl's website
Establish your own holiday
Everyone knows what Black Friday is all about: retailers prepare to start the competition, and shoppers wait to catch the best deals.
Why not go against the flow and redefine that day, celebrating it differently?
An inspiring example is IKEA's Green Friday campaign, created in the spirit of sustainability.
On this day, IKEA offers to buy back clients' old IKEA items of furniture and resell them to someone else who needs something used.
This way, you can save more on Black Friday and participate in a circle better for the planet. Brave move.
If you don't want to go that far and protect your most prosperous day anyway, you can make it a bit unique and more sustainable.
Customers will appreciate it as more people plan to change their shopping habits to reduce a negative impact on the environment.


💡 Pro-tip: Use Black Friday to do something good. Think about donating a percentage of your Black Friday sales to a fundraising initiative.
Last minute idea: Do you have an offer or services dedicated to small businesses or solopreneurs in your portfolio? Have a special offer for them on Small Business Saturday, the holiday day after Black Friday.
Plan personalized e-mail campaigns
E-mail marketing is still one of the most effective marketing tools. Plan your campaign and test different options which might bring great results. Don't forget about personalization. Here are some ideas you can include.
Think about your local customers: your brands' VIPs, and send them a newsletter with a special offer.

A few days before, send a short teaser of your Black Friday campaign to prepare your subscribers for that occasion. You can set a countdown timer to create a sense of urgency.

Send last call newsletter to remind about the start of Black Friday sales.



💡 Pro-tip: According to Adobe report, 42.4% of Black Friday eCommerce revenue came through smartphones (about $3.7 billion). Be mobile-first in all your marketing activities, including e-mail marketing.
Last minute idea: Analyze your past Black Friday and other holiday campaigns to find out what worked. Recycle well-performing ones with a catchy subject line and a creative approach. Swedish cosmetic brand FOREO is a great example.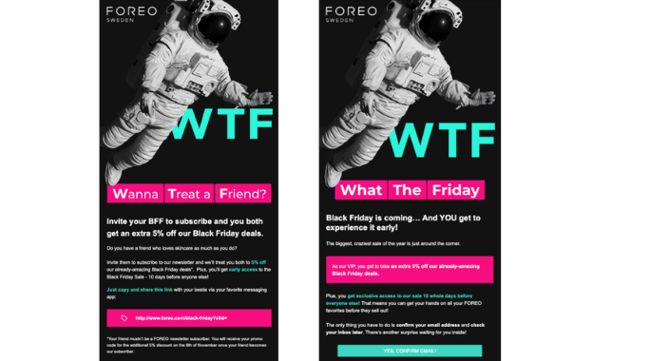 Black Friday newsletters by FOREO
Use the power of omnichannel
Omnichannel is a new black in digital commerce and is here to stay for good.
It is based on providing a consistent and seamless brand experience for customers at every possible sales touchpoint (online and in-store).
According to Omnisend, "marketers using three or more channels in a campaign earned a 494% higher order rate than those using a single-channel campaign".
Nailing omnichannel requires centralized product information and syncing all marketing and sales channels, so you will be able to reach your customers on channels they use at right time and with a relevant personalized message.
💡 Pro-tip: Offer customers the flexibility to choose how they can interact with your brand on Black Friday and holidays by merging all online shopping experiences and offering various delivery options.
Last-minute idea: Run a last-minute campaign in search engines and preferred platforms on social media. Highlight on copy and graphics what you offer to let consumers know that it is a special Black Friday deal.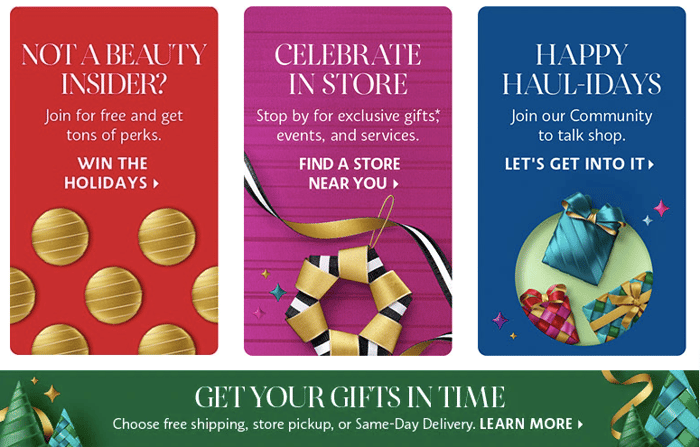 Sephora omnichannel retail marketing on holiday sales

Have a great Black Friday! But after, do not slow down the pace too much, there are many more holidays to celebrate :)


Get ready for the next sales peaks with Bluestone PIM
With the merge of Black Friday, Cyber Monday, and the holiday season in December, the end of the year is always full of shopping madness. Later, however, it is not quiet at all; there are seasonal sales and occasions such as Valentine's Day, Women's Day, and many more.
That means a lot of opportunities to attract your customer with special offers. Use this seasonality to increase sales, following four categories of holidays: major, geographical, shopping, and fun holidays.
Our extensive guide might help you, bringing a solid dose of inspiration and practical tips.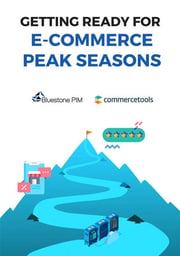 DOWNLOAD FREE E-BOOK
Getting Ready For E-commerce Peak Seasons
Read this guide full of marketing and tech hacks for online retailers to get well-prepared for holiday sales.
Our "Getting Ready For E-commerce Peak Seasons" whitepaper, created in partnership with Commercetools, provides 40+ valuable tips on preparing marketing campaigns, maintaining high quality, and getting ready for your website for increased traffic.
Inside the ebook, you will also find a sales holidays calendar for 2023, checklists, and strategies to get started with modern approaches to eCommerce. So download it and learn how you can sell better and faster!
If you want to support your business with an innovative tool, contact our advisors to learn how a MACH-based PIM solution can help you prepare for all seasonal sales and achieve your marketing and sales goals.