Product Information Management (PIM) is a crucial aspect of any business that manages a large number of products.
Contrary to some beliefs of some business owners, Product Information Management solutions are not complex or resource-consuming platforms.
Rather, they are designed to be simple and intuitive as possible, with the objective of helping businesses to centralize, standardize, and enrich their product data.
If the objective of your business is to increase online sales, improve customer satisfaction, and gain a stronger competitive advantage, then adopting the best practices for Product Information Management will be key to your business's success.
Below we discuss the 7 best practices for Product Information Management, based on our experience and insights from 'The next generation of PIM' report created by Ventana Research.
According to Ventana, by 2021, 50% of organizations will use a modern dedicated PIM to manage product content processes and provide high-quality product experiences.
Click To Tweet
1. Define roles and responsibilities
Collaborating on product content directly within the PIM system uncovers the potential to significantly speed up your workflows and eliminate content errors.
Depending on your business needs, it can be beneficial to include the marketing team, eCommerce managers, or even external collaborators in the process of producing product content.
For this reason, it's vital that you choose a PIM in which you can create various roles with different access levels, but without introducing unnecessary risks.
These can include access level of admin, read-only, product manager, or publisher, with each of these typically consisting of a set of default permissions.
Bluestone PIM lets you be even more granular so that you can enable users to perform only certain actions.
These granular permissions primarily allow users to:
Create product attributes
Read product attributes
Update product attributes
Delete product attributes
Other permissions are:
Update products
Sync products
Publish products
Request approval for products
You can also invite suppliers to collaborate on the product content and ensure they will provide you with the correct and latest data in the right format.
If you store product data within the PIM system that you would prefer some users to not get a hold of or accidentally make changes to, then you can set user permissions to limit their access or the actions they can take.
You can keep a history of every action performed and revoke permissions if needed.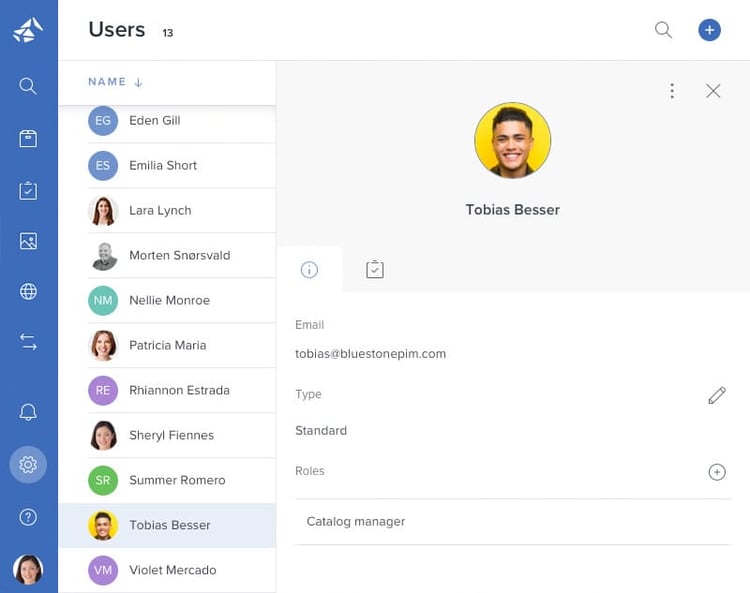 Collaborate with internal and external stakeholders within Bluestone PIM by assigning them roles and giving them access to certain information.
2. Standardize your product information
Having one central repository for all product information gives you a single view, where you can search, update, and publish product content across various channels.
Just as importantly, it allows you to establish validation rules to impose a common standard format on product attributes and categories.
Proper data validation is paramount to ensure the consistency of your catalog and safeguard your product content from costly but completely preventable mistakes.
The benefits of standardization apply not just to the format of product data, but also to eCommerce relations between products.
A quality PIM platform will help you gain a competitive advantage by improving the cross-sell and upsell potential of products and securing faster time-to-market.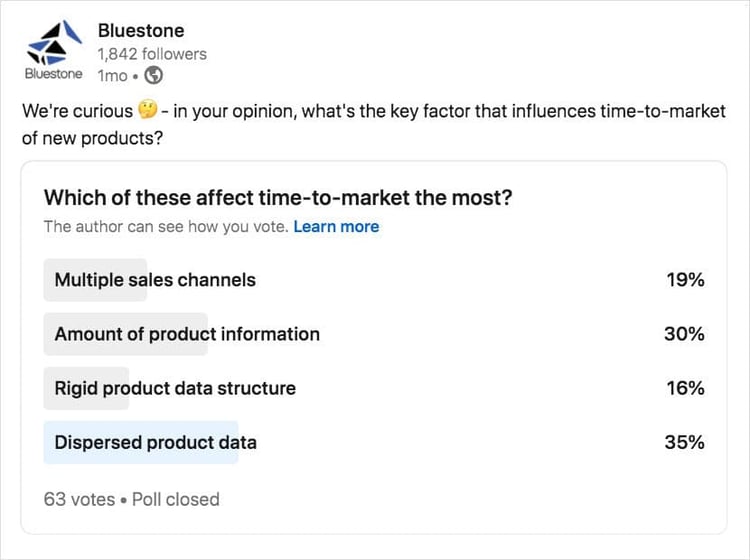 3. Don't use multiple systems
According to Ventana Research, 56 percent of all companies have more than 5 systems containing product data.
Using too many tools means your product information is scattered across different systems which may not be compatible with one or another, meaning data may not be easily shared or transferred between each system.
Also, there are too many disparate data forms and no centralized information repository; instead, there are multiple unsynchronized metadata repositories.
At this point, managing product information is frustrating and time-consuming, and human mistakes are inevitable.


4. Use PIM to improve customer experience
According to a B2B Marketing/Earnest survey, 96 percent of respondents said CX would influence whether they purchase from you again, and 83 percent would give a referral as a result of a positive experience.
This means a PIM platform can add significant value to B2B and B2C efforts!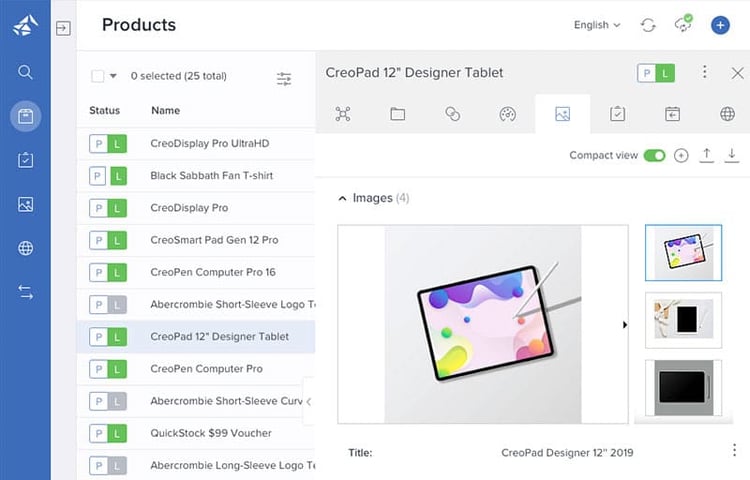 Manage and enrich your digital assets within Bluestone PIM with the in-built DAM features.

PIM lets you create and manage a whole body of content for any product with multiple versions that relate to the relevant stage of the customer journey.
Removing the hurdles to multichannel sales allows you to be present where your customers are, increasing the likelihood of a purchase. Finally, it keeps errors and mistakes in product content at bay, empowering your team to focus on creating relatable product stories that will engage your customers.
Without a doubt, PIM is a critical component of a CX strategy for companies that sell products. Learn more about the ties between PIM and CX in our ebook, The Art and Science of Customer Experience.


5. Forget about the spreadsheet nightmare
When you have hundreds or even thousands of SKUs in your inventory, one thing is for sure: spreadsheets are no longer up to the task.
Instead of dispersing your product data over countless Excel spreadsheets and wondering which data is stored in which file, why not save your time by storing everything, from product descriptions to digital assets, in one place, namely a PIM system?


Calculate the amount of manual work needed
Let's see how much work you are in for if you decide to do things manually!
We have prepared a little calculator below just for this.
Manually updated product attributes in Year 1
27,500
Add the number of SKUs you have in your inventory, along with the average number of attributes per SKU, the number of languages your product data is in, and the number of sales channels you intend to sell on.
The number you see on the right side is the number of product fields you have will to manually manage, update, and keep track of.
If you think that's way too much work, then this is where PIM can save you or your team the headache of manual work.


6. Data integration is crucial
Most companies use more than 5 systems that contain product data. All of them need to be integrated to produce a single, consistent set of information.
In such circumstances, it is not surprising that data integration is among the top reasons for managing product content in a central PIM system.
Today, there are dozens of integrations readily available for Bluestone PIM.
Incoming data sources can include:
ERP system
Excel files/Spreadsheets
Custom-built systems and platforms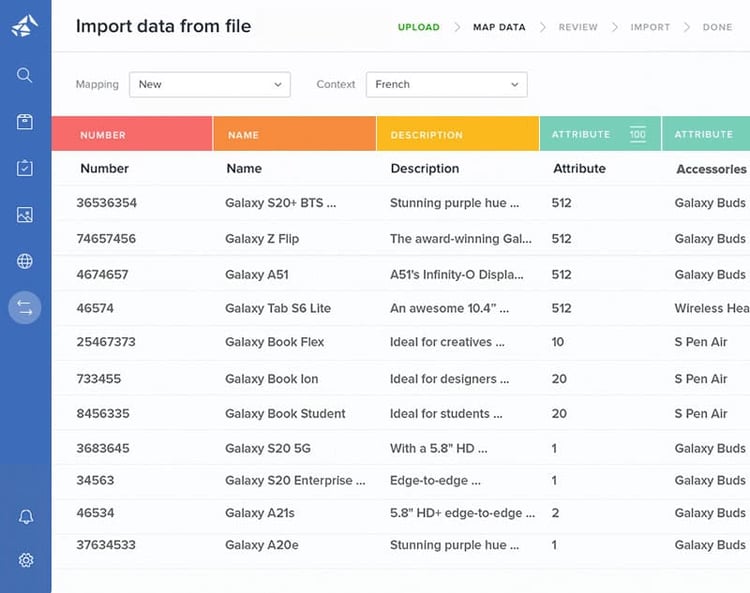 Importing data into Bluestone PIM from spreadsheets and external platforms is a simple task thanks to our user-friendly interface.

Businesses that use Bluestone PIM can take advantage of straight-forward distribution to external sales channels, including:
Amazon
eBay
Google Shopping
Facebook
Bing
Wish
Criteo
Pinterest
...and many more!
To see a full landscape, check out the Bluestone PIM Marketplace and its many third-party integrations.
If what you are looking for is not on our list, don't worry! Other channels and platforms can be efficiently integrated using the industry's best, ultra-fast REST APIs.
In other words, we can get it done. All you have to do is let us know.


7. Establish your requirements and implementation plans
If you're planning to change the way you manage your product information, be sure to build a strong business case for it, promote awareness of the need for improvement, and find resources and a budget to make it happen.
When considering PIM software, draw up a checklist of PIM requirements, such as:
running in the cloud
enabling true collaboration
offering bulk editing
having a powerful Digital Asset Management
harnessing machine learning and AI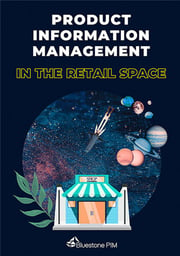 DOWNLOAD FREE E-BOOK
Product Information Management in the Retail Space
Learn how retail companies are creating engaging customer experiences by improving their product data.

Bluestone PIM is designed to help you manage 2+ million SKUs and digital assets, connect your product content to multiple sales and marketing channels from one source, and reach your customers at all touchpoints.
Get in touch with our advisors if you'd like to learn more about Product Information Management and how we can help your business start a successful PIM implementation. Or schedule a demo meeting to see our platform in action!
Editor's note: This post was originally published in October 2017 and has been updated with the latest information.