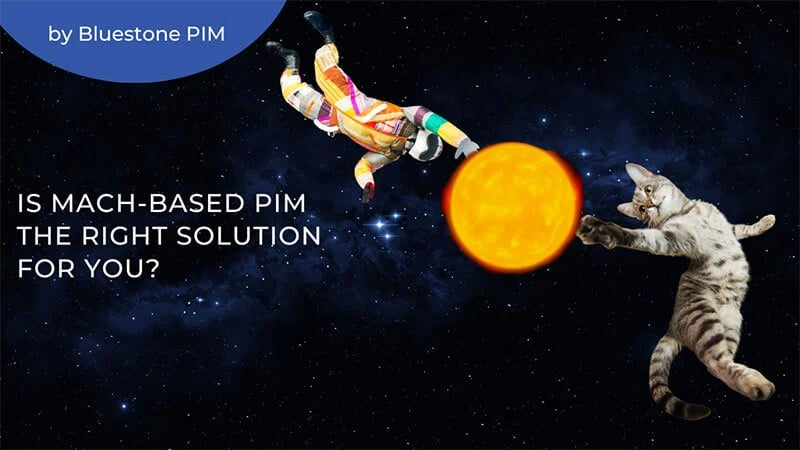 E-commerce marketing strategies cannot be successfully implemented unless you have a powerful tech stack that allows you to make changes on the fly.
Whether you want to sell products on multiple channels, keep accurate data or be more visible in search engines and reach more customers, systems like product information management (PIM) are necessary to centralize data and distribute it to channels in an automated way.

While the product information management market is quite large, today we will focus on PIM systems with MACH architecture and their capabilities.
Here is what marketing teams and tech leaders need to know about MACH-based PIM and how they can use it to beat their competitors:
Why does MACH make a difference?
The concept of the MACH architecture has been formed in 2020 by leading tech companies: Contentstack, commercetools, EPAM, and Valtech.
The same year they founded a non-profit organization MACH Alliance to help other businesses navigate a complex modern tech landscape.
According to the MACH Alliance study, the shift to MACH technology is a natural response to pressure to implement customer experience (CX) improvements faster. The research shows that MACH technology adoption is currently on a high agenda of tech leaders in 2022.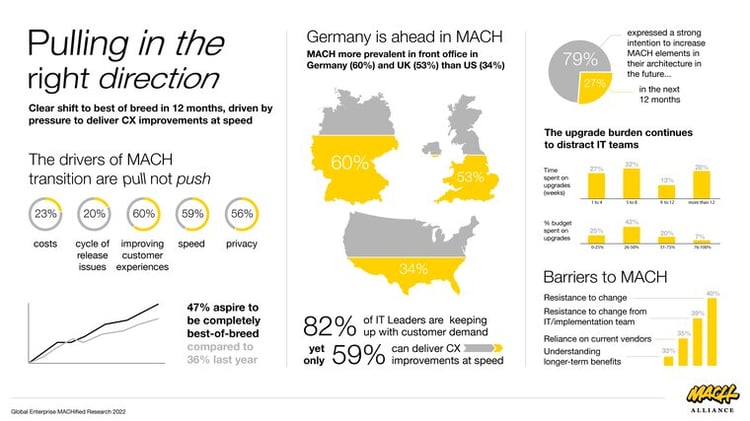 The main reason for this is the agile architecture, which supports increased speed, flexibility in terms of tools used, seamless customization, and automatic updates.
The MACH architecture helps shorten the minimum viable product's (MVP) path, add and remove certain services and reduce the number of manual processes.
What is MACH-based PIM?
There are a few main differences between an ordinary PIM solution and a MACH-based one.
First of all, MACH-based PIM has been initially built in the cloud, making it a cloud-native SaaS. The cloud computing approach allows users to save their internal resources and time as well as use all capabilities of the cloud such as elastic scalability, storage, and automatic updates.
Secondly, MACH-based PIM users can easily add other applications via APIs (Application Programmable Interfaces). Every day there are more and more useful technologies that help perform certain tasks and automate processes, sell more items, etc.
Instead of switching to new software every year, teams can use the full potential of the MACH architecture by connecting software of their choice to MACH-based PIM.
No matter what trends appear on the market, Microservices-based, API-first software is there to support innovation.
Another difference is that it enhances omnichannel e-commerce by introducing a completely free interface design (this approach is also known as "headless").
The benefits of PIM built on MACH principles
Now that you are more familiar with MACH technology, it's time to discuss how you can take advantage of its capabilities in your daily work with product data.
Let's take a closer look at how PIM adopters are outperforming the competition by leveraging MACH architecture:


Fewer errors
Digital asset management becomes complicated when teams perform all tasks manually. The reason is quite simple: human error. Monitoring multiple spreadsheets while manually updating data for each sales channel leads to chaos that can not be solved simply by increasing headcount. Poor data quality means lost sales. According to a survey, 98% of buyers decide against a purchase if they are unable to find the full product data.

The MACH-based PIM can enable your company to quickly make product updates across all your platforms. Accurate product data leads to fewer returns, higher customer satisfaction, and at least 25% higher annual growth.


Growth with demand
MACH-based PIM adopters can rely on their software when creating a growth strategy. Whether you want to increase the number of sales channels, products, and categories, or add more PIM users while keeping a high level of data quality, MACH-based PIM is flexible enough to make it happen.
With PIM built on MACH principles, you can manage and update millions of products simultaneously without worrying about storage space or software speed.
When checking the PIM business benefits of various vendors, make sure to ask how they can handle a growing amount of product data.


Reduced time to market
When all processes are automated, including new product launches, your team can then spend more resources on actual marketing. One of the core PIM capabilities is the speed at which companies can enrich and update their products.
With the MACH-based PIM system, you can integrate best-of-breed components via APIs in a short time and onboard new products faster.


Customization and personalization
Each business is unique in its own way, and only agile software can meet specific product content requirements. For example, MACH-based users can create customizable dashboards with reports and features for different groups of PIM users.

In addition, a modern PIM system solves PxM use cases by creating a detailed customer profile based on available data. This in turn helps tailor marketing strategies and deliver personalized customer experiences at every touchpoint.


Costs optimizations and long-term agility
In a monolithic architecture, the entire application is based on a single code, so if one function fails, the entire system fails. MACH-based PIM is part of the composable ecosystem, which allows organizations to remove and add any services they need without disrupting work.

By choosing software based on the MACH architecture, enterprises can optimize tech stack costs by investing only in solutions that are profitable, and roll out the product faster thanks to API connectivity.
Is MACH-based PIM right for you?
If you are looking for a product information management solution to manage more than 1000 SKUs and plan to build an omnichannel strategy and scale in the future, a MACH-based PIM is the right choice!
As an early adopter, you have maximum freedom in building your technology stack by implementing the composable commerce approach that will allow you to deploy additional software components depending on your product syndication requirements and business strategy.
MACH-based PIM can support digitally mature companies that want to innovate their tech stacks, deliver seamless digital experiences to their customers, and future-proof their business by remaining agile.
Summary
PIM streamlines the process of managing, enriching, and distributing accurate product data, from product descriptions to lifestyle photos and downloadable PDFs, across multiple marketing and sales channels.
As the PIM market grows, it is important for IT decision-makers to stay abreast of the latest PIM trends in order to select the right solution for their business.
MACH-based PIM software, such as Bluestone PIM, are the new trends that are here to stay. Long-term agility, unlimited scalability, customization capabilities, and speed that the MACH architecture provides can attract leading e-commerce platforms that are moving towards a compossible commerce approach.
Contact our experts to learn how a MACH-based PIM can be the best PIM solution for your business. Or schedule a free demo to see Bluestone PIM in action.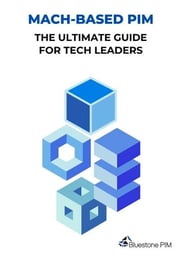 DOWNLOAD FREE E-BOOK
The First MACH-Based PIM
Learn how modern PIM software can help you expand the market reach and design a future-proof commerce stack.